Roland McKeown

THW's NHL Draft War Room Rankings (E-Mac): #19 (Feb 2014)
THW's NHL Draft Rankings – The Next Ones Edition (aka Chris's List): #26 (March 2014)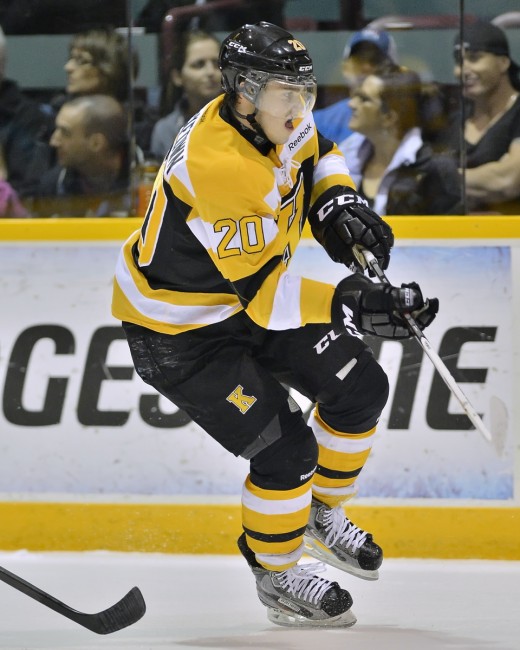 Hashtag/Nickname: #MrPuckRusher, #Rolly
Team: #20, Kingston, OHL
Position: Defense
Shoots: Right
Height: 6'1
Weight: 197 lb.
Born: Listowel, ON, 20-Jan-96
Twitter: @McKeown20
Stats
Other Rankings
15 – ISS, Feb-14
17 – Bob MacKenzie, Jan-14
19 – Future Considerations, Feb-14
19 – NHL Combined – Mid-term, Jan-14
32 – Craig Button, Jan-14
Worth Retweeting
https://twitter.com/Muzz39/status/442274419239829504
Your Ryobi Power Tools Hardest Worker is #20 Roland McKeown

— Fronts In Game (@FrontsInGame) March 9, 2014
http://t.co/dTmaEKMf2A
#15 Roland McKeown @McKeown20
Elite intelligence on both sides of puck… Impressive anticipation & very good skater.

— ISS Hockey (@ISShockey) March 1, 2014
Profiles
Quotable
David Gregory of NHL Central Scouting at NHL.com:
 "I love this kid … he can play offensively and move the puck and has a bomb of a shot.  When defending you, he presents himself as a big, strong and mobile guy. He'll push guys to the side; he's a legitimate top prospect."
Kingston Frontenacs GM (OHL) Doug Gilmour:
"Roland is a player with speed – good offence, and plays smart on both the powerplay and penalty-kill."
From the THW War Room
Eldon MacDonald, THW: A few words on Roland McKeown:

Puck moving defenseman – This guy loves the puck on his stick and uses top notch skating to move that puck up the ice. Although equally adept at moving the puck through passing, his first love is skating with the puck.  
Shot – Da bomb, baby!  
Minute eater – Good to go for all situations: PP, PK, 5 on 5, shutdown – Roland tends to be your go to guy.  
Defense – Not the biggest guy at 6'1, 197 lb. but he uses sound positioning and surprising strength to get the job done. To move to an elite level, however, he will need to show more physicality in puck battles and board work.
Draft placement – Currently in the mid to late teens on most lists,  Roland needs to establish himself more physically if he is to move up.
For Sam Bennett & Roland McKeown it's "double gold" 4 months after winning U18 Worlds with Canada. Photo: A. Robanser pic.twitter.com/aWYxaf6CZo

— IIHF (@IIHFHockey) August 10, 2013
Video
About NHL Draft War Room Series
This series is compiled by Eldon MacDonald and edited by @ChrisRalphTHW)