Dmitrii Sergeev THW Close-Up:
Date of birth: 3/26/1996
Place of birth: Chelyabinsk, Russia
Ht: 6'2″     Wt: 209 lbs
Shoots: Left
Position: D
NHL Draft Eligibility: 2014
THW The Next Ones Rankings (January 2014): not ranked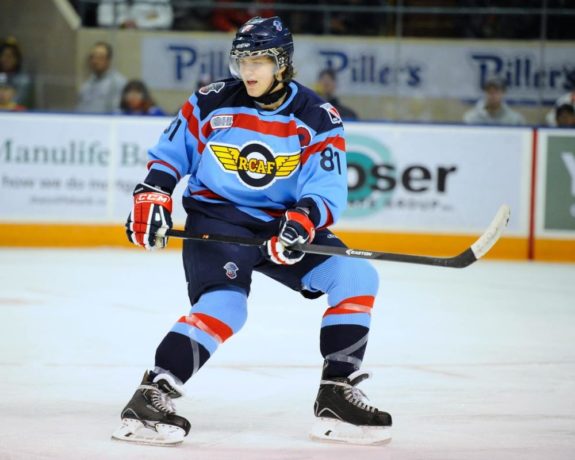 Other Rankings:
THW War Room Rankings (April): not ranked
Future Considerations: not ranked
Craig Button: not ranked
CS Final Rankings for North American skaters: not ranked
***
The Kitchener Rangers took a gamble at #23 of the CHL Import Draft when they selected Russian defender Dmitrii Sergeev. Knowing his greatest chances of playing in the NHL would be to play junior hockey, Sergeev boarded his plane to Kitchener, Ontario. This season he became their go-to shutdown defenseman.
Sergeev has skating that you would see from many Russian players – great edgework, agile, and fluid. Standing 6'2″, he certainly has the body to do some damage to other team's players. He gets into position before throwing his weight around. He's one of a handful of Russian defenseman that play a physical game and his defense will only grow better with time.
He has a great point shot and is an efficient puck handler. He's not overly flashy and still has trouble on the smaller sized rinks, but his game is based on the simple aspects.
Where Will He End Up In June:
Sergeev is still very raw and has tons more to work on before thinking about a career in the NHL. If he gets chosen, it will be in the last rounds of the draft (6 or 7). But he also may not get selected at all. If teams need a potential shutdown guy, they may want to use a late pick on him.
Scout's Honor:
"A strong, shut down defender who left an impression at the U17 tournament. On a team filled with offensively dynamic forwards, Sergeyev stood out as a hard nosed, aggressive defender. A patient, positional defender who plays hard minutes. Not flashy, efficient and poised. Possesses a good, stable stride, however can work on speed, most notably in transition. Handles the puck with poise and precision, though misses some creativity and imagination. Stickhandling is on the stiff size, however he seems to have confidence in his ability." Alessandro Seren Rosso says, "He is a defensive dmen, plays physically, but will hard to take his style to NA, especially with his lack of size."
Statistics:
International Tournaments:
Sergeev played in the Youth Olympic Games and with Team Russia's U17 team in the World Hockey Championships where he won a silver medal..
Bio/Interview(s)/Links:
Getting to know Dmitrii Sergeev
ETA:
4-5 years
Risk/Reward Analysis:
Risk: 4/5   Reward: 2/5
NHL Potential:
3rd pairing shutdown defenseman
Strengths:
Agility
Edgework
Slapshot
Positioning
Checking
Defensive awareness
Flaws/Aspects He Needs To Work On:
Being more confident with the puck
Adding speed
Getting accustomed to the smaller ice surface
Fantasy Hockey Potential:
Offensive: 1/10    Defensive: 6/10
NHL Player Comparison:
– NHL comparison: Rob Scuderi
Video(s):
***
THW's The Next Ones prospect profile template design architect: Chris Ralph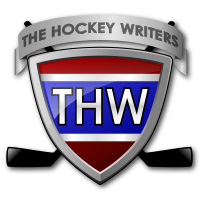 The archives of THW contain over 40,000 posts on all things hockey. We aim to share with you some of the gems we've published over the years.