Maybe it's because the game was played at the Scotiabank Saddledome – home of the Calgary Flames – but was difficult to speak to Michael Dal Colle at the 2014 CHL/NHL Top Prospects Game and not think of Sean Monahan.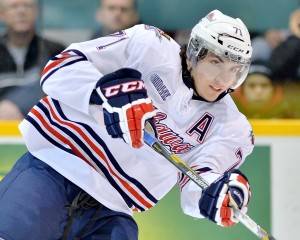 The similarities are numerous. Both are talented centers from Ontario. Both are tall, physically mature young men. Both are also well-spoken and come across well in-person. It's yet to be seen if Dal Colle will translate his game from the Ontario Hockey League to the big leagues, but his draft-eligible season has been quite impressive. He began his year with a gold medal performance at the Ivan Hlinka Tournament, then helped lead the Oshawa Generals to the playoffs with 95 points – just under double his previous season's production.
We had the opportunity to catch up with Dal Colle following the Top Prospects Game in Calgary.
In terms of playing in this type of building – this is an NHL building – how'd it feel to be on this kind of a stage and show what you can do in front of such a large audience?
It felt great. To be able to play a game in front of a national audience, with all the scouts and the crowd… It was a little bit nerve-wracking for the guys, but it's something that we're going to have to get used to and I think the guys showed what the CHL players have and I think we played well tonight.
The herky-jerky pace of the first period, do you think that was just a bunch of guys that were getting used to linemates and getting over nerves?
I think it's probably more to do with nerves, to be honest with you. You know, for a lot of guys, this is probably the biggest crowd they've ever played in front of, and it's a big stage and everyone's watching, so that's definitely probably why.
Do you pay attention to the draft rankings at all?
To be honest with you, I don't pay attention too much. I just be sure to play my game, and I think I have a pretty steady game, it doesn't change too much and, you know, the rankings are just one thing. A team's going to look at you and look at all your attributes, so take it day-by-day and it's definitely an exciting time.
Do you feel like you were able to put your best foot forward out there?
Yeah. I think I played a pretty good game. I think I got a pretty bad bounce there in the second: I hit the crossbar and they went down the other way and scored. That was maybe a momentum swing in the second period for them. It was a bad bounce, but I think I played pretty well.
What's the worst mis-pronouncation of your name?
Probably Dal Colle-ley.