In the first year of their rebuild, the Calgary Flames are once again in the National Hockey League's bottom five. It's not from a lack of trying. The pesky Flames have developed a reputation for hard work throughout the 2013-14 campaign, but it's not been translated well onto the scoreboard or onto the standings.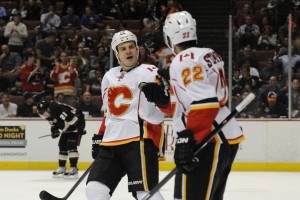 For the umpteenth year in a row, they're in the NHL's cellar in face-off percentage. Their power-play hasn't been particularly good. And just like last season, they're one of the league's worst teams 5-on-5.
And they'd love to forget that late December/early January stretch when they were shut out five times in seven games.
But despite their placement in the standings, the club has a few positives that they can take away from the first 69 games of the season.
The Penalty Kill
Numbers-wise, the Flames' penalty-kill hasn't been that much better than last season, killing 0.8% more PP chances than they did during the lockout-shortened 2012-13 campaign. But their kill has been much more structured, generated much more pressure at the point and, amazingly, has generated more short-handed goals than any other team in the league.
The regular PK group of Matt Stajan, Lance Bouma, Mikael Backlund, Paul Byron, T.J. Brodie, Mark Giordano, Chris Butler and Ladislav Smid deserve some credit for making the PK a source of offense for the club.
The Killer Bs
Last season, five young Flames players had varying degrees of success. Defender T.J. Brodie became a regular NHL defender but it was unclear where his ceiling was. Mikael Backlund once again struggled with consistency and staying healthy. Lance Bouma's knee exploded in the third game of the AHL season and he missed the entire year. Chris Butler absolutely bled scoring chances against and struggled to find a footing in the line-up. Paul Byron had issues with a concussion, consistency and just generally struggled to find his game.
This season, all five guys have taken big leaps.
Brodie's emerged as a consistently good and occasionally great blueliner. Backlund has finally found offensive flair and confidence to go with his defensive prowess. Bouma has rebounded from ACL and MCL surgery to become the Flames' most valuable bottom-six player – blocking shots, making hits and really savouring being a role player. Butler admittedly isn't amazing, but he's found consistency and been a huge minute-eater on the penalty-kill. Byron came up on an injury recall from Abbotsford and, through a newfound physical edge to his game, has never left.
As a result, a player with a last name beginning with B has probably been Calgary's best player in most of their games.
Goaltending
Calgary's used four different #1 goalies at different times this year: veteran Joey MacDonald, rookie Joni Ortio, Swiss import Reto Berra and KHL import Karri Ramo. With no Miikka Kiprusoff in net, the team went into the year hoping to learn something about their netminding group.
What they learned was that Colorado liked Berra enough to give them a second round pick for him. Oh, and that Ramo and Ortio may be an effective tandem going forward. Both are cool, calm and collected. Ortio's mannerisms recall Kiprusoff's – they both hail from Turku's goaltending factory. Ramo hasn't been all-world, but he's shown that his KHL success wasn't a fluke.
The Buy-In
Granted, being one of the NHL's leading teams in both blocked shots and late-game comebacks is a symptom that your team probably doesn't have the puck or the lead all that much. And that's true. But through 69 games, the Flames have shown an outstanding ability to throw themselves in front of frozen rubber, despite being approximately 21 points out of a playoff spot. The Flames boast three defenders in the top 10 shot blockers – Chris Butler (2nd), Ladislav Smid (6th) and Kris Russell (10th) – and two in the top 10 forwards – Lance Bouma (3rd) and Mikael Backlund (10th).
And Calgary's renewed stick-tuitiveness is impressive in the context of its turnaround from recent years. In countless games over the past three or four year, teams would get a pair of quick goals on a Calgary goaltender, the Flames would deflate and the game would end with a 3-1 or 4-1 or 5-2 final score. Nowadays, the Flames may lose – and their 10-27-4 record when giving up the first goal says that's not a rarity – but they definitely have more push-back in them, even late in games and late n the season, than they have in the recent past.