Kasperi Kapanen
THW's NHL Draft War Room Rankings: #10 (Feb 2014)
THW's NHL Draft Rankings – The Next Ones Edition (aka Chris's List): #11 (March 2014)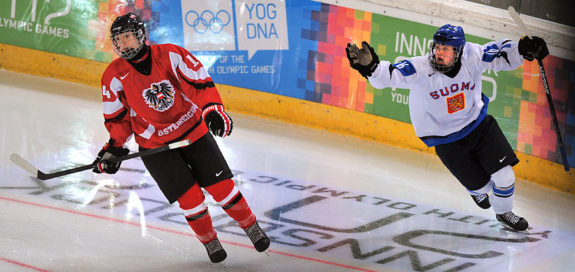 Hashtag/Nickname: #TheFinnishSniper
Team: #42, KalPa, SM-liiga
Position: Left Wing
Shoots: Right
Height: 6'0
Weight: 180 lb.
Born: Kuopio, Finland, 23-Jul-96
Twitter: @kasperikapanen
Stats
Other Rankings
6 – NHL Combined – Mid-term, Jan-14
9 – Bob MacKenzie, Jan-14
12 – ISS, Feb-14
14 – Craig Button, Jan-14
15 – Future Considerations, Feb-14
Worth Retweeting
https://twitter.com/DStrehleTFP/statuses/422770764375662592
http://t.co/dTmaEKMf2A
#12 Kasperi Kapanen @kasperikapanen
Developing as one of KalPa's top fwds… Excellent off. upside w/ speed & strength.

— ISS Hockey (@ISShockey) February 26, 2014
Years ago Kasperi Kapanen almost ran me over in Flyers locker room with belly scooter. Now he's top draft prospect – http://t.co/Mn8NcMjCuR

— Adam Kimelman (@NHLAdamK) January 13, 2014
Profiles
Quotable
Goran Stubb, NHL Director of European Scouting, at NHL.com,
"Kasperi is at present the No. 1 European prospect.  He's a regular with Kalpa in the Finnish league and is off to a good start. He's a sniper who will play for Finland at the 2014 World Junior Championship. He possesses excellent vision and has great skills … he's a star in the making."
From the War Room
Eldon MacDonald, THW: A few words on Kasperi Kapanen:

Offense – High-end sniper with the speed, dangle and shot to really make things happen.
Compete – Top level, always in the mix.
Genes – Plays with his Dad, 13 year NHL veteran Sami Kapanan. And no, he doesn't play with his grandfather, Hannu Kapanen, who also played in the SM-liiga in the seventies.
Improvements to Make – Like most players his age, his defensive game is still a work in progress. Also, he needs to sacrifice himself a little more to make plays succeed.  
Draft Placement – Most have him in and around the top 10. He could go higher to a team in love with his sniper abilities or he could slide a bit, like another relatively slight Finnish sniper,  Teuvo Teräväinen, the excellent Chicago Black Hawks prospect in 2012.
Video
About NHL Draft War Room Series
This series is compiled by Eldon MacDonald and edited by @ChrisRalphTHW)
Chris is THW's senior draft/prospect analyst and a Managing Editor. Watch for "The Next Ones" Prospect Profile series, exclusive rankings, mock drafts, as well as the annual THW NHL Entry Draft Guide. Follow @ChrisRalphYQ on Twitter as he infiltrates, dissects and analyzes all happenings of hockey prospects and the NHL entry draft. Email: cralph[at]thehockeywriters[dot]com