Brendan Perlini
THW's NHL Draft War Room Rankings: #9 (Feb 2014)
THW's NHL Draft Rankings – The Next Ones Edition (aka Chris's List): #13 (March 2014)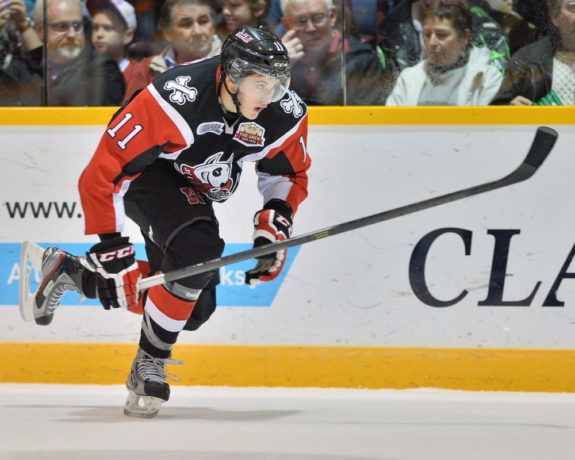 Hashtag/Nickname: #TheStriker
Team: #11, Niagara, OHL
Position: Left Wing
Shoots: Left
Height: 6'3
Weight: 205 lb.
Born: Guildford, Great Britain, 27-Apr-96
Twitter: @Bubzp11
Stats
Other Rankings
5 – Craig Button, Jan-14
6 – ISS, Feb-14
8 – Bob MacKenzie, Jan-14
8 – Future Considerations, Feb-14
9 – NHL Combined – Mid-term, Jan-14
Worth Retweeting
2014 Draft Blog: Brendan Perlini Pt.1: -Each season we extend a blogging invitation to a select few players en… http://t.co/wZNsZg09FU

— Guy Flaming (@TPS_Guy) November 19, 2013
http://t.co/TMB326PEad
#6 Brendan Perlini @Bubzp11
Great speed & explosive stride… Strength on the puck w/ ability to dominate offensively.

— ISS Hockey (@ISShockey) February 20, 2014
If you're looking for a verified #OHL player to track on Shnarped, we'd suggest @OHLIceDogs leading scorer Brendan Perlini (@Bubzp11)!

— Shnarped Hockey (@shnarpedhockey) December 19, 2013
https://twitter.com/RollacrossON/status/433346246040768513
Profiles
Interview
@bubzp11 Thanks for the interview in Calgary, Brendan! Feature is posted @HockeysFuture. Here's the link: http://t.co/zZHTMYZlSk

— Glen Erickson 🇨🇦⛳️🏒 (@glenerickson51) January 15, 2014
Quotable
"The 6-foot-3, 195 pound winger is an excellent possession player who plays the game with great pace and determination. Perlini's skill level is high-end and his ability to take what the defense gives him allows him to create offense naturally rather than forcing plays. If he can add an extra gear to his stride this season there might not be much holding Perlini back from the top ten."
From the War Room
Eldon MacDonald, THW: A few words on Brendan Perlini:

Size and speed – This is the right combination for an NHL winger and at 6'3, 205 lb. with excellent acceleration and quickness, Brendan has it.
Skills galore – Long reach, good puck possession, good shot, excellent passer.
Finish – Quick release, last minute dangle, down on one knee – what's not to like!
Physicality – Needs to be more consistent in using his body to make things happen in the offensive zone because when he does, good things happen.
Draft placement – Latter half of top 10 if he continues to produce at a healthy clip; not likely to drop beyond 15 in any event.
Reminds me of – A hybrid combo of Jeff Carter with Max Pacioretty.
Video
About NHL Draft War Room Series
This series is compiled by Eldon MacDonald and edited by @ChrisRalphTHW)
Chris is THW's senior draft/prospect analyst and a Managing Editor. Watch for "The Next Ones" Prospect Profile series, exclusive rankings, mock drafts, as well as the annual THW NHL Entry Draft Guide. Follow @ChrisRalphYQ on Twitter as he infiltrates, dissects and analyzes all happenings of hockey prospects and the NHL entry draft. Email: cralph[at]thehockeywriters[dot]com