The University of North Dakota Women's team has lost four games in a row. Those four losses have been to teams below them in the standings. The current losing streak has put the UND women's team in a precarious situation. According to the UND Women's Hockey SID Ross LaDue, UND will probably need to win the WCHA Final Face-off to qualify for the NCAA tournament.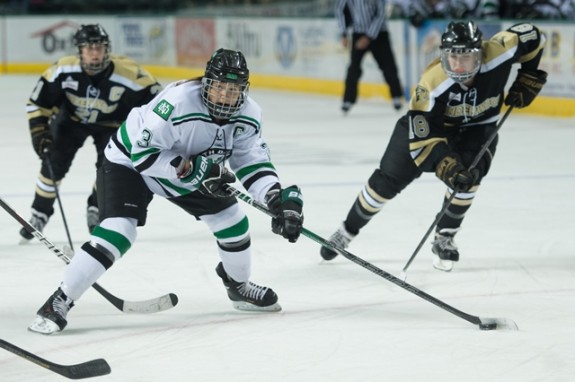 During their current four-game losing streak, the UND women have had trouble scoring goals. They've given up 11 goals against and scored just four. That's a goal differential of minus seven.
The scoring problems might be solved with the return of UND's three Olympians (Michelle Karvinen, Susanna Tapani and Tanja Eisenschmid).  Finally, UND has their top forward back in the fold with the return of Michelle Karvinen to the line-up. UND head coach Brian Idalski couldn't hide his glee when he was asked if he's excited to have the Olympians back with the team.
"That's an understatement, yes," Idalski said. "I would be nice to have the whole band together for a few practices going into the weekend."
#Sochi2014 women's ice hockey awards. Best Forward: @M3Karvinen. Congrats!

— IIHF (@IIHFHockey) February 20, 2014
Karvinen named best women's forward by the IIHF at the 2014 Sochi Games
At the end of the medal round for Women's Olympic Hockey, Karvinen was named the top women's hockey player at 2014 Sochi Games. Karvinen was asked about her thoughts on being named the top women's player.
"It's a huge honor," Karvinen said. "I was a little surprised, to be honest. Obviously, very happy, but I think It also shows lot about how European national hockey have changed over the years – especially our team – has improved a lot over the last four years. I think that also has a lot to do with me getting that award."
Coach Idalski also weighed in on his player being name the top female hockey player in the 2014 Sochi Games.
"How awesome is that?" Idalski asked. "Totally deserves it. She's worked so hard at her game. For a player of that caliber offensively, when we we're recruiting Michelle, she was really mature."
"One of the first things she said to me was, 'If I come here, how are you going to help me become a more complete player.' She wanted to be better on the penalty kill. That really stuck with me as far as the maturity she had, even in Vancouver. She was a complete player. I probably was the most excited about how she was on the penalty kill. She was blocking shots – standing up – making plays in all areas of the rink. She played tremendous and she really deserves that."
Karvinen is a senior and her time at UND is winding down. This weekend's series against the Bemidji State University Beavers could be her final games in the Green and White. She was asked about her thoughts on her final games of her final season.
"I am glad to back here with my team," Karvinen said. "I have been talking to people here at home. I am not too worried. We are the team that had to face the most adversity. I think we're going to turn it around."
Coach Idalski was asked if there are any of his returning players that are playing at a higher level after playing in the Olympics.
"Karvinen for sure is just on another level right now," Idalski said. "That was a little bit of a concern. Just because she's playing chess, when you're putting her out with other kids that are playing checkers sometimes that can be frustrating.  Just have to keep her on an even keel. Do what she does, and understand that some players might not be thinking and seeing the game as quickly as she is or what she's used to the last few weeks."
The 2013-14 season is winding down for the UND women's hockey team. They need to win the Frozen Face-off to make the NCAA tourney. The chances of that happening are better with senior forward Michelle Karvinen in the line-up leading the way.