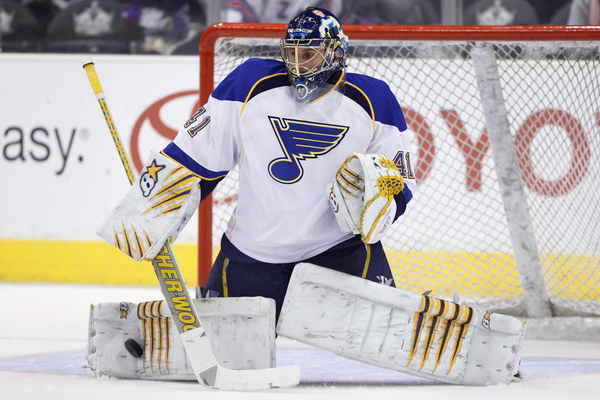 The St. Louis Blues continue to find themselves in the middle of a goaltending controversy with Jaroslav Halak. This despite the fact that he's a proven playoff goalie and possesses numbers every bit as good as just about every Stanley Cup winner since 2006. The exceptions are Jonathan Quick from the 2012 Los Angeles Kings and Tim Thomas of the 2011 Boston Bruins, and those two posted remarkable seasons.
Outside of Thomas and Quick, Halak is on par with or better than every goalie that has won the Stanley Cup since the 2005 version of the NHL lockout. So far through this campaign, the 28-year-old Slovak Olympian has posted a 24-8-4 record. He carries a 2.26 GAA to go along with a .915 save percentage. Keep those numbers in mind, because in this examination we're going to compare them to the regular season stats that each netminder had during the year that they hoisted the Stanley Cup.
Halak vs Cam Ward (2006 Carolina Hurricanes)
Cam Ward erupted onto the NHL season scene as a rookie in 2006. He lead the upstart Carolina Hurricanes to an unlikely Stanley Cup, and elevated his game in a big way during the playoffs that year. The (then) youngster was fantastic and won the Conn Smythe as the playoff MVP. It took the Hurricanes seven games to take down the Edmonton Oilers in a thrilling final, and Ward was the biggest reason that Carolina was able to hoist their one and only Stanley Cup banner.

History can be a forgetful judge sometimes. Ward truly came alive during the playoffs, but really wasn't all that good for the Hurricanes through the regular season. Halak's 2013-14 stats tower of the Cup winner from the 05-06 season.
Cam Ward's 2005-06 Stats: 25 GP, 14-8-2, .882 Sv%, 3.68 GAA
Advantage: Halak's 2013-14 Season
Halak vs J.S. Giguere (2007 Anaheim Ducks)
He may be the backup goalie for the Colorado Avalanche now, but for several years, J.S. Giguere was one of the better netminders in the game while playing for the Anaheim Ducks. His 2003 run at the Stanley Cup is chill inducing to the point that some people forget that he would go on to lead Anaheim to a banner in 2007.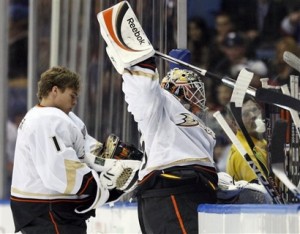 Ilya Bryzgalov also saw a handful of starts during the Ducks' run to their first and only championship, but Giguere started 13 of the 18 contests it took to secure the Cup. Anaheim would eventually defeat the Ottawa Senators in a relatively one-sided final. Lead by the incredible defensive duo of Chris Pronger and Scott Niedermayer, Giguere had an easier time in '07 than he did in '03.
Again, Halak's stats stack up well against this particular Cup winner.
J.S. Giguere's Cup Season Stats: 36-10-8, .918 SV%, 2.26 GAA
Advantage: Push as both seasons are quite close
Halak vs Chris Osgood (2008 Detroit Red Wings)
Chris Osgood might be the mortal enemy of Blues fans everywhere because of the crest he eventually retired in, but he's actually an outstanding proxy for Halak. Both guys can't seem to get any respect no matter what they do, and both are accused of "only being good because of the system they play in."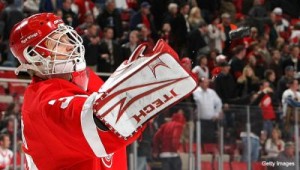 Regardless of which side of the Halak debate you're on, it's hard to deny the fact that he wins a ton of hockey games for St. Louis. Since his debut season with the team, he's only lost 25 games. Or, put another way: over the last three seasons he's only lost 25 times. That's a pretty impressive number, but you don't see him getting much respect for it.
Osgood was the thankless goalie behind Detroit's 2008 Stanley Cup run. Again, the pages of history make for odd judges sometimes so it's often forgotten that "Ozzie" started the playoffs as the backup to Dominik Hasek. The aging veteran couldn't hack it in the postseason though, and it was Osgood to the rescue.
Chris Osgood's Cup Season Stats: 27-9-4, .914 SV%, 2.09 GAA
Advantage: Push again since Halak and Osgood sport similar save percentages
Halak vs Marc-Andre Fleury (2009 Pittsburgh Penguins)
Another goalie that has shares similarities with Halak is Marc-Andre Fleury. After the Pittsburgh Penguin was unable to come up with enough big-time saves to put his team over the top in 2008, some pundits wondered aloud whether or not "The Flower" had the mentality needed to carry the Penguins to the top of the mountain.
For the second consecutive year, Fleury proved good enough to make it to the Stanley Cup Final. For the second consecutive year, the Red Wings awaited him. The outcome was different the second time around though, and Fleury provided sufficient goaltending to help the Penguins take out the defending champions.
He wasn't particularly strong during the regular season, however. Fleury wasn't bad by any stretch, but he didn't do enough to quiet his doubters until finally helping Pittsburgh win the whole thing.

Red Wings fans likely still have nightmares over the final save of the seven-game series.
Marc-Andre Fleury's Cup Season Stats: 35-18-7, .912 SV%, 2.67 GAA
Advantage: Halak. His save percentage is a tad higher and his GAA is much better
Halak vs Antti Niemi (2010 Chicago Blackhawks)
If Antti Niemi was good enough to win a Stanley Cup with the Chicago Blackhawks in 2009, then there's little reason to believe that Halak can't do the same for the Blues this season. In his first—and only—year as Chicago's starter, the Finnish sensation provided enough steady goaltending to support the goal-scoring outbursts that the 'Hawks proved capable of.
He wasn't remarkable during the regular season, but Chicago believed in him as the No. 1 guy heading into the playoffs. Niemi rewarded the team for that choice by helping them break a ridiculously long Cup drought. He was also good enough to cause the San Jose Sharks to make some predatory moves to land him as a free agent.
Niemi hasn't taken the Sharks to the promised land yet, but he's been one of the NHL's most consistent netminders over the last few seasons. Oddly enough, his numbers look a lot like Halak's.
Antti Niemi's Cup Season Stats: 26-7-4, .912 SV%, 2.25 GAA
Advantage: Push again, as the two sets of statistics are incredibly close
Halak vs Tim Thomas (2011 Boston Bruins)
As stated in the opening, Tim Thomas was an absolute monster during the 2011 season. Just how good was he for the Boston Bruins during the 2010-11 campaign? He set an NHL record for the highest single-season save percentage ever. So while Halak hasn't been as good as Thomas was during the year that he helped Boston win the Cup, you can say the same thing for nearly every other goalie who has ever laced up a pair of skates.

Thomas was still better than Halak. There's no denying that. It's just worth noting that he was historically good for Boston during this particular year.
Tim Thomas' Cup Season Stats: 35-11-9, .938 SV%, 2.00 GAA
Advantage: Thomas, because this season is one of the best ever by any goalie that's played the game
Halak vs Jonathan Quick (2012 Los Angeles Kings)
Thomas didn't even get a year in the spotlight before Jonathan Quick all but one-upped him during the Los Angeles Kings' 2012 Cup run. It took this team a while to get rolling during the regular season. They didn't score enough during the winter months to be considered a contender at the time, but it was Quick that carried the squad through that rough patch.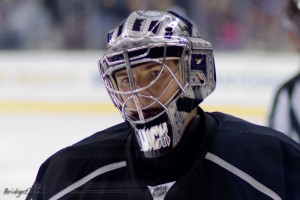 By the time the playoffs were over, the American-born goalie had authored one of the strongest postseasons ever. He won the Conn Smythe without question, and had developed quite the killer instinct during the campaign as well. Halak doesn't quite stand up to Quick here, but that's because the King was also historically good.
So far, Halak has been up to snuff with everyone except for the duo of Thomas and Quick. Who might have actually been replaced with alien competitors during their breakout seasons.
Jonathan Quick's Cup Season Stats: 35-21-13, .929 SV%, 1.95 GAA
Advantage: Quick on the individual level, but Halak won't lose as many games
Halak vs Corey Crawford (2013 Chicago Blackhawks)
Now we're back to the human netminders. Heading into the lockout-shortened 2013 season, some pundits around the NHL were curious to see how Corey Crawford would handle the pressure of being the go-to guy on a team that had Stanley Cup aspirations. Sound familiar, Blues fans? It should. Crawford faced the same sort of scrutiny that Halak is right now, but he came up big enough to help the 'Hawks win their second Cup in four years.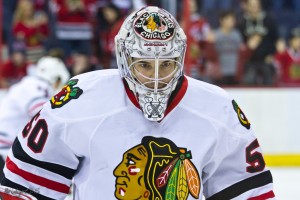 His stats are a bit skewed because he only made 29 starts for Chicago while Ray Emery carried a legitimate amount of the regular season work load. Crawford was the man for the Blackhawks during the postseason though. Stretch Crawford's campaign out across a full NHL season and his numbers would adjust a bit, but as they stand, they're better than Halak's.
The numbers Crawford put up last year are his career best by far, and this season there's almost no chance that he can match what he did last year. He won't finish with a sub-2.00 GAA or a save percentage that's better than .926.
Corey Crawford's Cup Season Stats: 19-5-5, .926%, 1.94 GAA
Advantage: Crawford, but he was helped by the low number of games started
********
The conclusion here is a simple one. St. Louis does not have a goaltending controversy on their hands, nor should they. The idea that Halak isn't a strong enough netminder to win the Stanley Cup is absurd at best. He's just as good—and in several cases, better than—every goalie that has won the Stanley Cup during the post-lockout era.
Worth noting is that Halak's save percentage improves during the post season. He's only had 120 minutes worth of time as the No. 1 goalie for the Blues during the playoffs due to injuries, but has been nothing short of impressive across his 23 career playoff starts. Halak has a .923 save percentage in the postseason, and boasts a 2.42 GAA as well.
Forget about Ryan Miller. Forget about Martin Brodeur. The man that can lead the Blues to the Stanley Cup is already in St. Louis.
Franklin Steele has been publishing hockey columns online since 2011 and has been watching and playing since the age of six. More than six million people have read his work, and he has more than 3,500 bylines to his name. He joins The Hockey Writers after five years with FanRag Sports, and his work also appears on WingsNation.com and ChicagoSportsColumn.com.
Feel free to follow him on Twitter @FranklinSteele or to drop him a comment.