While many North American goaltenders found themselves ascending or descending CSS's final draft rankings when the scouting service came out with their final list in early April, there was one goalie whose story stood out in particular. Hailing from Germany, Kevin Reich traveled to the states and became a member of the USHL's Dubuque Fighting Saints where he promptly established himself as a solid netminder and interesting prospect.
Of course, one might look at Reich's overall statistics in 21 games played for the Fighting Saints (3.02 GAA, .897 Save Percentage) and not be too impressed, but there is a lot more to be said about a goalie that played in the DEL, MHL, represented his country at the WJC-20, and managed to make a seemingly simple transition to North American hockey. Not many netminders of German descent have played their way into the NHL, but after putting forth an impressive body of work in a new environment Reich certainly positioned himself to join the ranks of the few German goalies to play in the NHL.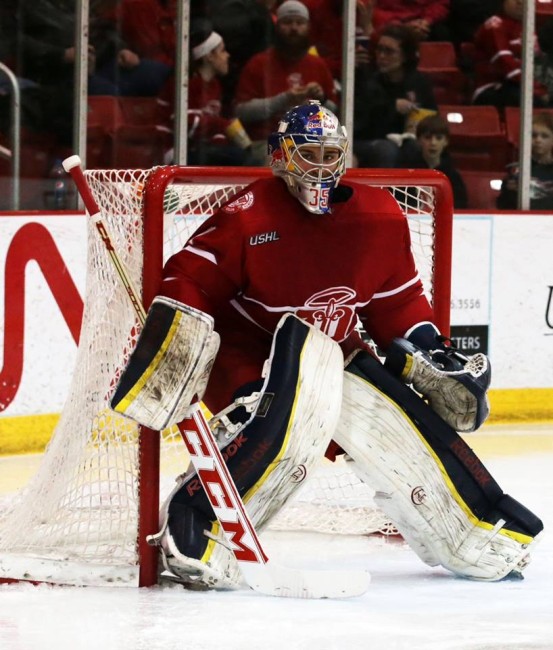 Despite the fact that much might not be known about Reich, his body of work in leagues such as the DNL and Schüler-BL speaks for itself. Recently, The Hockey Writers had a chance to sit down and have a conversation with Reich about his draft prospects and transition to North American hockey, and it was plain to see why the goalie shot up CSS's final draft rankings to occupy the number five overall spot for draft-eligible North American goaltenders.
The Hockey Writers: When did you get into the game of hockey and when did you know that you wanted to play the goalie position?
Kevin Reich: I started playing hockey when I was four years old and have been playing for fourteen years now. I think I knew that I wanted to be a goalie during my second year of playing hockey.
THW: Being from German ice hockey leagues, how would you describe your time in the Schüler-BL and DNL?
KR: It was a nice time and I think it was really helpful to play in these leagues. It was definitely nice to play in those leagues, and going from the Schüler-BL to playing with Jungadler Mannheim of the DNL really helped me in terms of taking these necessary steps [in my development].
THW: Do you remember any specific moment that maybe helped you in your development while you were playing in Schüler-BL or the DNL?
KR: My coach at the DNL – his name is Helmut de Raaf – he helped me a lot with everything. He was like a dad to me – like a hockey dad. He did everything for me and it was great to work with him, so it was a really good time.
THW: Kevin, you've also represented your country for the WHC-17 and WJC-18/20 tournaments, so could you explain what it's like to play on an international stage where there are all these different types of countries competing for national pride?
KR: I think every time [you play internationally] it's always special to represent and play for your country. I remember representing Germany as a member of the U17, U18, and U20 teams. It's a different type of hockey play at the World Juniors than it is with your normal team, but it was a really fun experience to play on such a stage.
THW: You played two games in the DEL, six games in the MHL, and then you came to the USHL to finish off your '13-'14 hockey campaign, so could you describe what the experience has been like thus far playing in the USHL as a member of the Dubuque Fighting Saints?
KR: I think it was the best choice ever to go to Dubuque. The rink is smaller and I love to play in this type of a setup. The team is awesome and I love talking with the coaches at Dubuque and working with them. The fans are unbelievable – whether you're playing a home game, away game, or even practicing – so it's really fun.
THW: Kevin, you mentioned that you like playing in a smaller rink. Can you describe the difference between playing on a bigger rink in Germany and a smaller rink in North America?
KR: I think in a smaller rink it [the style of play] is way faster because the guys are going faster to the net. In Germany, guys spend a lot of time in the corner, but in the USA you see more guys driving and bringing the play to the net.
THW: Since you're a native of Germany, did you ever watch guys like Olaf Kolzig, Thomas Greiss, or Philip Grubauer and try to learn from them or incorporate any aspects of their game into your style of play?
KR: I know Philip Grubauer really well and I practiced with him a little bit during the offseason before. He definitely helps me in terms of trying to do some things better, but it was nice to talk to someone that plays at a higher level than me and could help me out, so it was great to work with him.
THW: You jumped the CSS final rankings and vaulted yourself into the number five spot with only 21 USHL games under your belt. Could you describe what this means to you and what you hope to possibly accomplish once draft day rolls around?
KR: Yeah, it was unbelievable when I saw that and I think it definitely helps when you work hard. It's an amazing feeling to see that somebody likes my play, but I can't stop working out, I have to work harder so that someone has a reason to draft me and so that I can keep my position.
THW: Kevin, you mentioned that you have to keep on working harder so that someone has a reason to draft you, but what would you say are the strongest parts of your game?
KR: I think that the best parts of my game are reading the game and playing the puck well. I also think that I have an ability to battle well.
THW: Which aspect of your game do you feel that you need to work on the most as it stands right now?
KR: I think I can get better in everything, but I think that the biggest thing is my fitness. I'm working very hard at that right now.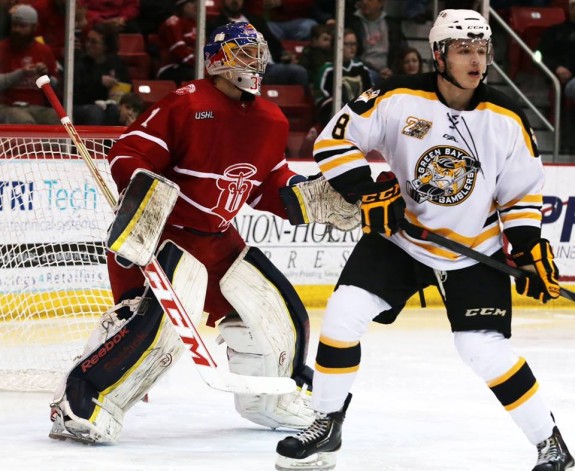 Despite the fact that Kevin Reich might be new to the North American style of hockey, the goalie sure didn't show any ill effects of transitioning to a new environment with unfamiliar surroundings. Sure, Reich's 21 games played in the USHL might be a small sample size for NHL teams to consider when draft day rolls around, but the goalie's body of work in the Schüler-BL, DNL, and other leagues can serve as a testament to the netminder's ability to play at different levels. Sure, Reich might have been a relative unknown for the greater part of the '13-'14 hockey season, but his tremendous play has rightfully, and deservedly, set him up for success in late June.