Jake Virtanen THW Close-Up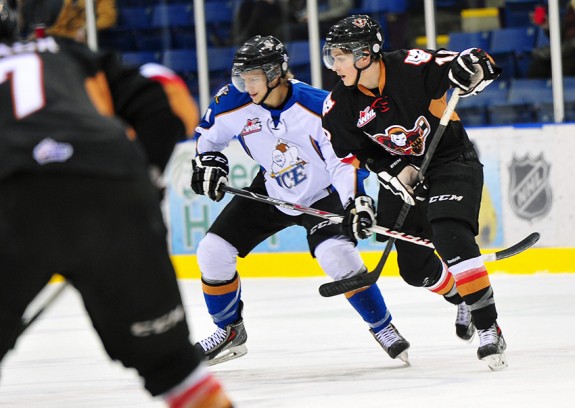 Date of Birth: August 17, 1996
Place of Birth: New Westminster, BC
Ht: 6'1" Wt: 210 lbs
Shoots: Right
Position: Right Wing
NHL Draft Eligibility: 2014
You could say that based on his early hockey career, Jake Virtanen was seemingly destined for great things.
After tearing up his bantam league with the Abbotsford Hawks – putting up an astounding 117 points in 59 games – Virtanen was the first overall pick in the WHL's Bantam Draft. His new club, the Calgary Hitmen, were coming off their first playoff-less season since 1997, and Virtanen was hoped to be a key component in the team's resurgence.
Since drafting Virtanen, the Hitmen have gotten progressively better. So has Virtanen.
A native of British Columbia, Jake Virtanen has a lot of physical tools that scouts absolutely salivate over. He's big. Not just in height, but he's got the kind of frame that can handle carrying some muscle without losing mobility. Virtanen is also a strong skater, moving around well and getting up to speed quickly. And Virtanen uses his size and speed quite well most of the time, not being afraid to go into the dirty areas of the ice to make a play. He's also not scared to get involved in any rough stuff, so he affords his line-mates with time and space.
Virtanen's increasing points and goal production speaks to both his offensive skill but also his hockey IQ. The Western League is a big jump from bantam or midget, and Virtanen at times seemed tentative in both ends of the ice in his first couple years in the league. This season, everything just seemed to click and his confidence grew throughout the year. He also uses his teammates much more effectively than he did when he came into the league.
The only negatives in Virtanen's game are between the ears. While he does have the ability to take over a game with his size, speed and impressive offensive acumen, he occasionally gets over-aggressive with his physicality and takes penalties at the wrong time. Sometimes this can happen in the same game; against Regina in mid-January, he took 19 minutes in penalties in the first period and came back to score twice in the second period to win the game.
If NHL clubs could be sure that the "good" Jake Virtanen would show up 100% of the time, or even 85% of the time, he'd be a top-five pick. As it stands, he's still a sure-fire first rounder. Where he goes depends on how confident an NHL team is that they can rein in his wildness.
Scout's Honour:
"Jake has undeniable skill. Excellent skater who has speed, quickness and power. Can beat defenders with his skating and when he gets an advantage, his size makes it almost impossible for a defender to get back on equal footing. Very strong shot and can beat goaltenders from out but also has the quickness in his hands to score in tight. Has the potential to be a dynamic scoring winger."
–Craig Button, TSN Head Scout
"The versatile Virtanen is a highly competitive, three-zone winger and his in-your-face approach to the game makes defending him extremely frustrating. Derived from a strong technical stride, Virtanen gets around the rink well and while he's not a dazzling puck handler, his puck skills are certainly a strength of his game."
–Brendan Ross, Dobber Prospects
Statistics:
Bio/Interview(s)/Link(s):
International Tournaments:
Virtanen won a silver medal as part of Team Pacific at the World U-17 Challenge. He also won gold as part of Team Canada's delegation at the Ivan Hlinka Memorial Tournament and bronze at the U18 World Championships.
ETA:
2 years
Risk-Reward Analysis:
Risk 1.5/5, Reward 4/5
NHL Potential:
At best, could develop into a strong top-six winger and power forward. At worst, consistency issues could drop him to being a bottom-six winger with an occasional scoring touch.
Strengths:
Good mix of size and strength.
Very effective skater.
Physical element keeps opponents on their toes.
Extremely smart offensively.
Flaws/Aspects He Needs To Work On:
Has tendency to take silly penalties on occasion, needs to pick his spots.
Defensive game is arguably a step behind his offensive game.
Consistency will be a key factor in how far he can grow his game.
Fantasy Hockey Potential:
Offensive 8.5/10, Defensive 7/10
NHL Player(s) Comparison:
Darcy Tucker may be a good benchmark; similar in terms of size, style and junior career. Tucker was never a high-end scoring threat in the NHL, but Virtanen could be if he can round out his game a bit.
When He'll Go In June:
Middle of the first round. Probably in the 10th-to-15th range.