On Thursday, the Washington Capitals made it clear they won't be overpaying for a goalie this free agency. Interim General Manager Brian MacLellan made the move with McPhee out of the picture, trading rental goaltender Jaroslav Halak to the goalie starved New York Islanders in exchange for a fourth round pick. With the deal, Braden Holtby and Philipp Grubauer are the two net minders Washington has under contract for next season with NHL playing experience, albeit Grubauer with just 17 games played.
It seems Braden Holtby is the sure starter at the ripe age of just 24 years, who looks to bounce back from a subpar season. Holtby posted a career low .915 save percentage along with a 2.85 goals against average, which shows the inept defense he played behind in the nation's capital.
Grubauer, a German native, played well with the Capitals at the NHL level before returning to the AHL, filling in for a then injured Michal Neuvirth. The 22 year old went on to record a .925 save percentage with a 2.38 goals against average with Washington.
He struggled sporadically after his assignment with the Hershey Bears, but posted respectable numbers across the board, registering a .916 save percentage and 2.60 goals against average along with a 13-13-2 record in 28 games played. Grubauer finished strong with a .933 save percentage in five April games. It was the first time he played 45 total games in a professional season above the ECHL level. Grubauer needs time to work on crucial parts of his game before coming an NHL regular, especially his rebound control and puck handling.
The goaltending situation is just a vegetable on the Capitals' dinner plate this offseason, there are far greater needs to be amended. Their blue line needs desperate fixation and adding scoring depth to their bleak group of bottom six forwards should be addressed as well by whoever the next Washington General Manager is. That's just what needs fixed on the roster. The Capitals need to find a GM with an approach toward the future and a coach that can maximize the players potential that the next GM supplies him with.
Grubauer should stay in the AHL during the 2014-15 campaign, with a starting role that gets him around 40-45 starts in net. A tandem with prospect net minder Brandon Anderson should be considered by Washington. Attaining a cheap, veteran option in free agency is the way the Capitals next GM should handle the goalie position next season. Finding upside in the backup goaltender should be another area Washington should focus on, including that philosophy in all of their roster decisions.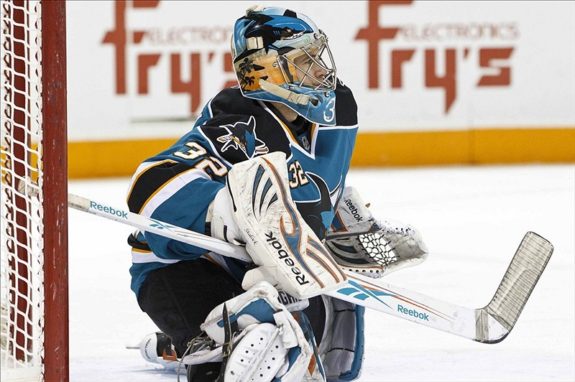 Goalies that should become UFA's this summer include that could interest the Capitals include Alex Stalock, Chad Johnson, Al Montoya, Justin Peters and veteran Jonas Hiller of the Anaheim Ducks. Below is a chart with their season and career save percentages and how they stack up against expected Washington starting goalie Braden Holtby.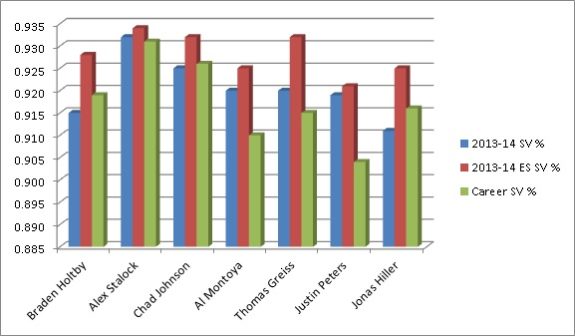 Stalock and Peters should be intriguing options because of their youth and room for development. Adding a veteran net minder like Montoya or Hiller could provide Holtby a teammate to lean on and take advice from. It's going to be a long and challenging summer for Washington's next GM, but it could all start with stability from the goaltending position.
You can follow Matthew on twitter @m_speck and email him at mspeck21@yahoo.com with any questions or comments.