by Eldon MacDonald (edited by @ChrisRalphTHW)
Kevin Fiala
THW's NHL Draft War Room Rankings (E-Mac): #23 (April 2014)
THW's NHL Draft Rankings – The Next Ones Edition (aka Chris's List): #34 (March 2014)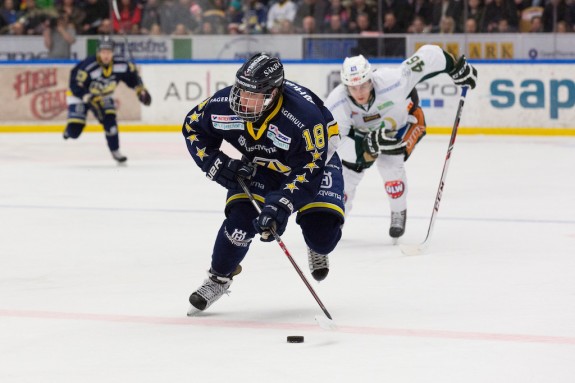 Hashtag:#MrDetermined
Team: #18, HV 71, SHL
Position: Wing/Centre
Shoots: Left
Height: 5'10
Weight: 194 lb.
Born: Switzerland, 22-Jul-96
Stats

Other Rankings
14 – NHL Combined – Final, Apr-14
15 – Future Considerations, Apr-14
24 – Bob MacKenzie, Jan-14
28 – ISS, Apr-14
34 – Craig Button, Mar-14
Worth Retweeting
A golden opportunity for Kevin Fiala who was called up to the Swiss National Team: http://t.co/CFuvbWkCcO @KevinFiala22 #hv71 #iihf

— The Hockey Reporter (@HNISwitzerland) April 29, 2014
Loved watching Kevin #Fiala, a very determined young man! http://t.co/RB2aHC7wGd

— Chapin Landvogt (@Csomichapin) April 25, 2014
#HV71 forward Kevin Fiala has made a huge jump up between midterm and final rankings for #NHL draft. Justified too. Outstanding second half.

— Alex Nunn (@aj_ranger) April 8, 2014
Contains All the Prospects Profiled in This Series]
Profiles
2014 NHL Draft Profile #30: Kevin Fiala http://t.co/b9rJeHruYo via @lastwordbkerr #nhldraft #lwos @nhlinjurynews

— LastWordOnSports Inc (@lastwordonsport) May 1, 2014
Interview
Quotables
Quote 1: His linemate, former NHLer Eric Christensen, at SHL in English, "Kevin has added a whole new dimension to our line with his skill level. Ted and I are both fairly skilled guys ourselves and we are a bit bigger and skate well, but Kevin, his skill is at another level. He makes so many plays and creates so much room for us with the way he can pass the puck and see the ice. Right away we found ourselves getting a lot of chances and scoring a lot of points."
Quote 2: Patrick Yeske from HockeyPhenoms.Blogspot.ca, "Fiala has an elite shot as well as impressive skating ability.  He possesses the vision to find teammates all over the ice and has fairly good hands with the puck on his stick.  He is however, undersized and could use some work on the defensive aspect of his game.  His offensive talent could be considered good enough to see him chosen in the first round, but we'll have to see if scouts think the rest of his game is worthy of the honor."
From the War Room
Eldon MacDonald, THW:  A few words on Kevin Fiala:
Mr. Determined – The thing that sets Kevin Fiala apart from the pack is his drive and determination to make a difference. He has that Canadian type drive to the net at all costs mentality that makes him a special player.
Offensive skills –  Explosive get go, elite stickhandling, elite hands, deadly shot. Add vision, drive, determination and you have the makings of a top six NHL hockey forward.
Skills to develop – Like most players his age, Kevin has a ton of work to do on his defensive game and could add some strength as well. However, given his drive and determination to go along with his low centre of gravity, these issues will likely soon be just a matter of memories.
Draft placement – Bob MacKenzie's NHL scouting connections have him low twenties but he is starting to get consideration for the teens (see NHL Central Scouting and Future Considerations). For me, he has those special qualities of a player determined to be a difference maker that make him first round. If he puts together a U18 in Finland like he did a U20 in Sweden, he could go very, very high.
o   Update: Mr. Determined, Fiala exploded out of the gate at the U18's and finished up with an outstanding tournament, finishing sixth in scoring.
Video
Video 1: HV71– Highlights