The discussion of bringing the NCAA Division I regional hockey tournaments back to campus is, again, coming to the forefront. There are various arguments for, and against bringing the regional tournaments back to campus sites. To me, bringing the regional tournaments back on campus is a no-brainer.
Last week, Brad Elliot Schlossman of the Grand Forks Herald wrote an article in favor of bringing the NCAA regional back to campus.
In the last 17 years, only two national champions have had to fly to both the regionals and the Frozen Four — Yale in 2013 and Denver in 2005.

Add all of that up, and it's probably not a coincidence.

If there are going to be advantages in the NCAA tournament, why not give them to teams that earn them through their play during the five months of the regular season, instead of an administration that puts in a strong bid three years earlier?

The idea of playing a best-of-three series at the home venue of the higher seed in the first round is an option that should merit considerable discussion today at the national meetings in Naples, Fla.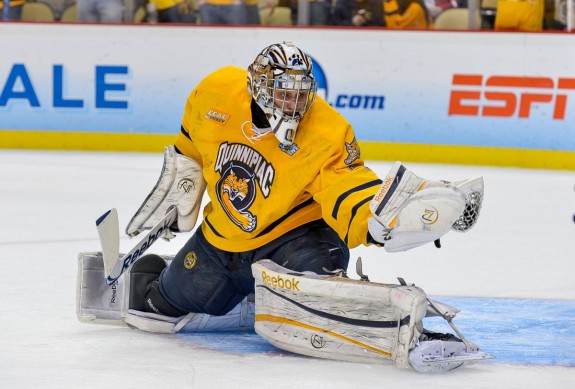 Sounds like a good idea, right? Shouldn't we reward the teams that played the best hockey during the regular season? Adam Wodon of the College Hockey News wrote an article in opposition to bringing the NCAA Regionals back on campus.
One, there are very few places where this is the case. It's certainly true that any game played in Grand Forks or Mariucci Arena will draw 10,000-plus rabid fans. But with these games often coinciding with Spring Break on many campuses (or even if not), you're liable to find the same phenomenon you see in conference tournament playoff games on-campus, namely, far fewer people attending than for regular-season games. This happens everywhere for a variety of reasons, not just the Spring Break factor.

Two, the fairness issue. Most coaches still believe, and I agree, that NCAA games should be played at neutral sites. When the NCAA moved away from campus sites to neutral sites in the early 1990s, it was considered progress. After all, that is what the men's basketball tournament does. Any time a basketball team is too close to home, there's a national outcry that it's unfair. Very few sports can support neutral sites and get away with it, but when you can, it's considered a good thing. Hockey clearly can support it sometimes and not support it other times, but changing it back is going backwards.
Low attendance numbers drive discussion
Low attendance numbers plagued the 2013 regional tournaments, and this has facilitated this debate moving forward. When North Dakota and Yale played for the 2013 West Regional title in Grand Rapids, Michigan, they played in front of a mere 1918 fans. Grand Rapids was definitely a neutral, lifeless regional site. That's a travesty in my opinion. The NCAA tournament is the pinnacle of the college hockey season. Why not have the regional tournaments in four packed, loud arenas?
Obviously, some division I hockey coaches want to keep it that way. It doesn't take long to realize that a fair number of the eastern and a few select western schools are presently benefitting from the status quo. So, changing the current format would be of no benefit to them.
Neutral sites aren't really neutral
First, let's not kid ourselves. While the NCAA want regional games to be played at neutral sites, these sites really aren't very neutral, at all.
Due to geography, a fair number of the schools have a huge advantage over the other NCAA schools. Intended or not, this is the reality. Obviously, the eastern schools don't have to travel as far to their regional sites as the western schools do. That in itself negates the neutral site argument.
As Schlossman points out, Boston College is 11-1 when they play in the regional tournament at the DCU Center in Worcester, MA. The only team to beat the Eagles in Worcester, under the current tournament format was North Dakota in 2005. So, is that site really neutral? Not at all, Boston College is 41.3 miles away from that regional site. It's in essence a home game for them.
Let's give credit where credit is due. The Boston College Eagles have been a dominant team during the 2000's.
In 2011, the number one seeded Eagles were sent to the West Regional in St. Louis, Missouri. The Eagles would lose in the regional semifinals 8-4 to the fourth seeded Colorado College Tigers. It was viewed as an upset because the Eagles had gone an impressive 30-7-1. It was different story when the Eagles had to jump on a plane and travel outside their comfort zone.
From a western school perspective, the University of Minnesota is one of the few schools that has the luxury of hosting a regional tournament close to their campus on a regular basis. When the Minnesota Gophers have hosted a regional tournament in Minneapolis or Saint Paul, Minnesota, their record is 8-0.
During that same time frame, when Minnesota hasn't hosted the regional tournament, they have a 2-5 record. There are two instances where Minnesota won a game where they weren't the host team. In 2004, Minnesota advanced to the championship game of the Midwest Regional before losing to the University of Minnesota Duluth 3-1. In 2007, Minnesota advanced to the championship game of the NCAA West Regional Tournament where they lost in overtime to North Dakota 3-2.
There's a reason these schools want to keep the status quo, the neutrality argument works in their favor. Under the current arrangement, they have an advantage, intended or unintended, and they don't want to give that up. Why would they want to?
Finally, please stop telling us that the NCAA regional hockey games are being played at "neutral" sites, not all of them are. Playing a hockey game 45 miles from your home arena isn't a neutral site. Playing a game 1165 miles from your home arena is.
Eric is a 1996, 1999 graduate of the University of North Dakota. Eric covers the University of North Dakota Hockey and Division I college hockey. Eric is the Contributing Editor for Inside Hockey.