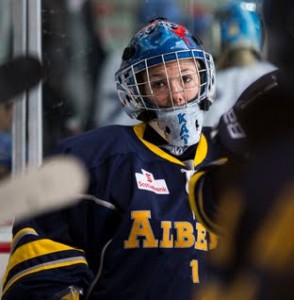 Calgary Inferno goaltender Kathy Desjardins is officially retiring from the game of hockey. She has spent the past two seasons playing for the CWHL's Calgary Inferno and has been an integral part of their success. She will be forever remembered as a key figure in Calgary's CWHL franchise history.
As to what she plans to do in her retirement from the game of hockey Kathy had this to say "I want to focus now on my personal training career, and hopefully get into coaching where I can give back what I've learned over the years."
She also indicated that her plan is to move to Kelowna, British Columbia this coming fall to pursue her career and personal life moving forward. She said that she will keep busy, "(Doing) everything I can to push the sport (forward)."
Over a 22 year period playing hockey Kathy has accumulated many fond memories and experiences.
At the end of her rookie season with Moncton Aigles Bleues Desjardins was a member of the bronze medal winning team at the CIS National Championships. This was one of her best memories of her playing years.
Another fond memory of hers was "I'll always remember when I was 18 years old winning the silver with team Quebec." At the 2001 Esso Women's Nationals Desjardins helped lead Team Quebec to a silver medal finish, losing out to the famed Calgary Oval X-Treme in the finals.
Her last best memory will always be the 2014 Clarkson Cup, "great support from the fans and sponsors and so fun to see Women's hockey growing so fast." Unfortunately the Calgary Inferno would lose all three of their round robin games and fail to qualify for the final. However this was a big step forward for the franchise and brought them into the forefront of the CWHL. Kathy was a big reason was Calgary was successful this past season, her adjusted (for quality of competition) save percentage of 0.911 rank third in the CWHL.
She also wanted make special mention and thanks to Cegep Limoilou, the Aigles Bleues Moncton University and the Calgary Inferno. Kathy had this to say, "Thanks for trusting me and believing in me, and making me be the woman I am today."
Thank you to Kathy Desjardins for her many years of inspiring young women everywhere. She has been a great ambassador for the sport and we wish her all the best in her future endeavors!
Below are all the stats that we have compiled on Kathy's great career from the CIS to the CWHL.
YEAR
LEAGUE
TEAM
GP
W
L
GAA
SV%
QS%
ADJGAA
ADJSV%
2013-14
CWHL
Calgary Inferno
11
4
6
3.06
0.893
45%
2.42
0.911
2012-13
CWHL
Team Alberta
14
2
11
3.18
0.721
14%
1.95
0.787
2011-12
CIS AUS
Moncton Aigles Bleues
20
13
3
1.95
0.932
73%
N/A
N/A
2010-11
CIS AUS
Moncton Aigles Bleues
18
12
3
2.25
0.922
73%
N/A
N/A
2009-10
CIS AUS
Moncton Aigles Bleues
21
11
2
1.61
0.943
78%
N/A
N/A
2008-09
CIS AUS
Moncton Aigles Bleues
19
17
2
1.51
0.946
N/A
N/A
N/A
TOTALS
103
59
27
2.26
0.893
57%
2.19
0.849