Corey Crawford is the most divisive figure in Blackhawkland.  Some think he is vastly underrated, some think he receives a little too much credit.  I fall in the latter category, but it's not because I don't like Corey.  I think he is a fine goaltender.  He fits in well with the team, and has been a huge contributor to the team's continued success.  He gives hilarious championship belt acceptance speeches.  I just take exception when he receives too much of the glory, as it obscures other facets of the team that are not talked about enough.  I also think his new contract makes him overpaid, but I'll get to that later…[By the way, if you like this post you can sign up here for our free Newsletter to get more like it.]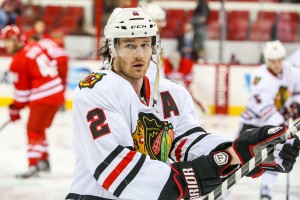 Three of the biggest reasons why Corey Crawford is overrated are named Duncan Keith, Brent Seabrook, and Niklas Hjalmarsson.  The Hawks outstanding trio is the best 1-3 defenseman combo in the league.  For every outstanding save that Crawford makes, there are five that he never had to make because Keith stood someone up with a poke check at the blue line, or Seabrook stripped the puck from someone in the slot, or Hjalmarsson blocked another shot on the penalty kill.  The value of the Hawks defensemen cannot be overstated.  They give up very few quality scoring chances, collectively taking a tremendous amount of pressure off their goaltender.   Crawford is also relieved of facing too much pressure by the nature of the Hawks relentless possession offense.  In fact, one of Corey's greatest assets is his ability to maintain focus after not seeing any action for minutes at a time.
Four Kinds of Saves
There are four kinds of saves (or non-saves)
Saves you cannot make–  Not really saves at all.  Just instances where you are beat by a deflection or a perfect shot (think Bryan Bickell's 3rd period snipe on Ilya Bryzgalov yesterday).
Saves you should make and do–  These are the majority of saves in the NHL.  A good fundamental goaltender positions himself correctly, squares himself to the shooter, and cuts off favorable shooting angles.  All NHL goalies do these things well.  That's why they are professionals.  Almost every netminder in the league stops nine out of every ten shots.
Saves you shouldn't make but do–  The highlight reel, sprawling and glorious saves.
Saves you should make but don't–  These are the backbreakers. The deflating goals from long distance or bad angles that can sink a team, especially in the playoffs.
To me, there is a razor-thin difference between being a great or merely good goalie.  You know you're going to make the majority of saves simply by showing up.  You also know there may be a few shots that you can do nothing about.  The 6×4 area of the net cannot be covered at all times.  Sometimes you have to just tip your hat (mask) to the many great snipers in the NHL.  The real mark of a great goaltender is how many more instances of "category 3" he has than instances of "category 4."  This is where I cannot recognize Corey Crawford as being a great goaltender.  He lets in far too many of those "category 4" goals.  To refresh your memory….
Bad Goals
There were two reasons why the Hawks lost to the Phoenix Coyotes in the first round of the 2012 Playoffs, and it's not because the Dogs were the better team.  First, Raffi Torres took Marian Hossa out of the series with a vicious hit.  Second, Corey Crawford was terrible.  Crawford's struggles in this series have been well documented, but here is how the Blackhawks lost Games 3 and 4 of that series.
Another instance of Crawford's shakiness was in Game 6 of the Detroit series last year.  The Hawks were already down to the Wings three games to two when Corey let in this goal in the second period of that game.

Joakim Andersson's (very soft) goal gave the Red Wings the lead going into the 3rd period in a potential series clinching game.  Of course, the Blackhawks bailed Crawford out with three goals in that fateful 3rd period, but can you imagine how things would've turned out if they hadn't?  There would obviously be no second Stanley Cup.  For the second straight year, Crawford's less than stellar play would've had a direct effect on a Hawks playoff exit.  There would be no talk of Corey Crawford being underrated, only talk that he was continually holding a great team back, and it's doubtful he would've been rewarded with a 6 year/$36 million dollar contract.
Finally, there was this year's Game 2 OT winner by the Blues' Barrett Jackman.  This is probably the least objectionable of the goals mentioned, but it was still a five-hole shot from about 45 feet.  There was some traffic in front of the net, but its a save that Crawford should have made.  To his credit, he called out his own performance after that heartbreaking loss and clearly outplayed his counterpart Ryan Miller for the rest of the series.  All of these goals were either crippling or potentially crippling for the Blackhawks.  Luckily, they are the most balanced team in the NHL, and have proven themselves capable of bouncing back when their goaltender has a lull.
Moneypuck
There's also the question of the bottom line.  Starting next year when his new contract kicks in, Corey Crawford's salary cap hit will be $6 million per year.  That's more annually than Keith, Seabrook, Hossa or Patrick Sharp.  Crawford will be making that $6 million per year through the 2019-2020 season.  That makes him overvalued, and consequently overrated.  Really, the best argument for Crawford's overratedness is the fates of Ray Emery and Antti Niemi.  Both goaltenders excelled in Chicago, and struggled when they left.  Emery and Crawford won the Jennings Trophy for fewest goals given up in 2013.  Since moving to the Flyers, Emery's GAA has increased by a full goal (!) from 1.94 to 2.96.  After winning the cup with the Hawks in 2010, Niemi's time in San Jose can best be described as inconsistent, alternating stretches of brilliance with frustratingly poor play, culminating in being benched in several games during this year's playoffs.  This evidence leads me to believe that the Blackhawks employ "system" goaltenders, and given that, their financial dealings with said goaltenders should've been acted upon accordingly.  Much like Billy Beane continually develops pitching talent for his Oakland A's, the Hawks should concentrate on doing the same thing with goaltenders in their system.  Many a solid netminder would succeed with the team the Blackhawks have assembled.  I don't think that the Blackhawks regret letting Niemi go after the first cup run, but they may regret having to pay Corey Crawford $6 million a year until 2020.  As the Hawks have been made painfully aware in the last few years, cap space is a very precious commodity.