After qualifying for the NCAA tournament, the University of North Dakota hockey team is headed to the Midwest Regional in Cincinnati, Ohio. Based on previous years, there's a very good chance that the U.S. Bank Arena will be three-quarters empty when UND and Wisconsin take the ice on Friday night.
NCAA Regional Pinnacle of Hockey Season
Depending on the venue and who's hosting the NCAA regional, there's a very good chance that the tournament will be played in an empty arena, with no atmosphere. This is an issue that has garnered a fair amount of discussion the last couple of years. 
Last season, during the West Regional in Grand Rapids, Michigan, UND and Yale faced off in the region final in front of 1,918 fans. That's not very good. Van Andel Arena seats 10,834 fans for hockey. Talking to people who went to the 2013 West Regional, Van Andel Arena was an empty, quiet, building.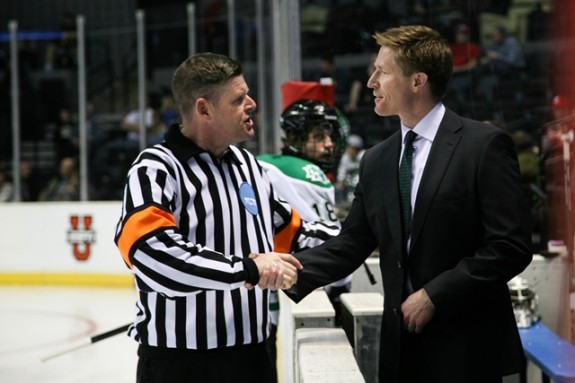 After the West Regional, UND Head Coach Dave Hakstol offered his opinion about the attendance at the 2013 West Region Tournament.
"The pinnacle of our season should be played in a great atmosphere," Hakstol said. "I think the players that are involved in the national tournament deserve that. I think it's something that has garnered a fair amount of discussion over the last couple of years, but no action. We have to fix things. We're not doing this the right way at the regional level."
Hakstol continued, "I saw a stat within our program where we had 5,500 people on a live chat, and there was maybe, 1,500 people in a building watching a great hockey game between Yale and North Dakota on Saturday night. That's not right. That's the pinnacle and that's the spotlight of our season. Yeah, we have to change things. Certainly, I would like to work towards doing that, sooner, rather than later."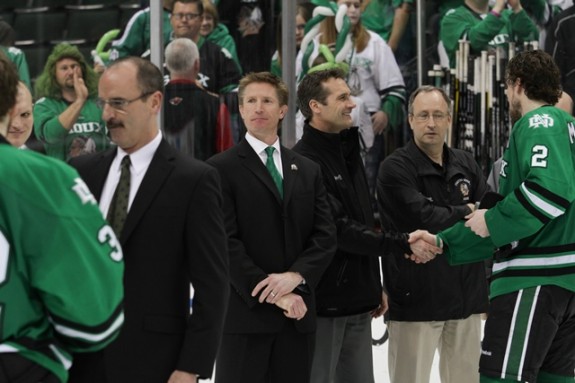 After the 2013 West Regional Coach Hakstol also hinted that maybe it's time to put the regionals back on campus.
"The best regionals that I have been involved in, atmosphere wise, was here, in 2006, when we hosted," Hakstol said. "The regional in Minnesota, last year at the Xcel Energy Center in front of 10,000 people, we came up one game short. Great atmosphere to play in, spotlight event, the way the national tournament game should feel. Third one would have been at the Kohl Center, where the University of Wisconsin hosted."
"We had the good fortune of coming out of that regional. That was a tough game, there were about 15,000 people cheering against us and 1,000 of our fans with us, but that was atmosphere, and that's the stage that our national tournament should be played on.  We need to get back to one shape or form." 
Recently, the conversation surrounding the NCAA regional attendance issues has picked up steam. However, some of the small schools are still lukewarm to the idea. The coaches that are opposed to the idea feel that the bigger schools would have an unfair advantage.
UND prepares for empty building in Cincinnati
Coach Hakstol's team is prepared to play in another empty, quiet, arena this weekend when they travel to Cincinnati.
"I think everyone has an understanding in our locker room what it will be like," Hakstol said. "Every building is different. Every building has a different feel. Obviously, we're going to play in a pretty big building, and it's going to be a pretty quiet atmosphere. The biggest thing that you have to fall back on is just mentally, being ready for that. The experience from last year will help, a little bit. At the end of the day, it's the same for both teams."
Hakstol continued, "That being said, it's unfortunate… I think it will be a great game between Wisconsin and North Dakota. Two old rivals is going to be played in front of very few people in person."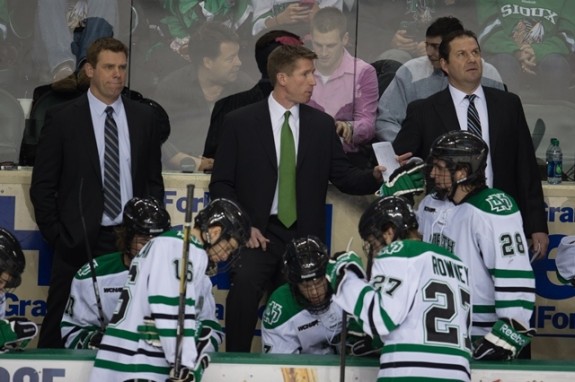 Wisconsin earned right to host regional  in Madison 
One of the suggestions to deal with the attendance issues that plague the NCAA is to let the top-four seeds host the regional tournaments. This weekend's opponent, the Wisconsin Badgers is one of the number one seeds. Coach Hakstol was asked if he would rather play in Madison, Wisconsin than Cincinnati.
"I have been a big supporter of the number one seed hosting the first round," Hakstol said. "Absolutely, they earned it. They have a phenomenal record through the year. They had a great season. They're a veteran team that's playing very well. 
"In my opinion, they've earned that right to host. As a number four seed, if we wanted to advance, we would have to overcome those odds. Obviously, that has nothing to do with this year. If I had a vote on it, if this scenario came up next year, yeah I would vote for this game to be held in Madison."  
There you have it. The UND head coach would rather play in the opponent's arena than an empty neutral site with no environment.