For the past few years, the mutual respect between hockey players has been questioned and criticized. Debatable hits from behind and to the head have led to injuries, concussions, and new rules to avoid these sorts of discretionary lapses.
For now, however, forget about the lack of respect on the ice. I want focus on the lack of respect coming from the nameless, anonymous individuals of social media. I want to settle in on those who call themselves fans or analysts – but that seem to push the limits when it comes to voicing their opinion.
Twitter: Connecting Pros With the Lows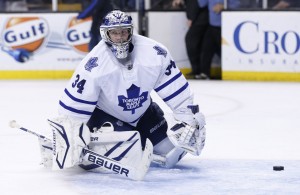 To start, Twitter has changed the way athletes communicate with their fans. Sure, they don't always answer every post, but it's given pro athletes a chance to interact with fans, media, and each other on a public level. Better yet, it's given fans an opportunity to get in touch with their favourite players – a privilege people didn't have as recently as the NHL's lockout in 2004-05.
But with every change comes the good, the bad, and (of course) the evil. In this case, it's been around long enough for us to experience every single one of these possibilities. Regardless, Twitter is a platform for anyone to voice their opinion – the right to freedom of speech – right?
But what happens when that privilege is taken advantage of? What happens when individuals, who claim to be fans, call out players? Or more importantly, what happens when these individuals begin to attack the families of these athletes?
That's when the respect of these anonymous online trolls is brought into question – their self-proclaimed role of 'fan' is revoked and they are simply seen as baiters filled to the brim with ignorance. The truth is, we look up to these athletes. But often we forget that they're simply human beings and, as so, deserve some level of respect – regardless of their situation.
Twitter Attacks: April Reimer Being the Bigger… Woman
There's no question that Maple Leafs' goalie James Reimer has had his struggles this season. But following a recent loss to the Montreal Canadiens it was his wife, April Reimer, who became the target of online trolls via the social platform.
Criticizing both James and April, as well as their relationship the tweets contained all kinds of crude comments – which won't be mentioned to avoid delivering recognition to those select individuals. Some blamed emotions and frustrations for their comments, while others claimed they were jokes or simply their opinion.
Regardless, there is a limit – even when it comes to our opinion as individuals. Criticizing Reimer as player is something that athletes have grown to expect – even if it's hard to hear. Having your family called out publicly and your personal being attacked is more crushing to an athlete than anything. However, both James and April handled the situation with class.
April, who didn't respond at first, eventually tweeted a general thanks to her supporters.
Don't mistake my silence for ignorance, my calmness for acceptance or my kindness as weakness #goaliewifeproblems

— April Reimer (@april_reimer) March 23, 2014
Thankfully the voices of many drown out the voices of a few. Thank you if you wrote me a kind tweet :)

— April Reimer (@april_reimer) March 23, 2014
James, who was asked on consecutive days about the situation had a little more to say to both his supports and his sinister critics.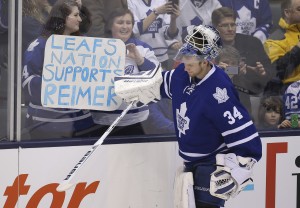 "It is what it is, it's disappointing, a few people who want to do some bad things," he said in an article by Toronto Star reporter Mark Zwolinski. "But for every unfortunate person, there's a lot more who are positive, great fans who show their support."
Reimer continued by challenging those individuals to talk to him directly if they were disappointed with his play, saying that he too was disappointed, but that he wasn't hiding behind it. In fact, Reimer understands that he can't hide from criticisms of his on-ice play. But when it comes to family, any athlete would remind you that they are off-limits.
These kinds of comments are exactly why some players avoid or delete social platforms like Twitter. As I mentioned, it can be used to bridge that gap between player and fan. But it's those fans that cross that line who will eventually forfeit the privilege – and possibly ruin it for others.
Andrew Ladd and the Leaderless Jets
This past Monday, Winnipeg Jets' captain Andrew Ladd missed his first game as a member of the team. His absence from the lineup was accompanied by criticism of his leadership and team mentality – criticisms that were voiced over Twitter by former Canadian Football League player Troy Westwood.
Now, Ladd was out of the lineup because his wife was giving birth to their second child – also their first daughter. Westwood's criticism was directed at Ladd because of the team's position in the NHL standings and the fact that they were (and are) battling for a Western Conference playoff spot.
Baby born last night, healthy, no complications I assume. You as captain don't make game tonight in Dal with playoffs hanging by a thread?

— Troy Westwood (@TroyWestwood) March 24, 2014
And then…
@AllanGunter Baby born last night. 2nd baby. Everyone is healthy. Are your freakin kidding me? Ridiculous he is not there.

— Troy Westwood (@TroyWestwood) March 24, 2014
And followed that with…
Can guarantee this. Behind closed doors any pro organization/management would hope the player made the decision to play the game.

— Troy Westwood (@TroyWestwood) March 24, 2014
Before setting it all straight with…
Let's get something real straight. I never once said, nor do I believe, that Andrew Ladd should not have been at the birth of his child.

— Troy Westwood (@TroyWestwood) March 26, 2014
But regardless, it goes back to the argument of criticizing a player for his in-game performance versus his or her decisions away from the game and regarding their personal life. Now, some will argue that Ladd's decision fully impacted his team and therefore should be fair game – they're wrong.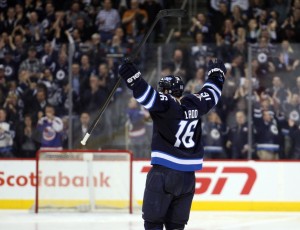 His decision was to be with his wife and kids for a milestone moment. His first daughter will not be born again – there is not a second chance at that. The Winnipeg Jets – and for argument's sake, the Atlanta Thrashers – have had and will continue to have opportunities at the Stanley Cup playoffs.
So long as Ladd is okay with his decision, as Greg Wyshynski writes in his Puck Daddy post regarding the incident, it's not a decision that others need to worry about. It was an important day and he had somewhere else to be, writes Wyshynski. It's as simple as that.
Some Things To Think About
Twitter is definitely a place to voice opinions – there's no question about it. But there's always going to be a line that needs to drawn. Dan Rice, writer here at The Hockey Writers, recently wrote a piece about being respectful at games – trying not to be that 'jerk' in the crowd.
In many ways, Twitter is the same. Don't be the 'jerk' trying to open the flood gates to a relentless and ignorant argument. Having the ability to communicate with professional athletes is a privilege. Sure, they've allowed themselves to come under criticism being a part of a publicly-driven business. But when it comes to family and personal decisions, some things are just off-limits.
Questions or comments? Leave them below, follow Andrew on Twitter @AndrewGForbes or on Google+.