Alex Tuch

THW's NHL Draft War Room Rankings (E-Mac): #18 (Feb 2014)
THW's NHL Draft Rankings – The Next Ones Edition (aka Chris's List): #29 (March 2014)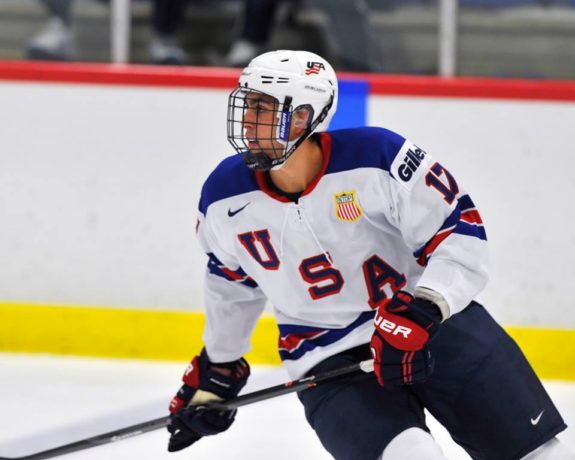 Hashtag/Nickname: #MrBig
Team: #17, US U18 NDTP, USHL
Position: Centre/Right Wing
Shoots: Right
Height: 6'3
Weight: 215 lb.
Born: Baldwinsville, NY, 10-May-96
Twitter: @alextuch37
Stats
Other Rankings
12 – HockeyProspect.com, Feb-14
14 – ISS, Feb-14
19 – Bob MacKenzie, Jan-14
23 – Future Considerations, Feb-14
24 – Craig Button, Jan-14
26 – NHL Combined – Mid-term, Jan-14
Worth Retweeting
http://t.co/dTmaEKMf2A
#14 Alex Tuch @alextuch37
Pro frame who does it all… competes with the best, heavy hitter & excellent versatility.

— ISS Hockey (@ISShockey) February 28, 2014
Alex Tuch- Thunder to Milano's greased lighting. Size and offensive ability. Big-bodied forward protects the puck& good net front presence

— Kirk Luedeke (@kluedeke29) September 4, 2013
Profiles
Prospect Pulse: @kluedeke29 profiles U.S. NTDP forward Alex Tuch (Baldwinsville, N.Y.) http://t.co/hD2kvbx9Jw

— NY Hockey Journal (@NYHockeyJournal) February 20, 2014
Player Profile: Alex Tuch:  

Alex Tuch, C/RW

Shoots: R

Height: 6-3

Weight: 218

Born… http://t.co/gLuVrabwJg #FantasyHockey

— DobberProspects (@DobberProspects) February 21, 2014
Quotable
"Wow! The humongous power winger has vastly improved both his skating and puck skills. He is now a major load who goes just about anywhere he damn well pleases on the ice."
From the THW War Room
Eldon MacDonald, THW: A few words on Alex Tuch:

Mr. Big – The first you notice about Alex Tuch is his size – he's a powerhouse at 6'3, 215 lb.
Power forward – Alex is starting to ramp up his physicality to make use of his god-given size. He is already a strong forechecker and uses his strength and good balance to protect the puck well.
Skills – More than decent skills for such a big guy – a good goal scorer with soft hands around the net, a hard shot, skating which is very good with a heavy stride. Top that with good vision and you are starting to see why so many teams really like this guy.
Draft placement – With the dearth of Mr. Big's in this draft, Alex is only likely to go up.
Video
About NHL Draft War Room Series
This series is compiled by Eldon MacDonald and edited by @ChrisRalphTHW)