Nick Ritchie THW Close-Up:
Date of birth: 12/5/1996
Place of birth: Orangeville, ON, CAN
Ht: 6'3″     Wt: 236 lbs
Shoots: Left
Position: RW/LW
NHL Draft Eligibility: 2014
THW The Next Ones Rankings (January 2014): 10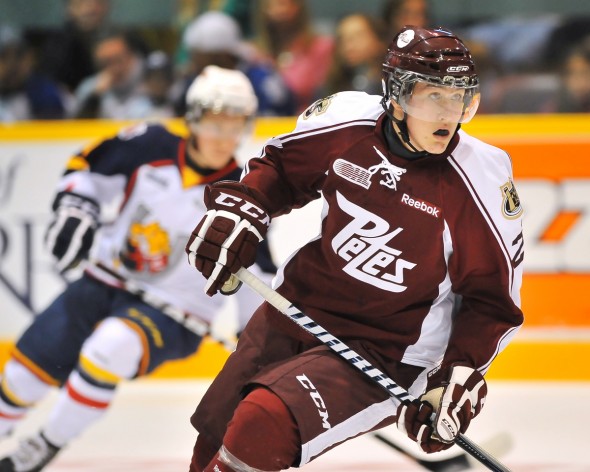 Other Rankings:
THW War Room Rankings (April): 7
Craig Button: 15
CS Final Rankings for North American skaters: 7
***
The old saying around the NHL is: You can't teach size.
Nick Ritchie has plenty of it and isn't afraid to use it. In fact, it's one aspect of his game that makes him such a prized item in this year's draft. Standing 6'3″, 236 lbs, Ritchie is one of the most dominating scorers juniors has to offer. The big-bodied winger for the Peterborough Petes has amazing quickness for his size and packs a punch with his wrist shot.
The next great power forward in the making, Ritchie had a phenomenal OHL season scoring 39 goals and adding 136 penalty minutes. As I said before, he's not one to shy away from physical play and oftentimes gets into the heads of players with his physical play. The one knock on his game might be his consistency.
One night he can come out flying, scoring goals at a clip, setting up plays, and showcasing his offensive skills. Other nights he can lose his cool, spend a good amount of time in the box, and completely be off his game. Ritchie has a bit of a temper, which is something NHL scouts like to see, however he'll need to handle his temper a bit better to be an effective NHL player. It shouldn't be difficult to work on given proper coaching.
The one part of Ritchie's game I like most is his compete level and willingness to battle along the boards, play effectively in the corners, and the way he drives the net creating problems for defensemen and goaltenders. He's going to be a big headache for 29 NHL teams when they have to do battle against him.
Where Will He End Up In June:
There's a very good chance Nick Ritchie is a top 10 selection in late June. Pure power forwards with talent are difficult to come by which makes Ritchie a valuable asset. If he does drop out of the top 10, don't bet on him falling past the first 15 selections.
Scout's Honor:
"The former #2 pick in the 2011 OHL Priority Selection, Ritchie looks to have put some injury woes from a season ago behind him, which has him primed for a big year. The hulking winger will have NHL teams salivating with a 6-foot-2, 220 pound frame, and speed to burn. Despite his gargantuan size, Ritchie has the explosiveness to take most defenseman wide but also shows an ability to mix up his attack by cutting in and driving the net. Ritchie's shot release is top notch and projects to grade out as a 30+ goal scorer at the next level. So what's holding his game back? Ritchie can be a mixed bag as you never know what you're going to get out of him on any given night. If the soon to be 18-year-old can find some consistency, it could help push him into the top three."
"Nick Ritchie is a power forward prospect who finishes his checks, and plays a very straight line game, taking the puck right to the front of the net and not caring if he has to go through a defenceman to do it. He loves to stand in front of the net and has the quick, soft hands necessary to score on rebounds and deflections.  Ritchie might have the best wrist shot in this draft class.  It is tremendously powerful, and features a very good release.  It can be in the back of the net before the goaltender even knows that he's shot the puck.  That wrist shot is already NHL ready.  He is powerful in board battles, overpowering defencemen and winning pucks.  While plenty of Draft Eligible prospects need to add muscle to their frames before going pro, Ritchie is already built like a truck.  On top of that he's still got room to get even bigger and stronger.

He has a powerful skating stride, and excellent balance, but could stand to work on his speed as it is just average (for this draft class) right now.  One thing that really helps though, is that he has a very quick first step and good acceleration.  This really helps him to pounce on loose pucks in all three zones.  While he might not win a 100 foot race to the puck against a quicker NHL player, he is going to win plenty of 10 foot races to loose pucks."
Ben Kerr – Last Word On Sports
"Tough and quick, he is a good playmaker and scorer. Strong on the forecheck and in the battle areas. 200lber with great size, good on-ice vision soft mitts, quick release and natural goal scoring instincts. Working to be a stronger forechecker, and improve as a two-way player. Already displays skill and physical presence. Aggressive physical player with good agility and footwork. Punishing hitter. Emerging offensive player who is difficult to move off the puck. Uses his core strength and skating strides to cause problems defending. He was selected to the roster for the World Junior Under-18 Tournament in April, 2013."

Bill Placzek – Draftsite.com
Statistics:
Bio/Interview(s)/Links:
Gare Joyce profile for Sportsnet
James Onusko profiles Ritchie for the Edmonton Journal
Interview with Last Word On Sports
International Tournaments:
Ritchie has suited up for Team Canada in three separate occasions in whic he's won two golds and a bronze medal. In 12 games for Canada he has nine points and 43 penalty minutes.
ETA:
1-2 year
Risk/Reward Analysis:
Risk: 1/5   Reward: 5/5
NHL Potential:
Top line scoring power forward who will rack up penalty minutes
Strengths:
Large body who uses it willingly
Fast wrist shot
Agility is key, especially for his size.
Isn't afraid to drop the gloves
Excellent along the boards and getting to the crease
Flaws/Aspects He Needs To Work On:
Consistency
Taming his game down and knowing when to fight
Fantasy Hockey Potential:
Offensive: 8.5/10    Defensive: 4/10
NHL Player Comparison:
– NHL comparison: Rick Nash
Video(s):
***