Over the last several years, Thomas (Chase) Perry has shown a significant amount of growth as a young and budding North American goaltender. After spending three years in Andover High School as a member of the Huskies, Perry demonstrated solid improvement in each of his three seasons and even had the chance to play in a playoff game in his last season with the team.
While this year has been different for Perry as he is now a member of the Wenatchee Wild of the NAHL, the netminder has not stopped his gradual progression. Instead, the goalie has been a bright spot for his team as he has appeared in 19 games and has recorded a 2.36 GAA and .907 Save Percentage in his first season playing in the North American Hockey League.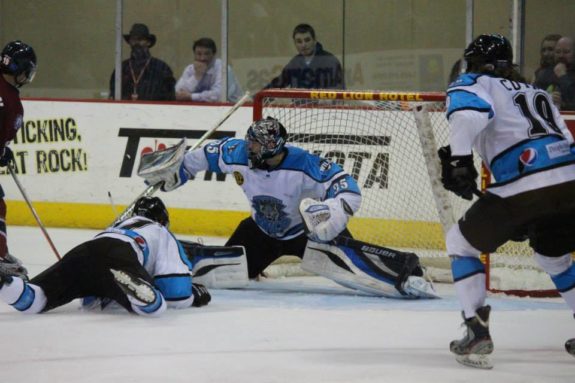 This year, the NAHL could very well be sending three draft-hopeful goalies (Perry, Kasimir Kaskisuo, Drew Vogler), and Perry is currently leading the bunch as the highest ranked goaltender of the three. Recently, The Hockey Writers had a chance to sit down and have a conversation with Chase Perry about his draft prospects and what it has been like to transition to the NAHL after spending several years playing High School hockey.
The Hockey Writers: Being from Andover, what did it mean to you to go to Andover HS – which has a great high school hockey program – and what did you take away from that experience?
Chase Perry: Playing for Andover was awesome. Most players, they come in as a sophomore, but my coach was very helpful and he let me start as a freshman. Coach Mark Manney gave me a great opportunity to come in and prove myself and see if I can take a varsity position. I split my freshman year with another goalie – he was a junior – and then my sophomore year I went in and I think I played 24 or 25 of the regular season games. Being a part of Andover hockey was a great opportunity and it was one of the most meaningful things in my hockey career so far.
THW: What has been the biggest transition that you have had to make this season after going from Andover to the NAHL?
CP: Back in high school there were maybe one, two, or three guys that were the standout players that had a lot of skill and knew what they were doing. But here [playing juniors] almost every single person knows what to do with the puck, the right decisions to make, and everyone here is just a good hockey player.
THW: Has there been a specific experience that has helped you adapt thus far to play in the NAHL?
CP: I feel like it was really in training camp during the first week when I got here. I stepped into the net and the shots just started flying at me – it was a lot quicker than high school and I think that was an eye opener as I really had to bear down and come out and compete every day, face shots, and try to get better.
THW: What has it been like to learn from someone like Bliss Littler and the rest of the Wenatchee Wild coaching staff?
CP: It's awesome, Bliss has been around coaching for many years and he's one of the most respected coaches in junior hockey, and I guess in all of hockey you could say. He has so many great stories that he tells us and he teaches us how to be a pro and treat ourselves right, so it's a great opportunity to have him as my coach.
THW: Can you describe your experience being a member of the NAHL U18 Selects team and what you took away from that opportunity?
CP: That was a really fun experience. I got to know some of the guys from around the league, and it was kind of fun to see how the other players like their teams and how they're developing.
THW: You're an athletic netminder that has good reaction and anticipation. What would you say are some of your strengths going into the NHL Entry Draft?
CP: I wouldn't say that I'm a butterfly goalie. I like to stand up if I can, but when I need to I will go down. I think the mental part of my game is pretty good – if I give up a soft one [goal] I don't let it get to me. I always talk about having a clean slate after you let up a soft goal and refocusing on what you have in front of you.
THW: You mentioned mental preparation. Is there anything specific that you do to mentally prepare for a game either the night before or on game-day?
CP: Well, the night before – before I fall asleep – I always visualize the game. I picture myself going out there, getting a warmup, and have a good first, second, and third period.
THW: Are there any aspects of your game that you are looking to fine tune before the draft?
CP: Well, everything needs improvements. Everything from simple saves to playing the puck behind the net – there are many areas that I can improve upon.
THW: Do you have a particular NHL or professional goalie that you like to watch and learn from or a goalie that you resemble the most?
CP: I really like Henrik Lundqvist for the New York Rangers. I don't think I really play like him since he's more back in the net and he just tracks everything perfectly, but I just really like the way that he handles himself on and off the ice. In terms of style of play, I'd say more like Jonathan Quick – he's more aggressive and he likes to move side to side – and I'm kind of the same way.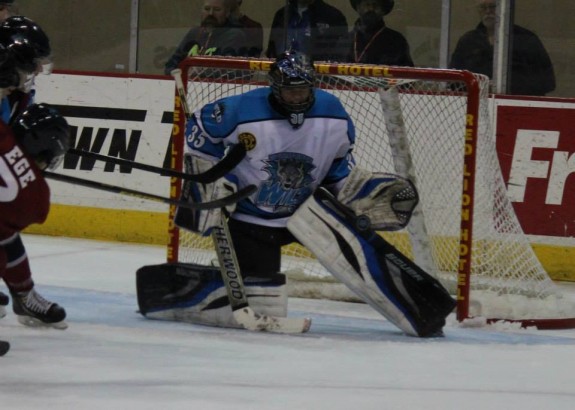 Despite the fact that the NHL Entry Draft is still several months away, Chase Perry has done the requisite work to be recognized by scouts. When or where Perry will be selected is yet to be seen as there is still a good portion of the hockey season left to be played in the NAHL and other junior leagues. However, if Perry has shown hockey fans anything, then it is the fact that the goalie is willing to do all of the necessary work to succeed at any level of hockey that he is placed in – something that will undoubtedly make him an attractive prospect come draft day 2014.