Anyone that was on Twitter on January 28, 2014 likely came across the hashtag #BellLetsTalk. This yearly event aims to encourage open and free discussion about mental illness in our society and the company ensures that 5 cents from each tweet containing that hashtag is donated to mental health causes and research. In the hockey world, there are a few names that kept popping up in this discussion of mental health, Rick Rypien and Wade Belak being at the forefront. The Winnipeg Jets wore jerseys with Rypien's name and number on them for warm ups that evening to pay tribute to the player taken from us by mental illness and to help promote awareness of mental health issues. But as important as they are, this article isn't about Rypien's story or Belak's story. It's about a different player who also struggled with a mental illness that ultimately claimed his life.
A Life, a Career and Mental Health
There is one name that you don't often see discussed when it comes to hockey and mental health and I believe that his story is just as important as that of Rypien and others.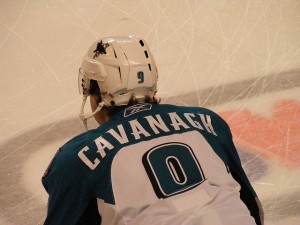 You may not recognize it, given that he only played in the NHL very briefly as a member of the San Jose Sharks (17 games in the 2008-2009 season) and he passed away in 2011.
His name was Tom Cavanagh.
Tom Cavanagh was born in 1982 in Warwick, Rhode Island. He quickly developed a love for hockey and through his career got the chance to play for the Harvard men's team before being drafted in the 6th round of the 2001 NHL draft by the San Jose Sharks. One of the key things about Tom's hockey career was that he wasn't perhaps the best player on the ice. He worked hard though and was described as being an "honest player." Marc Emmons reports:
"He might have beaten the odds a little bit just to play up here," said Sharks alternate captain Ryane Clowe, who played a season with Cavanagh at San Jose's American Hockey League affiliate in Worcester, Mass. "He wasn't a flashy player. But you could tell he really cared about the game and would do anything."
Though Cavanagh wasn't perhaps the best player on the ice, his heart and willingness to succeed at his chosen sport was evident. Cavanagh was also involved in the community, helping out kids who couldn't afford to play hockey play the sport. But off the ice, things were different for Tom as he struggled with schizophrenia.
Schizophrenia
You may be wondering why I've included this in a hockey article, but I believe having correct information about the diagnosis is important when trying to understand Cavanagh's story. Schizophrenia is a physical disorder of the brain. Its causes are largely unknown, but they do appear to have a genetic component. Schizophrenia has also been linked to the abuse of illegal narcotics; marijuana use has been reported to trigger episodes of psychosis in those who are genetically inclined to develop the disorder. The numbers associated with schizophrenia are astounding, including the fact that 1 in 100 people will be diagnosed in their lifetime with the mental illness. Schizophrenia is not multiple personality disorder/dissociative identity disorder and it is more than "hearing voices." Its symptoms vary from person to person and can include hallucinations (can occur in any of the five senses), apathy, depression, improper social functioning and suicidal ideation. Please take the above as merely a brief outline of what the disorder is and note that there are many things about schizophrenia that I have not included here.
Throughout his career, Tom Cavanagh was involved in a few incidents that were likely scary for all those involved. Emmons outlines his first hospitalization in his article, "Tom Cavanagh: A tortured life":
For those closest to Cavanagh, his illness became apparent in November 2009 when he suffered his first psychotic episode. He was briefly institutionalized and, in what would become a pattern, responded well to medication and was released. He even joined the AHL's team in Manchester, N.H., later that season, playing in 17 games before suffering a shoulder injury.
The cycle that Cavanagh went through in regards to his medications is typical of individuals with the disorder.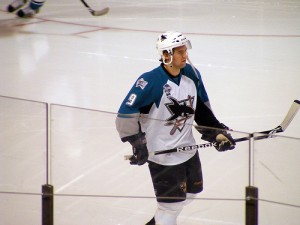 People with schizophrenia tend to respond well to medication, but this successful treatment can cause the individual to be deluded into believing that they are cured or that they are not even ill and therefore do not need medication any longer. Cavanagh faced a few more psychotic breaks and subsequent hospitalizations throughout his life and his hockey career was adversely affected. He was released from his contract with the last team he played for in 2010 while he was still trying to cope with his mental illness.
On January 6, 2011, Tom Cavanagh parked his car in a stall in the upper level of a mall parking garage in Rhode Island, got out of the vehicle and jumped to his death. He was 28 years old.
Lessons to Learn
Tom Cavanagh's life was important. He was a brother, a son and a friend to those that got the opportunity to know him. His story is also important as it provides a face to the diagnosis of schizophrenia. It is vital that we acknowledge that Cavanagh was not "crazy" nor was he a "psycho." Those terms are hurtful and inaccurate when describing anyone with schizophrenia or any form of mental illness for that matter. It's more important to speak the truth that he was a likeable young guy who, even though he had opportunities that some people can only dream of, struggled through mental illness. Mental illnesses such as schizophrenia do not discriminate; they can become a part of anyone's life at any point in time. The focus on mental illness within the NHL is important and I enjoyed seeing players and teams alike sharing the hashtag #BellLetsTalk. It shows that there is an increasing awareness of mental health issues, and a greater acceptance of those that struggle with the same.
After his death, a foundation was created to raise awareness of mental health issues and promote education on the same. The Thomas G. Cavanagh Memorial Fund can be found on Facebook and Twitter as well as their website.
Featured Image courtesy of Jill Goodell CC BY-NC-SA
Images courtesy of Dinur Blum CC BY-NC-ND