With the regular season coming to a close this past weekend, it's time to start focusing on nominees for the 2014 Patty Kazmaier Award. Here are the ten players who would make the cut on my list of finalists.
Erin Ambrose, Sophomore, Defense, Clarkson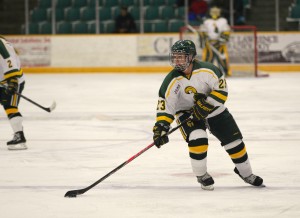 Ambrose has been the most productive defenseman in the country with 13 goals, 35 assists, and 48 points. As the best puck-moving blue liner in the country, she's been a crucial part of a strong 2013-2014 campaign for the Golden Knights. Her 20 points on the power play is a national high, while she ranks sixth in points and second in assists. She's done a great job of getting Clarkson's offense going from the back-end.
Kelly Babstock, Senior, Forward, Quinnipiac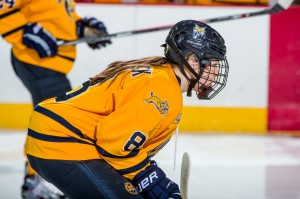 Babstock has posted 18 goals, 28 assists, and 46 points in 34 games so far this year, good enough to be tied for seventh in the country in scoring. She slowed down a bit coming out of the holiday break, but has for the most part been a consistent presence up front for the Bobcats this year. She plays huge minutes for them in all situations, and leads the country in face-off percentage with an absurd 66.0%.
Christine Bestland, Senior, Forward, Mercyhurst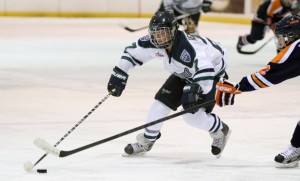 In a season of ups and downs for the Lakers, Bestland has provided consistency for her team. It hasn't been smooth-sailing for the squad, but she's answered the bell and put up points all year. She is fifth in the country in scoring with 50 points from 20 goals and 30 assists, and is also tied for the national lead in shorthanded goals with five.
Rachael Bona, Junior, Forward, Minnesota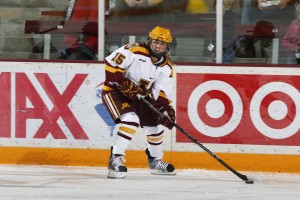 Bona had a huge breakout season this year, jumping from 40th nationally in scoring in 2012-2013 to third so far this season. She's totaled 20 goals, 32 assists, and 52 points. She's one of, if not the fastest player in the country, and has given defenses headaches all season with her speed and skill.
Hannah Brandt, Sophomore, Forward, Minnesota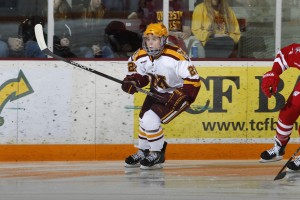 There were some pretty sizable expectations for Brandt coming into this season, and though she hasn't scored as prolifically as she did last season, she's still tied for first in the nation in scoring with 55 points, while her 36 assists lead the nation. Brandt has 19 goals to go along with that, and has stepped up to become a true offensive leader for the Gophers this year after getting off to a little bit of a slow start.
Josefine Jakobsen, Junior, Forward, North Dakota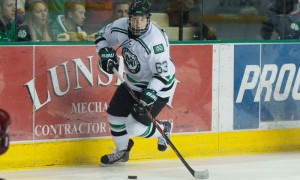 Jakobsen's posted 13 goals, 18 assists, and 31 points this year, but she's contributed more than just offensively for UND.  She's also second in the country in blocked shots among forwards with 74, tenth in face-off wins with 383, and tied for fourth in game-winning goals with five. She stepped up in the absence of North Dakota's three Olympians, and is one of the best two-way players in the country; few have been more valuable to their team this season.
Sarah Lefort, Sophomore, Forward, Boston University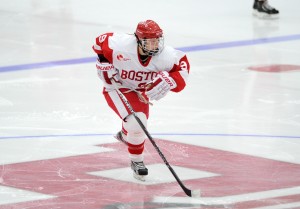 Lefort is the country's leading goal-scorer, netting 29 to go along with 22 assists and 51 points. The Terriers have had a tough second half of the year, but Lefort has only gotten better as the season's gone on. She's fourth in the NCAA in scoring, and her eight game-winners lead the nation. BU's had a hard time executing over the past month and a half, but she hasn't; she's been a constant force up front and has done a great job of getting into scoring areas and creating opportunities for herself.
Jamie Lee Rattray, Senior, Forward, Clarkson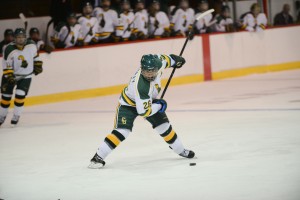 With 26 goals, 29 assists, and 55 points, Rattray is the nation's leading scorer. As arguably the best forward in the country and without a doubt the most productive, her performance this season has helped lift Clarkson up from being a team on the brink of the NCAA Tournament to being a true national contender. She's been a powerful presence up front, and her 196 shots so far this year are also a national best.
Alex Rigsby, Senior, Goaltender, Wisconsin
As a senior who's had a stellar year and career with the Badgers, Rigsby is all but a lock to make the cut for the Patty Kazmaier top-10. Though she was injured for a portion of the year and rookie Ann-Renée Desbiens fared very well in her absence, Rigsby's role as starter was never really in doubt. Her .949 save percentage is third in the country, while her 1.21 goals-against average is good for fourth nationally. She wears the "C" and is an absolute rock in net; it's hard to overstate how much she means to her team.
Jillian Saulnier, Junior, Forward, Cornell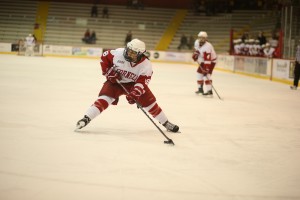 With 23 goals and 23 assists, Saulnier is tied for seventh in the nation in scoring with 46 points. Her mark of 1.59 points per game is actually third-best in the country, second only to NCAA leading scorers Rattray and Brandt. She's got enough skill to take over a game, but never stops working to dig pucks out and win battles in the dirty areas. Saulnier has some good support around her, but there's no doubt that she's stepped up to drive the Big Red offense this year.
Gabriella is now in her third season of covering NCAA and international women's hockey for The Hockey Writers. She is the founding editor of At Even Strength, a website dedicated to providing full-time coverage and analysis of women's hockey. She is currently working towards a degree in Communication at the University of North Dakota, and is also interning with UND Athletic Media Relations. She can be reached on Twitter (@gabfun) or via e-mail (gfundaro10 [at] gmail [dot] com).