If it seems like a long time since the Vancouver Canucks have won a game, its because it has been. With the Sochi Olmypic break, the Canucks seven-game losing streak  has somehow stretched to a month long.  
Now that the NHL is back, can the Canucks save their season?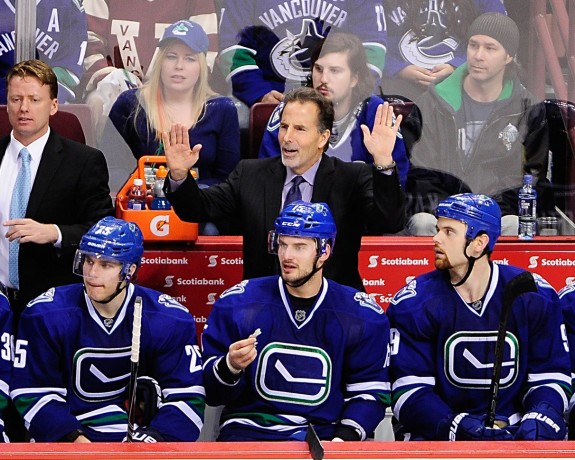 The next four games just may determine that, and moreso, may dictate the direction they go in the future. 
January 26th is the last time that the Canucks skated off the ice with two points in their pockets. Since then they have lost seven straight, all in regulation, and now find themselves out of a playoff spot in the Western Conference. 
With the NHL Trade Deadline looming next week, Vancouver's next four games may determine whether or not they will buy for a playoff run or pack it in for next year. 
Looking Up
The Canucks post-Sochi schedule has them starting with a home game against St. Louis on Wednesday followed by a game at Minnesota, and then home to the Senators and Phoenix. With the exception of the Eastern Conference Senators, all of those teams are ahead of Vancouver in the standings. 
Vancouver also finds themselves with paper thin leads over Winnipeg (1 pt) and Nashville (2 pts) in the standings. 
This week could be a make or break week for the Canucks. 
If they run the table this week they could find themselves back in the playoff picture and looking to add some much needed depth to their lineup. If they lose most or all of them, they could be further buried, making the playoffs a fading dream. 
Buy or Sell?
Canucks general manager Mike Gillis has a tricky week ahead of him. 
If they win this week and get back into the playoff race they will look to bring in a player, or two, to help stay in the playoffs. They have struggled all year to score goals and have a serious lack of depth down the middle of their lineup, so there are many needs. 
Vancouver's 2.38 goals per game has them 20th in the league in goals scored. That number simply isn't going to fly. The trick is, what trades
Gillis has said that he would like to find someone to play with Ryan Kesler, who has been part of a revolving door line for the past two seasons. Finding that player to slide in and help provide scoring is easier said than done, and the Canucks don't really have a ton of assets that will bring back a big-time scorer. 
The trouble is that there may not be a realistic trade out there. 
What assets?
Vancouver may find it hard pressed to make any kind of meaningful trade.
They are anything but awash with assets that they could move. Several of their veteran players have no trade clauses in their contracts which will make it that much more difficult to move them.
Vancouver does have some depth on the back end, but unfortunately has some contracts there as well that might be tough to move.
Chris Tanev is young and has what appears to be a strong future ahead of him so its unlikely they would move him. It also seems unlikely that they would move Kevin Bieksa, Dan Hamhuis and Jason Garrison — all of whom have no trade clauses and big cap numbers.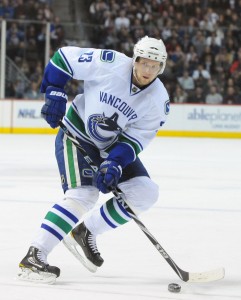 That leaves Alex Edler, who may be the biggest asset that the Canucks could move.
Edler is still young enough, has been productive during his career and is locked down for five more years. While he does have a no trade clause in his contract, the Canucks might be able to get him to waive it if he were being sent to a contending team. 
He could bring back some return but even then it might not be enough.
There are some rumors out there that he could be moved for the likes of Jonathan Franzen. While Franzen may provide some scoring, does a trade like that make the Canucks contenders? Hardly. 
The Canucks have so many holes that it is hard to imagine a 'fix-it-all' trade out there. For this year anyway.
That's why this coming week is so intriguing. If the Canucks get hot, win these next four games, get back into the playoff picture, will Gillis feel the pressure to make a move for a veteran player? 
When that Franzen type player ultimately fails to get them out of the first round, will the price have been worth it?
If they continue to lose will Gillis move someone like Edler, or possibly a Ryan Kesler. It might be time to start stockpiling young players, something that Gillis has never been able to do in his time with the Canucks. 
This next week will be a crucial week for the Canucks, and in many ways, Mike Gillis. He will have four games to determine the correct course of action. Four games to decide if its time to blow up the team, or make one more playoff push.  
If he chooses wrong, the Canucks could find themselves in a serious mess.