Jakub Vrana
(a.k.a Jakub Vrána)
THW's NHL Draft War Room Rankings (E-Mac): #28 (Feb 2014)
THW's NHL Draft Rankings – The Next Ones Edition (aka Chris's List): #31 (March 2014)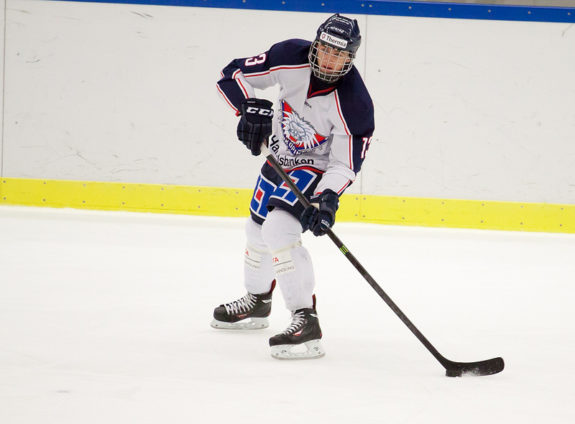 Hashtag: #MrDynamic
Team: #13, Linköping, SHL
Position: Right Wing
Shoots: Left
Height: 5'11
Weight: 185 lb.
Born: Prague, The Czech Republic, 28-Feb-96
Stats
Other Rankings
23 – Bob MacKenzie, Jan-14
23 – HockeyProspect.com, Feb-14
23 – NHL Combined – Mid-term, Jan-14
28 – Future Considerations, Feb-14
35 – Craig Button, Jan-14
Worth Retweeting
Prospect Jakub Vrana outstanding, 2+2, when CZE U18 outplayed FIN U18, 6-3. RUS 3-2 vs SWE in Dmitrov U18 5-nation. GWG Vladislav Kamenev

— Goran Stubb (@goranstubb) February 5, 2014
http://t.co/TMB326PEad
#29 Jakub Vrana
Plays the game w/ spark & is a very good overall skater w/ quick feet & acceleration.

— ISS Hockey (@ISShockey) January 13, 2014
Ivan Hlinka Memorial Cup » At this year´s Hlinka Memorial, Jakub Vrána "would really like to win it!" http://t.co/TvC8qhQJWr #KHL

— Hlinka Gretzky Cup (@HlinkaMemorial) August 4, 2013
Profiles
Quotable
Quote 1: Goran Stubb, NHL Director of European Scouting at NHL.com, "He plays with determination and drive, has an excellent work ethic and is a very fast skater with excellent all-round skills. He's got OK size [6-foot, 183 pounds] and strength. But he's able to control the game and create a lot of scoring possibilities with his quick moves."
From the THW War Room
Eldon MacDonald, THW: A few words on Jakub Vrána:

Mr. Dynamic – Jakub is a guy who can get the fans out of their seats with his dynamic offense. He can electrify the crowd with his high-speed moves in traffic but it is his ability to accelerate and vary the  pace of the game which truly sets him apart from the others.
Skills – Elite skating especially acceleration and agility, creative passing, top-notch wrister.
Intangibles –  Mr Dynamic hangs out at the right place at the right time,  high-end creativity and vision.
Issues – He is under-sized, lacks strength and has a defensive game that is not yet up to snuff. A natural centre who can also play wing, Jakub has not yet found a lot of success playing for Linköping of the SHL, the top Swedish professional league. He has, however, averaged just over a point a game at the junior level this year with the Linköping J20 club.
Draft placement – Mid twenties to mid thirties on most lists. Jakub needs to improve his defense and have a breakout WJC U18 to improve upon his current rankings. The strength issue is something he can work on over the summer but it will come too late to help him in the draft.
Video
Video 1: Goal versus Team Canada at U20 WJC from Michael Soldán
Video 2: First goal for Linköping from 24Corren
About NHL Draft War Room Series
This series is compiled by Eldon MacDonald and edited by @ChrisRalphTHW)
Chris is THW's senior draft/prospect analyst and a Managing Editor. Watch for "The Next Ones" Prospect Profile series, exclusive rankings, mock drafts, as well as the annual THW NHL Entry Draft Guide. Follow @ChrisRalphYQ on Twitter as he infiltrates, dissects and analyzes all happenings of hockey prospects and the NHL entry draft. Email: cralph[at]thehockeywriters[dot]com