#1 Minnesota (37-1-1) vs. #4 Wisconsin (28-7-2)
Friday, March 21 at 5 p.m. EST
Season series: Minnesota leads, 4-0-0
Minnesota routed Boston University 5-1 at home last Saturday in a rematch of last year's national championship game. Kelly Terry recorded a hat trick and four points while Rachel Ramsey had a goal and two assists in the victory. The Gophers' offense was going all game, as they outshot the Terriers in all three periods. Though BU tied it up early at 1-1, Minnesota regained the lead in the second and took complete control in the third period, scoring three goals to break the game open.
Wisconsin defeated Harvard 2-1 in the quarterfinals to advance to the Frozen Four. Though they only put up two goals, the Badgers outplayed the Crimson, especially through the first two periods. With the benefit of a two-goal lead heading into the third, Wisconsin was able to hold off a late push from Harvard, and the victory marked goaltender Alex Rigsby's 100th career win.
Minnesota's Keys to the Game: Although Minnesota swept the regular season series, the Badgers kept three of those four games close. They're going to try and keep it a tight game here too, so the Gophers will want to take advantage of their transition game and their speed up front. If they can get through the neutral zone quickly, it'll be very hard for Wisconsin to force turnovers and establish possession. If they can use their speed in the offensive zone, the Badgers won't be able to win races for loose pucks, making it even harder for them to regain possession.
Wisconsin's Keys to the Game: The Badgers were shut out by Minnesota in their last meeting, and have scored four total goals over their last four games. Barring a near-perfect performance from Rigsby and the defense, Wisconsin needs to get its offense going here. They need to generate opportunities, and not just sparsely; and then they need to convert on those opportunities.  The Badgers normally do a good job of making things difficult for opponents in the neutral zone, and that'll be crucial here, especially with the Gophers' ability to move the puck.
Key Players for Minnesota:
 Rachel Ramsey, D: The junior blue-liner has been fantastic in the postseason so far, scoring three points in last weekend's quarterfinal game for a total of eight in five playoff games.
Hannah Brandt, F: The nation's leading scorer only has two points in four games against the Badgers this season, but Minnesota will need a strong game from their top forward in what looks to be a close contest.
Key Players for Wisconsin:
Alex Rigsby, G: She's been stellar all year for her team and will need to be up to task against the nation's most productive offense.
Katy Josephs, F: She netted the game-winner against Harvard and has had a decent year scoring-wise; Minnesota's defense is deep but she won't be their first priority, and she could really help the Badgers' efforts by joining in offensively again.
#3 Clarkson (29-5-5) vs. Mercyhurst (24-8-4)
Friday, March 21 at 8 p.m. EST
Season series: Mercyhurst leads, 1-0-1
Clarkson punched its ticket to the Frozen Four with a solid 3-1 quarterfinal win over Boston College. Vanessa Gagnon tallied two goals for the Golden Knights, while Jamie Lee Rattray collected three points. Clarkson's defense dominated the game, holding a pretty potent Eagles offense to just 24 shots on goal and keeping them off the board until Dana Trivigno scored with under four minutes remaining.
Mercyhurst upset Cornell for the second year in a row, beating the Big Red 3-2 to advance. Cornell took a 1-0 lead early, but three straight goals from the Lakers powered them to victory. Star forward Christine Bestland scored two goals, including the game-winning tally, and three points to lead Mercyhurst to the win.
Clarkson's Keys to the Game: The Golden Knights made the NCAA Tournament last year for the very first time, and wound up falling to Boston University 5-3 in the quarterfinals. They now have some experience on their side, and their leadership core needs to draw on that. Clarkson has several dependable veterans leading the way, and they'll be relied on heavily here. When they played Mercyhurst early on in the year, the Golden Knights had trouble getting their offense going; they've since come together as one of the nation's most complete teams, and that's exactly the kind of effort they'll need to top the Lakers.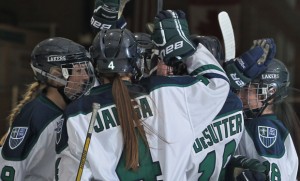 Mercyhurst's Keys to the Game: Mercyhurst scored two power play goals in its quarterfinal victory against Cornell, and they're going to need to execute with the man advantage again here. They did a good job of rolling their offense against the Big Red, which is something they'll need to continue to do against a strong defensive team. The Lakers had the edge over the Golden Knights in their regular season series, but only scored two goals against a goaltender in those two games. With Clarkson's offense now clicking, Mercyhurst needs to be able to match that and create its own offensive chances and pressure.
Key Players for Clarkson:
Vanessa Plante, D: Erin Ambrose has been sidelined the past few games with injury, but the defensive corps as a whole upped its game without her against Boston College. If she's still unavailable, Plante is one player who will have to step up again on the blue line to slow Mercyhurst's attack.
Vanessa Gagnon, F: As a senior and solid secondary scorer, she's one of those dependable veterans that the Golden Knights rely on. She did her part in the quarterfinals against the Eagles with two goals, and could be a game-changer again here.
Key Players for Mercyhurst:
Kaleigh Chippy, F: She's seventh on the club in scoring with 26 points but second in goals with 17. She's found a way to put pucks in the net all year, and it would really help the Lakers' offensive game plan if she could chip in again here.
Jillian Skinner, D: The freshman has slotted in nicely this year, putting up a respectable 12 points, but she needs to be reliable in her own zone to help Mercyhurst's defensive efforts.
Gabriella is now in her third season of covering NCAA and international women's hockey for The Hockey Writers. She is the founding editor of At Even Strength, a website dedicated to providing full-time coverage and analysis of women's hockey. She is currently working towards a degree in Communication at the University of North Dakota, and is also interning with UND Athletic Media Relations. She can be reached on Twitter (@gabfun) or via e-mail (gfundaro10 [at] gmail [dot] com).