Ville Husso THW Close Up:
Date of birth: 02/06/1995
Place of birth: Helsinki, Finland
Ht: 6'1″ Wt: 185 lbs
Catches: Left
Position: Goaltender
NHL Draft Eligibility: 2013
THW Rankings: not ranked (April Edition)
Other Rankings: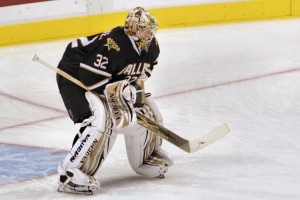 Click here for Notes Up Front for various topics covered below in the live updated NHL 2013 Entry Draft Guide – The Next Ones home page – your quintessential draft resource.
Ville Husso is an interesting goaltending prospect from Finland. Young goaltenders are notoriously hard to judge in terms of their development and it's potentially even more difficult to judge netminders playing in European junior teams.
Husso has pretty decent size and fills the net well. He has nice athleticism and likes to use his glove hand, which has been pretty reliable so far. He has a pretty sound and polished butterfly technique with pretty good rebound control. His positioning and overall patience need some work, but all in all he doesn't have any glaring holes in his technique.
In international play Husso has shown plenty of calmness and pretty good temperament as a goaltender. The mental side of ice hockey is perhaps toughest on the goaltender. Husso's general demeanor bodes well for his ability to handle that side of the game.
Playing for HIFK's U-20 team, Husso has put together two pretty steady seasons and has impressed in the postseason in each of the past two years. He has been somewhat overshadowed internationally by his countrymen Juuse Saros, who is expected to be picked as one of the top goaltenders in this draft.
NHL teams looking to bolster their goaltending depth will have to consider Husso as a later round draft pick. He has the foundation of a solid technique and decent mental attributes. Goaltending is always a little bit hit and miss when it comes to the NHL draft. Fellow Finn Kari Lehtonen is a more athletic and more skilled version of what Husso could be. Lehtonen is always notable for having been drafted unusually high. There are a lot of good NHL goaltenders who were picked up in the later rounds.
Scout's Honor:
'Top European goaltender who displays good technique, athleticism, glove and movement.'
Bill Placzek
Statistics:
Bio/Interview:
ETA = 5-6 years
Risk-Reward Analysis = Risk = 3/5 Reward = 3/5
NHL Potential: Solid starting goaltender
Strengths:
Glove hand
Net presence
Sound butterfly technique
Flaws/Aspects he needs to work on:
Patience
Positioning
Fantasy Hockey Potential: 6/10
NHL player comparison:
Kari Lehtonen
Follow Sebastian Egerton-Read on twitter @SebEread
THW's The Next Ones prospect profile template design architect: Chris Ralph