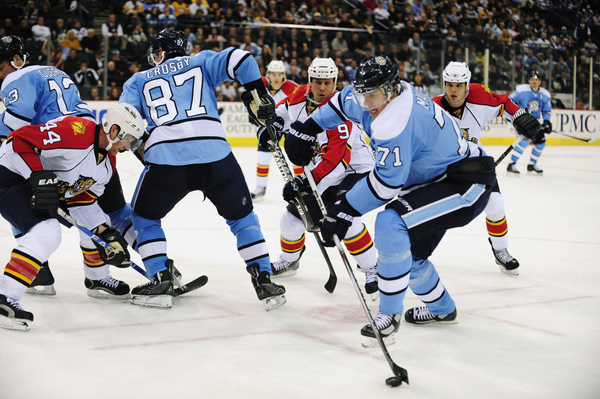 When you think of Sidney Crosby and Evgeni Malkin, do you think of whiner and bad temper? If you aren't a fan of the Pittsburgh Penguins, I already know your answer. Malkin is known across the NHL for retaliating if an opponent gives him a few cheap shots. Crosby was notorious across the league for whining to the referees and talking trash to opponents when he first arrived on the scene as an 18 year old. Close followers of the Pens know that Malkin and Crosby have improved upon their bad habits, especially this season.
Crosby knew as the Pens' captain that he needed to minimize his complaining when a call did not go in his favor. To improve upon his leadership, Crosby has quietly led by example and shown drastic maturity by not involving in as many verbal confrontations.
Malkin also made an effort to improve his temper this season. There have been many occasions when Malkin may have retaliated in the past but this year he has turned the other shoulder. He has let his work ethic do the retaliating for him by putting his head down and fighting through cheap shots. Malkin's focus has been geared towards winning hockey games instead of spending time in the penalty box.
The Pens mentality of taking the high road held strong until Game 1 of the Eastern Conference Finals against the Boston Bruins. The wheels completely fell off of Malkin and Crosby. They were oversensitive to the fact that the Pens were unable to solve Tuukka Rask and both superstars were taking their frustrations out on others around them. Malkin decided to pick a fight and Crosby was too worried about voicing his opinion.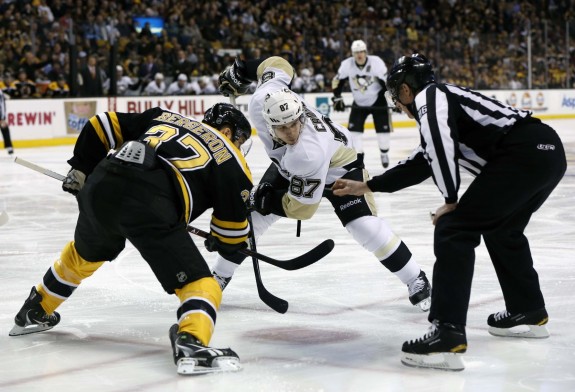 "I think it was just hard to gauge. You get a couple of interference calls where you barely catch a guy. All of sudden we're [referees] allowing punches to the head. It's hard to really get a gauge as a player. Are we just going to play or are we just going to call those little things once in awhile? It's hard to get a temperature on the game when that stuff's going on and then you let a few of those go and everything kind of starts getting out of hand." -Sidney Crosby
Crosby was continually irritated by the officiating and cheap shots he received from the Bruins during the game. After each of his two penalties, Crosby detoured towards the officials instead of going straight to the penalty box. Crosby's trash talking towards Bruins' players and complaining to the refs affected his play in a negative manner. He was more worried about talking than trying to equalize the score.
"It's tough they're [referees] letting a lot go out there. So the more and more it gets like that the more things are going to escalate," said Crosby. "You can only kind of control and channel that so much. You keep letting guys do that stuff then they're just going to push the envelope."
Crosby is continuously targeted by opponents since he is the best player in hockey. He should be used to players making it a point to come after him. Despite the fact that he feels the refs were letting too much go, each team was awarded four power plays in the game. Each team went 0-4 on the power play.
Penguins Undiscipline
Rather than battling and overcoming adversity, the Pens' superstars let their emotions get the best of them. This came full circle at the end of the second period. The Pens were 0-3 on their power play and in the midst of their fourth man-advantage as the second period came to an end.
As the second period buzzer sounded, Crosby was talking trash with Zdeno Chara after absorbing cheap shots from Chara near the Bruins' net. A crowd of players from both teams met at center ice and it became evident that the Pens' superstars had lost their focus. Chaos broke out.
The sold out crowd was going ballistic but Malkin is not paid to fight and Crosby is not paid to talk trash or take cheap shots on Rask. GM Ray Shero pays other players on the Pens' roster to handle these tasks for his two highest paid players. Rather than play hockey, both Malkin and Crosby returned to bad habits.
HEY, SKILL PLAYERS, STOP BEING STUPID, YOU NEED A GOAL

— Meesh (@HockeyMeesh) June 2, 2013
"I don't think the situation at the end of the second period was in our favor," said Dan Bylsma. "We had a power-play.  We had a power-play coming out for the third period.  We got two of our power-play guys [Kunitz and Malkin] off the ice with those altercations."
The Pens were unable to capitalize on their power play to begin the third period and not scoring gave a momentum boost to the Bruins. The Pens were outshot 13-7 and surrendered a Bruins' goal soon after their third period power play ended. The Pens' undisciplined actions at the end of the second period ended up costing them another game in the playoffs.
"When you're on a power play and your skill players, Chris Kunitz and Evgeni Malkin are going off the ice, it's not a situation you want to be in." said Bylsma. "It's not something that we want to do, and I think it took away from our game.  It certainly took away from our power play going into the third period."
Leadership
When you think about everything that took place, Crosby didn't say anything that the rest of the hockey world doesn't already know. Everyone knows the refs are unpredictable and inconsistent on many occasions. Crosby should be used to NHL officiating. Yet, he proved after Game 1 that he was distracted by the refs. Crosby needs to prove his leadership, let his play do the talking, and focus on winning in Game 2.
Malkin is held just as responsible as Crosby. He hurt the Pens by not being available for the third period power play. He could've injured himself by fighting and also was stuck in the penalty box for the first 7:10 of the third period when the Pens needed to make a comeback. He too needs to stay away from the scrums and concetrate on playing.
If the Pens want to be victorious in Game 2, Malkin and Crosby need to focus solely on playing between the whistles. If they stay discipline and let their skill do the talking, winning will take care of itself. They will be tested in the exact same manner come Monday night.
Justin Glock has covered the Pittsburgh Penguins for The Hockey Writers since 2011. As a lead writer, his Penguins knowledge traces back over two decades. For any requests, please feel free to contact Justin via email: JGlock10@gmail.com.