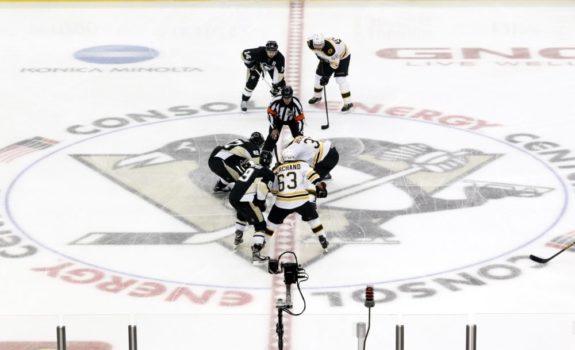 "A zero-sum game is a situation in which one participant's gains result only from another participant's equivalent losses. The net change in total wealth among participants is zero; the wealth is just shifted from one to another."
The Eastern Conference Finals are a zero-sum game.
There will be no compromise in this series — no mutual plan to share benefits.  The Pittsburgh Penguins and Boston Bruins want exactly the same thing.
"That's not our [style of] hockey, playing up and down," Boston's David Krejci said of Game 1.  "We want to play good defensively and play in their zone."
Echo…
"It seems like it was more of an up and down rush game and we don't want to play like that," Pittsburgh's Tomas Vokoun said of Game 1.  "We want to play in their zone and put the pressure on their D."
The Penguins dominated for the first 30 minutes of Game 1, while the Bruins carried play over the last 30 minutes.  Boston capitalized on their scoring chances and grabbed a 3-0 win on the road, but don't expect either team to change much heading into Game 2 on Monday night.
This series will be won and lost in the neutral zone.  We focused on forechecks and breakouts prior to Game 1, but neither team will be able to 'play in their zone' — as Krejci and Vokoun said — if they can't advance the puck through the middle of the ice successfully.
For Pittsburgh, that means moving the puck quick.  The Penguins spent very little time in their end early in the game because they made good decisions and put Boston back on their heels.
Take this first period sequence for example. Boston uses a 1-2-2 trap in the neutral zone. It works exactly how you'd think. The first player is up pressuring the puck and usually locks on the center coming through the middle of the ice. The two wingers take away the boards and the two defensemen are behind them at their own blueline:
The Penguins have success because Kris Letang gives every indication that he wants to go up the left side of the ice.
Look at Tyler Seguin in the red circle. Instead of taking away the option to right wing Brandon Sutter, he's cheating to the middle.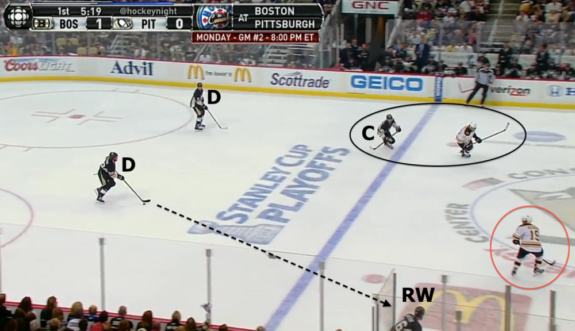 (By the way, Seguin's line was awful in Game 1 and he hasn't looked good all playoffs. Boston's grind-it-out style stifles his creativity. Seguin would fit a lot better in Toronto's up-tempo transition system and he would've been a Leaf had Brian Burke not traded the Seguin pick for Phil Kessel)
Sutter suddenly takes off up the wing and Letang hits him with a perfect pass in stride. Boston rarely allows opportunities like this when they're able to establish their 1-2-2 neutral zone trap.
Contrast the Sutter opportunity to this sequence later in the first period:
It looks very similar to the first example, but there's a few key differences.
First, the video doesn't show what happened immediately beforehand. Pascal Dupuis gathers the puck after a scrum in front and Boston has three forwards deep: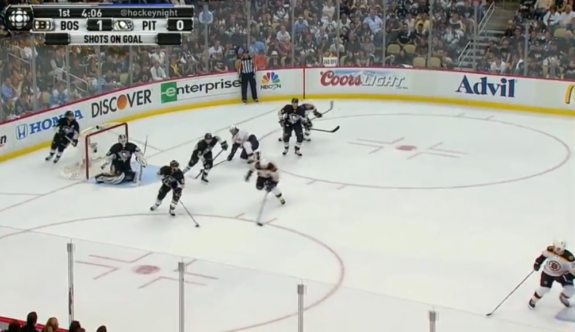 Patrice Bergeron, the forward closest to Dupuis in that picture, does a great job applying immediate pressure to the puck to slow the Penguins down.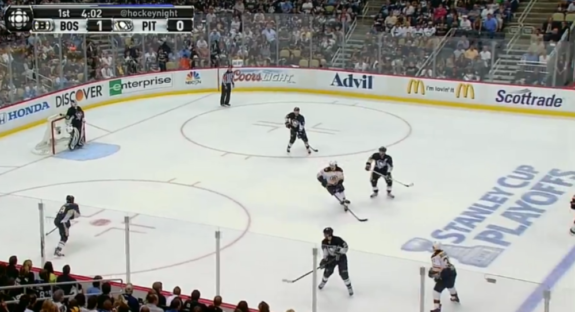 Dupuis stays patient under the pressure and holds onto the puck, but in doing so he allows the Bruins to drop back into their 1-2-2.
When he finally decides to pass over to Paul Martin, the Bruins are in position and ready: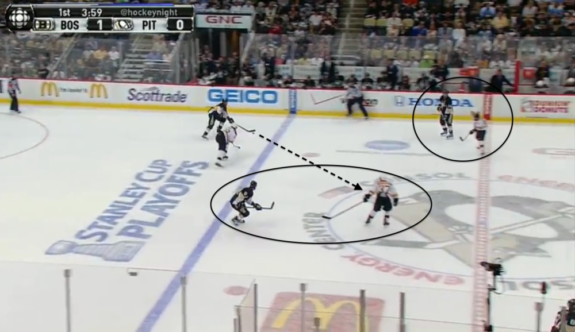 Jaromir Jagr pressures the puck-carrier Martin, who decides to come up the left side of the ice instead of the middle like Letang did. Once Martin picks a side, the Bruins start to seal off his options.
Compare Bergeron's stick position (black circle above) to Seguin in the first example. Bergeron is taking away the middle passing option to Dupuis and it leaves Martin with no options.
He can't outskate Jagr (never a good sign). He can't pass to the middle. He can't pass to the winger. He can't dump the puck because he's beyond the red line. He's toast — and a turnover results.
"We got away from our execution," Penguins coach Dan Bylsma said. "We brought pucks back and tried to make plays through the neutral zone. They had all five guys back and we weren't able to get through that."
The Bruins team mentality in all facets of the game allow them to have success. They don't have high-end offensive talent, but they execute flawlessly when given time and space to setup their systems.
David Krejci, who leads the league in playoff scoring with 19 points, was asked if he sees himself in the same class as Pittsburgh superstars Sidney Crosby and Evgeni Malkin.
"No," he said, "those guys are the best players in the world at this moment. There is no one like those guys, but on the other hand, we don't have guys like that, we have a team, and we all play as a team."
Pittsburgh's best strategy for cracking the Bruins stingy defense is never giving them a chance to setup.
"They watch tape and see that we like to get the puck up as quick as we can," said Paul Martin. "For us it's just trying to take advantage of what they do give us and if it's not there, to move the puck and come up the other side and find a way to get in the zone."
The Penguins did a good job stretching the ice and drawing the Bruins out of position in this second period breakout:
The trouble with long cross-ice passes is they can lead to turnovers. After Boston scored their second and third goals in the final period, the Penguins started to press.
"In the third period we were sloppy with the puck," said defenseman Douglas Murray. "I think we were trying to force things. We were down, maybe a little frustrated."
The Penguins can't afford to let the Bruins frustrate them. Despite going 0-for-4 on the powerplay, Pittsburgh had prime opportunities and won't be shutout with the man advantage on most nights in this series. They need to impose their will physically, as they did in Game 1, without stepping over the line into frustration and penalties.
Both teams will also be looking to establish a strong presence in front of the nets in Game 2.
The Penguins took away Boston's attempts to funnel the puck to the point for shots as we warned about in the preview, and goalie Tomas Vokoun was able to clearly see many of the shots that did make it through to the net.  Boston will look to get more traffic in front of Vokoun on Monday night.
Pittsburgh will take a slightly different approach.  They weren't happy with how they handled rebound opportunities in the first game.
"We've got to try to find ways to get to the net and get more pucks to the net," Sutter said.  "Find a way to get some greasy goals.  Their goalie played well.  They're definitely a pretty good defensive team.  That's something we've got to try and break."
14-year veteran Brenden Morrow offered up one possible strategy for Game 2.
"Their D do a good job of boxing out," he said.  "We're going to get to rebounds, second and third opportunities, [and try to] fight through those D.  If we get to the rebounds, great.  If not, we want it to be obvious calls for the referees to see that they're hooking us up."
Hooking penalties will lead to powerplay opportunities. Powerplay opportunities will lead to goals.
Morrow was very effective in front of Bruins netminder Tuukka Rask in the first game and thinks the Penguins have nothing to worry about despite losing the first game on home ice.
"We're going to be focused.  We're going to prepare and get the body ready for that next game.  We still feel like if we can compete and battle like we did for the first 35 minutes, we'll be alright."
________________________________________