Phillipe Desrosiers THW Close-Up:
Team: Rimouski Oceanic
Date of Birth: 8/15/1995
Place of Birth: St-Hyacinthe, Quebec
Ht:  6'1″     Wt:  187 lbs
Catches: Left
Position: Goalie
NHL Draft Eligibility: 2013
Twitter: @pdesro30
THW Rankings: 62
Other Rankings:
ISS (North American Goalies):
CSS (North American Goalies): 7
Future Considerations:
Craig Button: 55
***
*Check out THW 2013 Draft Guide: The Next Ones, your quintessential draft resource*
***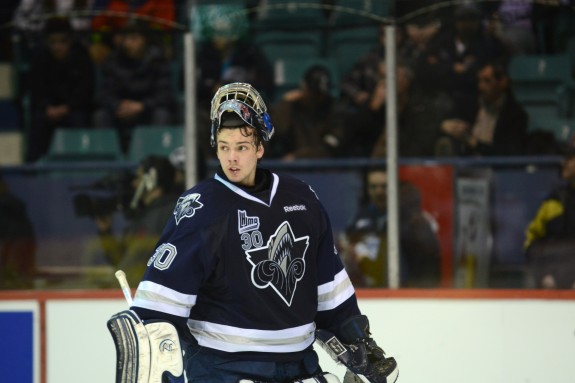 The "Other" QMJHL Goalie?
With all of the hype currently surrounding Zach Fucale, Philippe Desrosiers has done his best to show that there is another goalie from the QMJHL worth looking at when this year's NHL Entry Draft rolls around.
While goalies such as Fucale drawing the attention of scouts from all across North America, Desrosiers has been building up an impressive profile over this last year. Not only did Desrosiers have an outstanding showing at this year's U-18 World Hockey Championship, he put forth some of his best efforts during the QMJHL regular season. As a member of the Rimouski Oceanic, Desrosiers registered some respectable numbers (3.04 GAA, .900 Save Percentage) in a league that is known for its offensive firepower.
Despite the fact that Desrosiers was thrust into starting duties in his first full season with Rimouski, the goalie held his own throughout 43 games played in the regular season. In addition, Desrosiers registered some impressive playoff numbers (4 GP, 2.26 GAA, .892 Save Percentage) and had an even better showing on the international stage (5 GP, 0.80 GAA, .970 Save Percentage) when he won a gold medal with Team Canada at the U-18 World Hockey Championship.
Of course, there are some that might point out the fact that Desrosiers did not have a sterling second half of the season for the Rimouski Oceanic, but the goalie still managed to compile an impressive overall set of numbers and statistics. For a goalie that was placed into the number one starting role this season after only playing in three QMJHL games during the 2011-2012 hockey season, holding down the fort for the Rimouski over the course of a full season is a big enough accomplishment in and of itself.
Since Desrosiers had little time to adjust to his role with the Rimouski Oceanic, his success as a starting netminder is all the more telling. Not only did Desrosiers show flashes of brilliance during the 2012-2013 hockey season, he also displayed improvement in areas such as rebound control. While Desrosiers is very capable in the butterfly style, his positional play and technique also comprise a significant part of his overall game. Even though goalies such as Fucale, Comrie, Martin, Petersen, and Saros might be hot commodities during the NHL Entry Draft, Desrosiers certainly won't be far behind as the goalie has made a case for himself through his solid play during the 2012-2013 hockey season.
Scout's Honour:
"He's an excellent positional style goalie… He plays big and is calm, relaxed and poised. He's quiet back there, with quick feet and pads. He's got very good feet and good technical ability. He has a very good butterfly, good extension, and has excellent control and balance when moving laterally."
– Al Jensen, via NHL.com
"Athletic netminder who took over the chores with the Oceanic as the number one goalie. He is a developing player who has improved in terms of his overall technique, and play. A long term prospect who has improved his rebound control and over-all game. He was selected to the roster for the World Under-18 Tournament in April."
– Bill Placzek, Draftsite.com
"So it's safe to say Canada's international future looks bright. And based on Philippe Desrosiers' cool, collected work between the pipes, they might finally have found a goalie who can solve what has been their Achilles heel at the World Juniors these last several years… Allowed four goals in five games at the World U-18s, and was stellar in the gold medal game. Kid just earned himself a lot of money."
– Kyle Woodlief, via USA Today
"After a departure from the QMJHL playoffs in the first round, a series many expected Rimouski would win over Gatineau, a steady performance throughout the U-18 Championship has improved Desrosiers' stock. This year's list of goaltenders is considered average, in an otherwise extremely deep draft. Coming into these championships, I had some concerns about Desrosiers' athletic ability, but those concerns have been answered with his fine play — especially in the medal round."
– Grant Sonier, via ESPN.com
Where He'll End Up In June:
Desrosiers will likely be selected towards the end of the second round or the middle stages of the draft.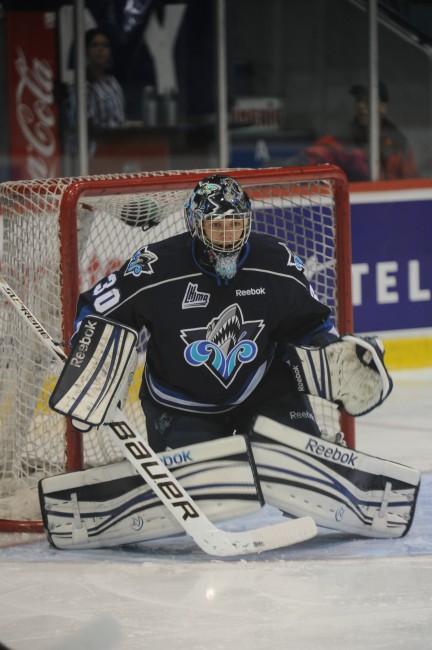 Statistics:
Bio/Interviews:
2013 NHL Draft Preview by The Hockey House
International Tournaments:
Gold Medal Placement at 2013 U-18 World Hockey Championship (5 GP, 0.80 GAA, .970 Save Percentage)
NHL ETA:
3-5 Years
Risk/Reward Analysis:
Risk: 2.5/5  Reward: 4.5/5
NHL Potential:
Number one starting goalie
Strengths:
Athleticism
Quickness
Calm and relaxed demeanor when in net
Good in butterfly style
Good lateral and pad movements
Good glove hand
Good puck handling
Flaws/Aspects He Needs to Work On:
Must fill out a bit in terms of weight
Reading plays/shooter
Positioning and footwork
Slight tightening up of rebound control
Fantasy Potential:
Goaltending: 9/10
NHL Comparable:
Desrosiers' game has a slight resemblance to that of Mike Smith and Carey Price.
*** THW's The Next Ones prospect profile template design architect: Chris Ralph
In his third year with The Hockey Writers, Toli covers all things related to the New York Islanders. Focusing on the Islanders, the NHL Draft & draft-eligible prospect goalies, and hockey history, Toli can be contacted on Facebook by searching/messaging Toli Metter and on twitter by searching @ToliMetterTHW.