"You only get one shot, do not miss your chance to blow / This opportunity comes once in a lifetime." – Eminem
In 2011, the Winnipeg Jets returned to the NHL after relocating from Atlanta.  The buzz surrounding the team was almost palpable.  Having struggled through many years of piss-poor management, lackluster attendance, and atrocious team results, Atlanta surrendered the reigns to True North Sports and Entertainment to bring the team back to Canada.
At the draft, general manager Kevin Cheveldayoff selected Mark Scheifele as their honorary 1st pick since 1996.  Another player they were pining for was defenseman, Zachary Yuen.  The Jets decided to move up in the draft by trading a 5th and a 7th round pick for a 4th round pick (119th overall) to select Yuen.  After coming off an impressive season with the WHL's Tri-City Americans, it looked like Winnipeg wouldn't rush him, let him develop in juniors, and sign him when he was willing to make the next step to the professional level.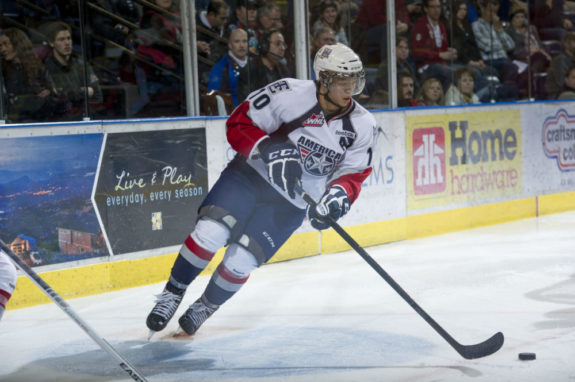 Two years later, the Winnipeg Jets don't have their 4th, 5th, or 7th round picks from 2011.  Zach Yuen was released by the team and was never able to come to a contract agreement.  He no longer has a team and finds himself in the same position he was in two years ago.  But there is hope.
Since he was not signed by Winnipeg to an entry-level contract with him by 4:00pm on July 1st, Yuen will be re-entered into the 2013 NHL Entry Draft.  The Philadelphia Flyers should take notice.
Zach Yuen Overview
Yuen's inclusion in this year's NHL draft has just upgraded the quality of defensemen able to be selected.  He's a prolific two-way defenseman with some of the most fluid skating you've ever seen.  Growing up, he was a figure skater, so his edge-work, agility, and explosiveness are nearly flawless.
A distinguished player in his own end, you likely won't notice him much in the defensive zone, which tends to be a good thing.  He plays a simple style of hockey and with very little mistakes.  Yuen doesn't rush the puck up ice, but his transition game is very apparent. He makes smart plays, not flashy ones.
Physicality is an aspect every defenseman should have in their repertoire.  Yuen's game boasts it.  With his positional play, separating a player from the puck doesn't take much.  His board play stands out and will entertain throwing some fisticuffs (seen below):
His defensive positioning and awareness has been his backbone.  Leading up to the 2011 draft, the term "shutdown defenseman" was being thrown around in regards to his style.  But it seems his offensive game has rounded out just as well.
In an interview conducted by Neate Sager of Buzzing the Net, Yuen mentioned his biggest asset was his "two-way game. I think I'm an all-around defenceman who can do a bit of shutting down other teams' top lines. I can rush the puck well and move the puck well."
Zach has a heavy shot from the point (and more importantly, accurate).  He can run a powerplay, if need be.  His passing is crisp and his hockey IQ is through the roof.  The Winnipeg Jets could have made a very bad decision by letting him go.
A 6'0″, 205 lbs defenseman is not prototypical in today's NHL.  However, Zach shows all the signs that he will be a capable defenseman at the next level.  This is a pretty bad scenario for the Jets, but a potentially key acquisition for general managers in desperate need of a matured, technically sound, efficient blueliner.  Which should get a general manager like Paul Holmgren very intrigued…
***
Why are the Philadelphia Flyers a good fit?
If you followed the Philadelphia Flyers this past season, you'd know that the media and Bryzgalov are best of friends.  (Hint: sarcasm)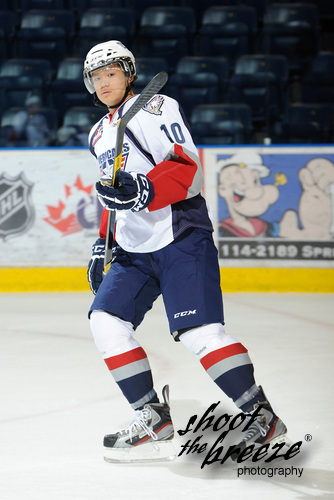 The team missed out on the playoffs for the first time since the 2006-07 season, and – for once – it wasn't the goalies' fault.  The defense was the utter downfall of the team this go around.  There was no cohesiveness, countless turnovers, lack of identity, no communication……the list goes on and on.
It isn't often that the Flyers find themselves with all of their draft picks in the first three rounds.  Paul Holmgren trades more top picks than Raffi Torres receives Shanabans.  And with this being a solid draft for defensemen, it would behoove Holmgren to maybe take a stab at a potential steal.
Yuen, who was originally drafted in the 4th round, has shown great strides in his time with the Tri-City Americans and is on the cusp of playing between the AHL and the NHL.
"My goal is to make the jump to the professional level next season.  I will strive to continually improve in order to ensure that I have given myself every opportunity to do so.  My impression of the AHL is that it is one of the best developmental leagues.  Many of the best players today have gone through this league," Yuen said to me in an interview I did with him early in the 2012-13 WHL season.
There may be a learning curve, but his game is such that it won't take long to adjust.  With the experience of four seasons in the WHL and the skills that he brings, Zach can easily be a 3rd round pick.  I'd even venture to say he might be selected in the 2nd round.
***
For Zachary Yuen, he's getting a second chance to get picked by a team who wants him and needs his services.  For the Philadelphia Flyers, they are getting a second chance at a defensive prospect who can immediately impact their team.
With the words of Eminem in mind, this opportunity comes once in a lifetime.  Unless you're the Philadelphia Flyers or Zachary Yuen.
Follow Shawn Reznik on Twitter: @ShawnTHW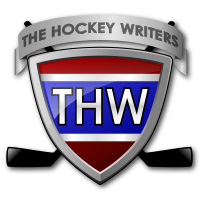 The archives of THW contain over 40,000 posts on all things hockey. We aim to share with you some of the gems we've published over the years.