Mason McDonald THW Close-Up:
Team: Charlottetown Islanders
Date of Birth: 04/23/1996
Place of Birth: Halifax, Nova Scotia
Ht:  6' 4″     Wt:  178 lbs
Catches: Right
Position: Goalie
NHL Draft Eligibility: 2014
Twitter: @Mmcdonald96
THW Ranking: 103
Other Rankings:
ISS (North American Goalies): N/A
CSS (North American Goalies): 2
Future Considerations: 33
Craig Button: 52
Bob McKenzie: Honorable Mention in January 2014 Rankings
***
*Check out THW's 2014 Draft Guide: The Next Ones, your quintessential draft resource*
***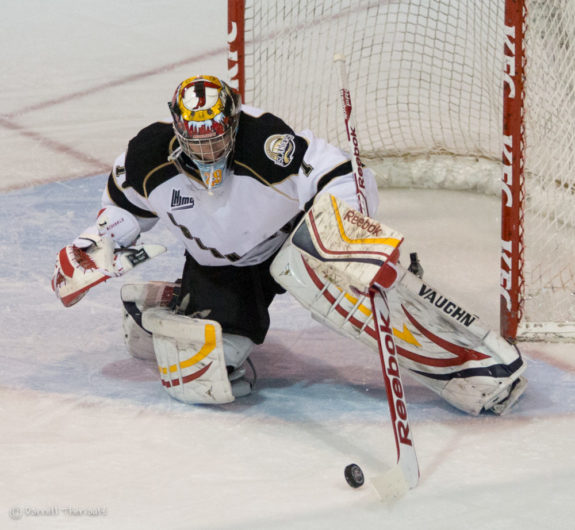 Jumping the Ranks
For a goalie that was listed at number seven in CSS's midterm North American goalie rankings, Mason McDonald sure did put in quite a lot of work in order to become the number two ranked North American netminder on CSS's final list. Standing tall at 6′ 4″, McDonald split the QMJHL season between the Acadie-Bathurst Titan and the Charlottetown Islanders and managed to put up some formidable statistics with both of his teams.
McDonald started off the '13-'14 QMJHL season with the Acadie-Bathurst Titan and managed to play in 13 games while registering a 3.57 GAA and .887 Save Percentage. While the aforementioned statistics might not be the best descriptors of McDonald's abilities, the goalie certainly improved upon his numbers in 16 games played (3.35 GAA, .907 Save Percentage) for the Charlottetown Islanders.
Playing a calm and composed game, McDonald complements his size with a comforting demeanor that will likely put his future teammates at ease when he ascends to the professional level of play. Not only did McDonald's demeanor allow him to be successful with both of his QMJHL teams during the '13-'14 hockey season, it also enabled him to put his skill set on display in big events such as the Team Orr v. Team Cherry CHL/NHL Top Prospects game and the WJC-18.
Despite the fact that McDonald might have had a subpar showing on the international stage in the WHC-17, the netminder rebounded for Team Canada at the WJC-18 as he played in six games for Team Canada and recorded a 1.94 GAA and .930 Save Percentage. As a result of his performances in Finland, McDonald was named the top goaltender in the world for his age group – an accolade that is not just hard to achieve, but one that must be worked for with the utmost dedication to one's craft.
Much like any other goaltender his age, McDonald will have to hone his skills and refine certain kinks in his game, but that is something that the netminder will likely do with a determined nature. Wherever McDonald winds up getting selected this June, the team that drafts the goaltender will certainly have a prospect to be happy about for the coming years.
Scout's Honour:
"The big south paw hadn't hid from the scouting community, but his national exposure was rather minimal to this point playing for teams in small markets in Bathurst and Charlottetown. McDonald uses his size extremely well and is square to the shooter. He's competitive and stays with the play. His teammates on Team Orr did their best to give him his time in the limelight with such a sluggish start to open the game. McDonald was brilliant in turning aside 15-of-16 shots in his half game, with many of them quality scoring chances. Perhaps no save was bigger than one on Ivan Barbashev in the first period. The Moncton Wildcats' forward got behind the defence and had the puck at the top of the crease. Barbashev tried opening McDonald up with some quick moves, but McDonald stared him down and denied the shot. The seventh-ranked goalie by the NHL's Central Scouting did little to dispel the notion he's a top goaltending prospect in this draft, especially considering the only goal he allowed was on a picture perfect shot by Dal Colle."

– Patrick King via Sportsnet.ca

"He's a big and athletic kid who had a good second half to the season. He became their No. 1 goalie and deservedly so. He was actually getting close to Demko at one point."

– Al Jensen via NHL.com

"Athletic and exceptionally quick, Charlottetown Islanders goaltender Mason McDonald is one of Canada's brightest prospects between the pipes. He possesses ideal NHL size and some of the best lateral quickness setting him up perfectly to make save after save. McDonald has a sound understanding of goaltending technique and mental toughness but he is prone to wandering out of position occasionally. Coming off an outstanding showing at the Under-18 World Championships, McDonald picked up the Best Goaltender award after backstopping Canada to a bronze medal posting a stellar 1.94 GAA and .930 save percentage."
– Brendan Ross via DobberProspects.com
Where He'll End Up In June:
McDonald will likely be selected in the mid-to-late stages of the NHL Entry Draft. Goalies such as Thatcher Demko and Jonas Johansson might be the first netminders taken at the draft, but McDonald won't be far behind the two.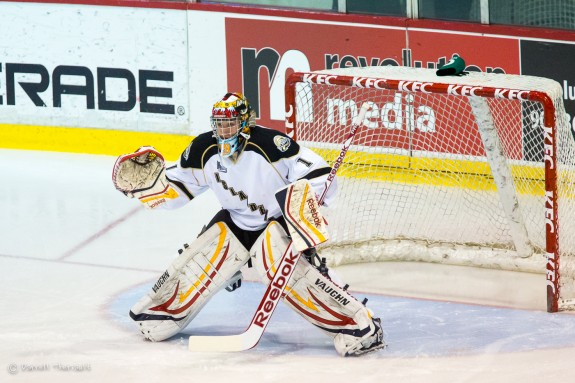 Statistics:
Bio/Interviews:
International Tournaments:
McDonald has competed in the WHC-17 and WJC-18 as a member of Team Canada. Even though Julia Billia appeared in all five games for Team Canada at the 2013-2014 Ivan Hlinka Tournament, McDonald was selected to the tournament as well.
NHL ETA:
Risk/Reward Analysis:
NHL Potential:
Number one starting goaltender.
Strengths:
Great mental composure.
Calm demeanor.
Good reflexes.
Good lateral quickness that sets him up to make many saves.
Good puck handling abilities.
Confidence.
Competitive.
Athleticism.
Flaws/Aspects He Needs to Work On:
Rebound control.
Positioning.
Fantasy Potential:
NHL Comparable:
Calmness in net reminiscent of Carey Price.
Video:
** THW's The Next Ones prospect profile template design architect: Chris Ralph