Last year, Zach Fucale and Philippe Desrosiers were taken within the first 60 picks of the 2013 NHL Entry Draft – something that the QMJHL must have been extremely proud of, given the fact that both goalies were selected out of the same league. Despite the fact that this year's draft class is seemingly loaded on goalies with immense potential, individuals such as Mason McDonald and Brandon Halverson will look to represent the "Q" at this year's draft festivities by having their names called by NHL teams selecting at the podium.
While Mason McDonald might play a style different from that of Fucale and Desrosiers, it would be hard to ignore the 6'3″ netminder at this year's draft. Not only does McDonald possess the requisite size to be a highly coveted prospect goalie, he also has great athleticism and reflexes for a netminder of his size – something that not many bigger goalies can lay claim to.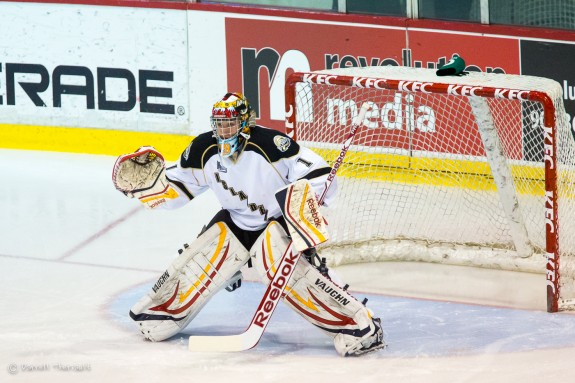 McDonald's quick ascension from Bantam to Midget to Juniors has seen the goalie gain a tremendous amount of experience over the past four hockey seasons, and hockey fans shouldn't be surprised to see the netminder excelling in his new home with the Charlottetown Islanders. Recently, The Hockey Writers had a chance to sit down and have a conversation with McDonald about his prospects of being drafted, life in the QMJHL, and a variety of other things that make him such an intriguing goaltender going in to the 2014 NHL Entry Draft.
The Hockey Writers: Could you describe your experiences progressing from the NSMBHL to the NSMMHL and finally to the QMJHL?
Mason McDonald: Well, the Bantam league was the first year that they had that league, and it was a pretty good year as we won provincials and we went on to Atlantics. It was a good season, and then I went to Midget where we had a pretty good regular season and went to the playoffs where we played Dartmouth in the final – we won the series 4-1 over them, wound up going to Atlantics where we lost, but it was still a pretty good season. Transitioning over to the "Q" was definitely a big jump, but I think I adapted to the speed and different shot speeds quickly.
THW: Over the last two years you've been a member of the Acadie-Bathurst Titan and now the Charlottetown Islanders. Can you describe what it has been like to play for two different organizations in such an offensively charged league?
MM: I spent the first year and a half at Bathurst and I enjoyed my time there. I had two good coaches there, unfortunately I was replaced halfway through last year, but it was still a good season. The first half of this season was still pretty good, but it was just time for a change because I wasn't getting the playing time that I thought I should have gotten. Since I've arrived to Charlottetown, I think I've really enjoyed it here and enjoyed the playing time as well.
THW: What has been your biggest learning curve or learning experience in the QMJHL thus far?
MM: I think just playing against some top-level players – some that have gone on to the NHL now and others that will be going there in the future – seeing the skill level that they have and what it will take to get to the next level.
THW: What was it like to compete for the Canada Atlantic U17 team?
MM: That was a pretty fun experience – we got to go up against the top 16-year olds in the world. We didn't fare too well – we came in eighth place – but the boys there still battled every game and tried to represent the Atlantic in the best way that we could.
THW: More recently, you appeared in the BMO CHL/NHL Top Prospects game where your performance and skills were on display for everyone to see. Can you describe what it was like to compete in such a game and what you took away from it?
MM: I won the game, but I didn't really know what to expect, honestly. I had two good practices leading up to it and the game came around and honestly I was kind of nervous to start the game since it was nationally televised with so many people at the rink. After the first shot, I think I was good, and I was happy with my performance. I took away a great experience from it as it was one of the more fun games I've played in my lifetime and it was just a great time overall.
THW: You're a big goalie that covers a lot of the net and you seem to be very poised in net. What would you say is the biggest strength of your game aside from your height and composition?
MM: I think the speed going along with my height would be my biggest strength. I think I'm a pretty agile getting from side-to-side and being able to cover the net while going from side-to-side is one of the biggest things.
THW: If there was one aspect of your game that you'd like to fine-tune in time for the 2014 NHL Entry Draft, what would it be?
MM: I think rebound control – you could always work on that. Just deflecting pucks to the corner, being able to not put pucks back in the slot for players to bang in, and covering the puck in scrambles – that's something that I'd like to improve upon.
THW: What do you think is your biggest asset to NHL teams that are scouting you?
MM: I think just competing and showing teams that I want to get to the next level. I want to go out every game and not give up on any plays, and I know that I have to give 100% at all times and be really focused in order to make sure that I'm going all out at all times.
THW: Who is your favorite NHL or pro goalie that you like to watch and learn from?
MM: Probably Jonathan Quick. He's not an overly big goalie, but he goes out every game and seems to find the puck no matter where it is. He's really agile and quick, and he makes these really acrobatic saves that nobody knows how he makes. It's just amazing how quick he can move and some of the stuff that he does is just awesome.
THW: Which NHL goalie do you think you resemble the most in terms of style of play?
MM: Oh, that's a hard one. I think one of the taller guys I guess. I know I'm not as big as him, but Ben Bishop has been solid this year, he's pretty good laterally, uses his size to his advantage, and he sees the puck well, so I guess I can be compared to him.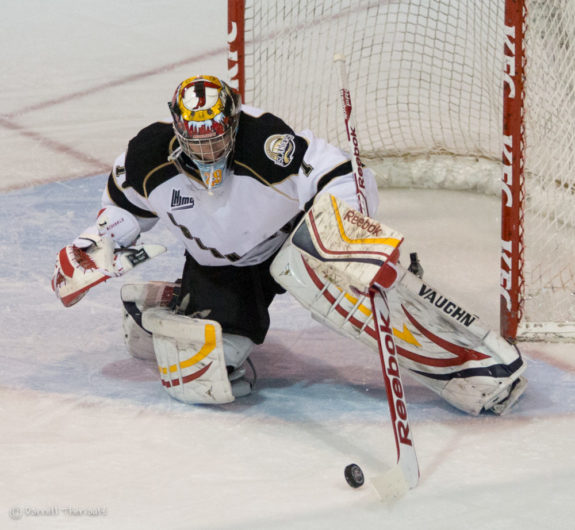 Although the 2014 NHL Entry Draft might be stocked with goalies that have a tremendous amount of upside, Mason McDonald is doing everything that he can in order to set himself apart from the pack. While McDonald certainly has size playing to his advantage when being scouted, the goalie is a fierce competitor that also has an innate ability to remain very composed in his own crease – something that will undoubtedly help him distinguish himself when the 28th and 29th of June roll around.