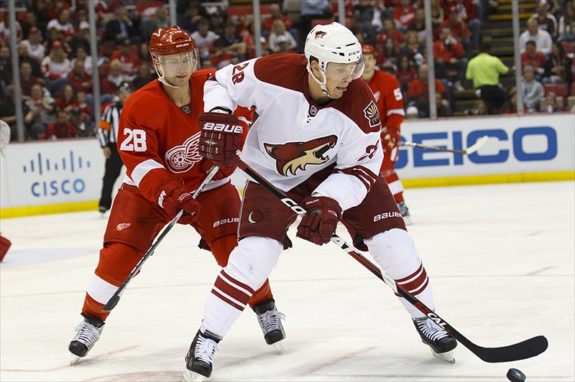 The Phoenix Coyotes are well-represented at this year's Winter Olympics, with five players earning a roster spot in Sochi to compete for their respective countries.  Four out of the five selected will compete in their first Olympics, and will represent four different countries, all considered medal contenders.  This seems quite fitting for a group of competitive NHL standouts playing under Coyotes head coach Dave Tippett, himself a former Olympian, having captained Team Canada at the 1984 games in Sarajevo.
Tippett (ex-Olympian): My advice is to enjoy the Games but focus on the task at hand…because to go & not get a medal is very frustrating."

— Arizona Coyotes (@ArizonaCoyotes) February 10, 2014
Before last Saturday's home game versus the Chicago Blackhawks, the Coyotes treated their Olympians, along with the ten Chicago players headed to Sochi, to a spectacular send-off ceremony, featuring special guests Mike Eruzione, Ken Morrow, and other members of the 1980 "miracle on ice" Team USA hockey squad.  The 1980 team was honored for achieving one of the greatest accomplishments in American sports history, and then the former Olympians helped give the Sochi send-off to all fifteen current Olympians before they hit the ice for an NHL contest.
Here's a closer look at the five Phoenix Coyotes selected to compete in Sochi:
1.) Martin Hanzal (CZE)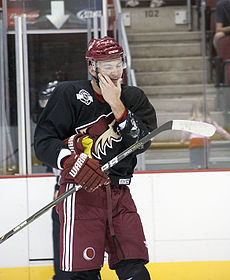 Hanzal currently centers the Coyotes' second line.  He casts a formidable presence on both ends of the ice at a towering 6'6″ and  not only screens opposing goaltenders in the offensive zone, but also provides scoring production of his own by tipping in slapshots and banging in rebounds.   Hanzal has registered 36 points so far this season, coming on 14 goals and 22 assists, already a career high.  A native of the Czech town of Pisek, Hanzal spent four seasons working his way up the Ceske Budejovic league before the Coyotes selected him as their first round pick in the 2005 NHL entry draft.  He also has recent experience playing hockey on the world stage for his native Czech Republic at the IIHF World Championships in both 2008 and 2013.  During his first foray into international competition in 2005, Hanzal was named to the all-star team at the IIHF under-18 World Championship.
Although Hanzal is often considered no more than a large body with overly aggressive presence on the ice (he leads the Coyotes this season with 71 PIM), Coach Tippett is quick to point out than Hanzal also puts points on the board.  Tippett also says that he's seen Hanzal singled out by officials simply because of his size, which explains the excessive penalty minutes.
"He's a big strong guy that can defend well and play well positionally, but he has the capability of putting points on the board too," Tippett said earlier this season when asked about what Hanzal brings to the team.
Coyotes captain Shane Doan recently added that Hanzal "does so much for us . . . He's a big body that provides us a bit of bite up front."
Once of Hanzal's teammates on the Czech squad is legendary forward Jaromir Jagr, who will compete in his fifth olympics.  When Jagr and his New Jersey Devils team ventured  to Arizona recently for a road game against the Coyotes, Jagr said that both Hanzal's size and toughness will be a valuable asset to the Czechs in Sochi, commenting that Hanzal "is no pickle checker."
Hanzal has perhaps been one of the most underrated forwards in the league since he started his NHL career in the Arizona desert.  Having established himself as a solid two-way player, his immense size also doesn't prevent him from moving quickly down the ice when needed, as evidenced by this breakaway goal he scored earlier in the season versus the Detroit Red Wings.
2.) Zbyněk Michálek (CZE)
Michalek owns the distinction as the only Olympic veteran amongst the five Coyotes headed to Sochi.  He also competed for the Czech Team in the 2010 games in Vancouver.  For the second straight Olympics, his brother Milan will join him on the team as well.  Michalek and Oliver Ekman-Larsson currenly comprise Phoenix's top blue line pairing.  Considered a stablizer in penalty killing situations, Michalek has played at a +7 overall this season.  During Michalek's two stints this season on injured reserve due to a hip injury, the Coyotes struggled on the penalty kill, which was at one time ranked only 28th of 30 in the league (well below 80%) without Michalek's quiet yet effective leadership.  Since Michalek returned to to ice on January 22, the Coyotes are 36/43 (83.7%) and have now improved to 24th overall in the NHL, just above 80% for the season.
"It's a dream come true," Michalek says about playing in the Olympics.  "As a kid you dream about being in the Stanley Cup final and you dream about playing in the Olympics
Like Hanzal, Michalek started playing for the Coyotes in 2005, and rejoined the team last season after a two year hiatus with the Pittsburgh Penguins.  In addition to prior Olympic experience, Michalek played for the Czech Republic at the IIHF world championships on five separate occasions.  He originally hails from the town of Jindřichův Hradec.
"Michalek is a very important player for us, kind of a stabilizer on our blue line," says Coyotes GM Don Maloney.
Adds Coach Tippett, "He's the type of player that gives you everything he's got and that's what we're looking for right now."
3.) Mike Smith (CAN)
Unlike the other four Coyotes who earned a Sochi invite, Smith's selection was considered far from a sure thing.  Even though Team Canada executive director Steve Yzerman was eying Smith as a goaltender for Canada's Olympic squad even before the NHL season started, Smith was kept in limbo before receiving the official word on January 7.  Smith's wife, Brigitte Acton, competed for Team Canada at both the 2006 and 2010 Olympics as an alpine skier, and both of Acton's parents were also Olympic skiiers.
"Mike Smith continues out in Phoenix, he logs a lot of minutes, he faces a lot of shots and he's won a lot of games this year," Yzerman said.
A native of Kingston, Ontario, Smith has faced a heavier workload this season than any other net-minder in the NHL, facing exactly 1,500 opposing shots on goal (only 14 goaltenders have faced over 1,200).  Signed by the Coyotes as a free agent prior to the 2011-2012 season, Smith previously played with the Dallas Stars and Tampa Bay Lightning.  Ironically, Dave Tippett was the head coach in Dallas when Smith played for the Stars, and Yzerman the GM when he played for the Lightning.  Smith's stellar performance in net helped lead the Coyotes to the 2012 NHL Western Conference finals.  He finished the regular season with a 38-18-10 record and a .930 save percentage (4th best in the NHL) and set a franchise record with eight shutouts.  In the 2012 playoffs, Smith went 9-7-3 with a .944 save percentage and three shutouts.
The current season has been somewhat rough for Smith thus far.  Heading into the Olympic break, he's currently 20-17-9 with a .913 save percentage, leading many to question Yzerman's rationale for selecting Smith over other Canadian goaltenders with better numbers on the season.  However, Smith returned to true form in his final four starts before the Olympic break, registering a spectacular save percentage of .957 in the four contests, including a shutout over the defending Stanley Cup champion Chicago Blackhawks.
"I've put a lot of pressure on myself this year to be really good,"  Smith said.   "I've worked the last few games just to be more calm in there and let pucks find me, and it's worked out."
In fact, Maloney previously expressed concern that Smith was putting too much pressure on himself, especially because he yearned deeply for a spot on Canada's Olympic roster, and the distraction was negatively affecting his overall play.
"I think Mike put a fair amount of pressure on himself to get on that Olympic team," Maloney contended.  "He's trying to be too precise, too exact.  He just has to play."
When Smith does settle down in net and focus on the task at hand, he stakes his claim for inclusion amongst the best goaltenders in the NHL, along with an Olympic spot, able to get the job done regardless of the workload thrust upon him.
4.) Oliver Ekman-Larsson (SWE)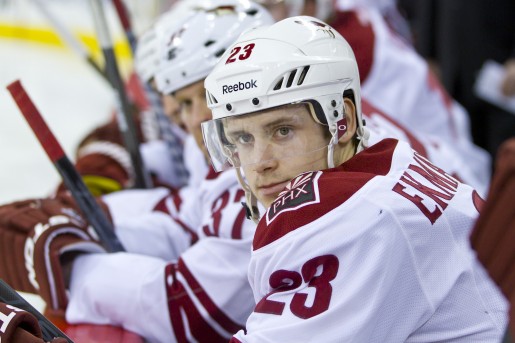 Considered by many the most underrated blueliner in the NHL, Oliver Ekman-Larsson skates with Michalek on Phoenix's top blueline pairing.  He has registered 29 points on the season (8 points, 21 assists) and is playing at a +3 overall, which is impressive considering that the Coyotes have allowed 2.84 goals per game this season, tenth highest in the NHL.  Originally from Karlskrona, Sweden, the 22 year old defenseman was selected by the Coyotes as the sixth overall pick in the 2009 NHL entry draft.  In 2009-10 Ekman-Larsson played in the Leksand professional league in his native Sweden and led all players under the age of 19 in scoring.  The prior season, he posted that league's best player ratio at +44.
Ekman-Larsson also boasts an impressive international playing résumé.  In 2011, he helped lead the Swedes to the silver medal at the IIHF World Championship, after having led his team to a bronze medal only one year prior at both the IIHF World Championship and the IIHF Junior Championship.  At the WJC, he led his team with the most points by a defenseman.
"For now, I'm just trying to take my game to the next level," Ekman-Larson told the Edmonton Journal during a recent road trip.  "I'm a pretty quiet guy, but I want to be a leader."
During the same road trip, the Calgary media described Ekman-Larrson as "a crisp playmaker who can close the gap."
Coach Tippett consistently lauds Ekman-Larsson's playing abilities, although many are still quick to overlook him due to his young age and scrawny physical build compared to other NHL blueliners.  Competing at the Olympics will afford Ekman-Larsson the chance to shine on the world stage and to show that he is Norris Trophy material.
"Ollie was all-world," Tippett said after a recent Coyotes win over the Pittsburgh Penguins.  "That's an unbelievable game by him… His stick work is phenomenal in traffic. He's so good. It's not just with the puck. He defends very well."
5.) Lauri Korpikoski (FIN)
Finally, Korpikoski will skate for a Finnish team recently dealt a major setback with the loss of two of their top scoring forwards due to injury.  Korpikoski is a native of Turku, Finland, and was selected by the New York Rangers as the 19th overall pick in the 2004 NHL entry draft.  The Rangers traded Korpikoski to the Coyotes just before the 2009-10 season.  He posted career highs during 2010-11 in goals (19), assists (21), points (40), playing at a +17 for the season.  Plagued by injuries the past few seasons, including an upper-body injury earlier this season that kept him on injured reserve for nearly an entire month, Korpikoski has still racked up 20 points (7 goals, 13 assists) in 42 games.
A scouting report from The Hockey News notes that Korpikoski is a solid two-way forward and that "speed is his best attribute, which he uses with aplomb in defensive situations. Plays with lots of energy and spunk. Versatile, he can play all three forward positions and kill penalties. Is also adept in the face-off dot."
Korpikoski represennted Finland at the IIHF World Championships in both 2010 and 2013.   He was also a member of Finland's bronze medal team and the 2006 IIHF World Junior Championships.  Although not the highest scoring forward, Korpikoski still plays at an elite level when healthy and won't hesitate to light the lamp when needed.
For More on the Phoenix Coyotes and the NHL, Follow Casey Gagnon on Twitter @CaseyPSH
I live in Arizona and cover the Phoenix Coyotes. I also run a blog covering all Phoenix professional sports teams as well as ASU Sun Devil athletics. I have a graduate degree in Education and taught K-12 public school for several years before pursuing free lance sports writing full time. Follow me on Twitter @CaseyPSH