Friday was not a good day for Team Finland.  Many projected the Finns as possible "spoilers" in Sochi, and although this is still possible,  it will now be far more difficult with two of the team's top forwards, Mikko Koivu and Valtteri Filppula, out of the Olympics with ankle injuries.
The Captain Bows Out
Koivu currently captains the Minnesota Wild and was expected to replicate that role for his native Finland in the upcoming Olympic tournament.  He's had a solid year in his ninth season in Minnesota, scoring 35 points (8 goals and 27 assists) in 44 total games played, his best outing in three years.  However, Koivu broke his right ankle early in January after a collision with a fast-flying puck.  Although a successful surgery expedited Koivu's recovery and enabled him to resume practicing with the Wild last weekend, he remained on injured reserve and his status for the Olympics was still questionable.   On Friday afternoon, however, Koivu finally put the skids on the suspense, announcing the disappointing news that he didn't feel that he had healed well enough to compete on Olympic ice.
Losing Koivu is painful for Team Finland not only because they were anticipating captaincy duties from the decorated NHL veteran, but also because of Koivu's impressive résumé at the international level.  Before even arriving in the NHL, Koivu competed for Finland in the World Junior Championships.  More recently, he captained the Finns to a gold medal at the 2011 World Championships.  With Finland finally establishing itself as a major contender on the world stage, expectations appeared promising for Sochi with Koivu once again leading the Finnish national team, but now someone else will be called upon to fill the role.
Loss of Filppula Was Unanticipated Initial Blow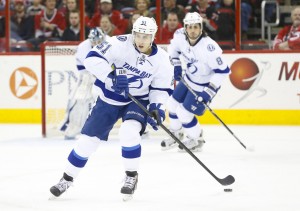 Although the news on Koivu was no doubt disappointing, it was somewhat expected since there was never a guarantee he would be ready for Sochi.  Nonetheless, another piece of bad news, this one unexpected, had already been handed down earlier in the day.  In a bitter twist of irony, Team Finland forward Valtteri Filppula, a crucial impact player this season for the Tampa Bay Lightning, also fractured his right ankle during Thursday night's game versus Toronto.
Filppula said he took a puck off his ankle early in Thursday's then made stride in 3rd period and felt a pop, lost strength in the ankle

— Lightning Insider (@Erik_Erlendsson) February 7, 2014
After the ankle fracture was confirmed this morning, the Lightning announced that Filppula would not return to the ice for several weeks, which also means no Olympics.  Like Mikko Koivu, Filppula also spoke to the media about his injury and his inability to make it to Sochi.
Filppula is currently Tampa Bay's second leading scorer behind Martin St. Louis with 41 points (20 goals and 21 assists) on the season.  Acquired only this past summer after several seasons with the Detroit Red Wings, the 29 year old has played a key offensive role on the Bolts' second line with Steven Stamkos out of the lineup, demonstrating the versatility to center the line or play at left wing.  He was the first Finn to ever play for the Red Wings and was also a member of Detroit's 2008 Stanley Cup championship team.
Even with Koivu and Filppula out, Team Finland's roster is still stacked with talent, from veteran leaders such as Teemu Selanne (ANA) and Olli Jokinen (WPG), to young talent such as Lauri Korpikoski (PHX) and Olli Määttä (PIT).  The netminding cadre of Tuukka Rask (BOS), Antti Niemi (SJS), and Kari Lehtonen (DAL) is arguably one of the most stellar in Olympic history.  Nonetheless, the loss of two key point producers is painful, and whether or not that pain will end up having negative implications for the Finns depends on whether or not others on the roster can rise to the occasion and fill these massive voids.
Follow Casey Gagnon On Twitter @CaseyPSH