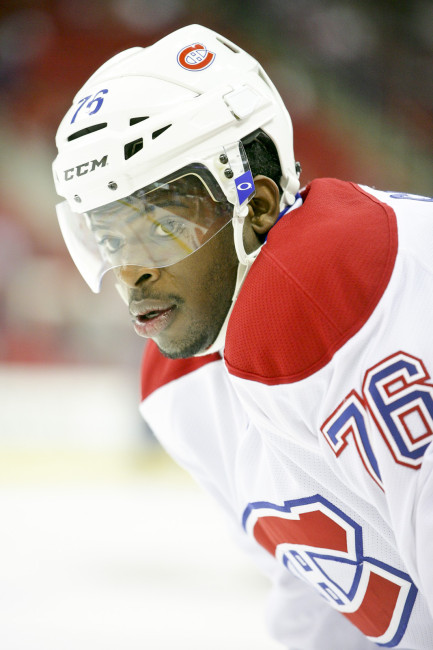 It's been an emotional but wild ride in the NHL so far for the Canadiens' P.K. Subban, from his beginnings as a brash young kid with lots of upside to Norris-trophy winning defenceman in 2013.
He's been called all sorts of things: "on the bubble;" "selfish;" "a defensive liability;" a "lightning rod;" even Sportsnet's Billy Jaffe recently referred to him as a "wildcard game changer."
Finally after much speculation, debating and second-guessing, the world learned this past January – in probably the most debated and contested selection process in history  – that indeed P.K. Subban would be on the Canadian Men's Olympic Hockey team, joining his teammate Carey Price for the games in Sochi.
Everyone seems to agree that Subban is an extremely talented player with a terrific shot from the point. He's a gifted skater who can headman the puck and make a great first pass. And unlike some of his other offensively-gifted defensive colleagues from around the league like Letang or Karlsson, Subban also plays a strong physical game and is ready and able to use his body.
Winning the Norris trophy last season brought Subban into elite status.
So why was he considered "on-the-bubble" for the Olympic team? Why wasn't he considered a "shoe-in"? Is he not one of the top defencemen Canada has to offer, along with Duncan Keith, Shea Weber and Drew Doughty? What does he have to do to convince his skeptics?
The answer is nothing. There's absolutely nothing he can do.
Because there's deeper things at work here.
The Elephant on the Ice
Subban's critics say he's a defensive liability. He gives up the puck, he takes unnecessary risks, he gets caught up ice too often – he tries to do too much alone. That may once have been true. In his first full season in the NHL, he scored 14 goals but was a minus 8. Since that time however, he's a combined plus 33.
Then after the game when the cameras appear, Subban is there, eager to smile and give the media a good quote. It's like he's everywhere. Essentially, he's for the Canadiens what Gary Carter was for the Montreal Expos: a happy-to-be-there kind of guy who just wants to win and have the freedom to be himself.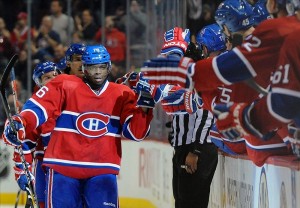 Some criticize Subban as an enthusiastic showboater, eager to rub his good fortune into the faces of others. But when Danny Brière does his signature fist pump after scoring (a somewhat rare thing these days), nobody bats an eye. Instead the focus is on how good it must be for Brière to get the monkey off of his back and put a slow start behind him. Not about how he embarrassed his team.
Yet Subban is the reigning Norris trophy winner. So what gives?
Racism, that's what. It's the elephant on the ice nobody wants to discuss.
What else could explain why people don't like P.K. Subban!? Why does he get the brunt of the negativity from around the league? He regularly gets booed every time he touches the puck in many opposing teams' rinks.  When the Habs recently played a road game against the Flyers, the Philadelphia faithful gave him the rails each and every time he touched the puck. For what? Supposedly for some altercation he had a few years back with former Flyer captain Mike Richards!? Give me a break.
Richards accused Subban of being someone who has yet to earn respect in the league. You know what? It's Richards who is the whiner.
A Shift in Prejudice
Subban isn't a dirty player. He isn't Brad Marchand shoving his hand in Henrik Sedin's face in the Stanley Cup finals a few years back. This isn't a guy who slew-footed a defenseless player and to then pummel his head against the ice like "tough guy" Shawn Thornton did. This isn't even a guy who intentionally kneed another player to the head while he was on the ice like James Neal did. These are players who should legitimately be booed. Not Subban.
Dr. Michael Inzlicht, Associate Professor of Psychology at the University of Toronto, believes it's a form of racism:
The basic idea is this: Blatant racism, although still around, is not around in public discourse. No one today admits to being racist… you'll see a lot of this on anonymous internet chatrooms or as anonymous comments, but anyone who is visible and not anonymous claims to be egalitarian. Hell, even Don Cherry shies away from admitting to being xenophobic. 
But this doesn't mean that prejudice has gone away; instead it has merely shifted forms… So now people don't admit to their real feelings; worse, people may not even realize that they have these feelings in the first place (unconscious prejudice). However, prejudice still comes out, and one way in which it comes out is when people can hide their antipathies behind some more "legitimate" complaint.
You can see how all this might relate to Subban. Is he disliked because he's Black and people either don't realize or don't want to admit it? (please feel free to share your opinion on this in the comment section below)
One could even say his own coach is subject to this kind of behaviour. Why else would he have benched Subban for the first half of the third period in that same recent game against the Flyers after taking a bad penalty to end the second? The Canadiens were behind in the game and could have used their best player. Instead, Subban was nailed to the bench. Would Sydney Crosby have been treated in the same way under similar circumstances? You be the judge.
Fortunately for Subban and for Canada, those picking the Canadian Men's Olympic hockey team are looking at talent and not skin colour.
Let's celebrate and cheer for the guy because of his outstanding play and instead put bias and prejudice not just on but "outside-the-bubble."
Ari Grief is a writer/producer and some may say, an "on-the-bubble" hockey writer. Up to you to decide. Find him on Facebook or on twitter: @HabsFanLeafLand