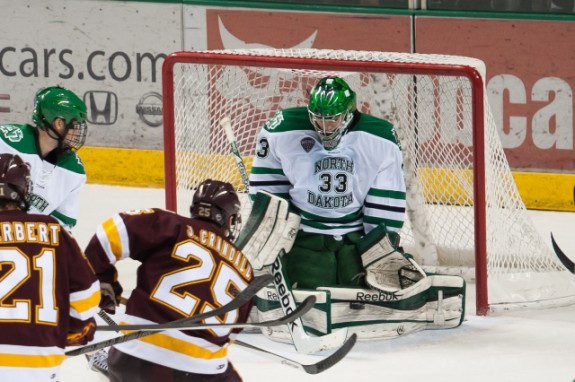 Three weeks ago, University of North Dakota sophomore goalie Zane Gothberg was on a hot streak. The sophomore goalie had played every minute of the nine-game unbeaten streak – racking up impressive stats. In nine games, he was 8-0-1 with a 1.76 GAA and a .923 save percentage.
On January 21, 2013, UND got some bad news. Gothberg sustained an undisclosed lower-body injury. The injury couldn't have come at a worse time. Just before UND was to play the University of Denver, they found out they were going to be without their starting goalie. Some in the UND nation were in a state of panic.
Saunders takes over between the pipes
Those fears have subsided. In the three games since taking over for Gothberg, Clarke Saunders has been rock solid in net, posting a 2-1-0 record, with a 2.03 goals against average and a 933 save percentage.
In Friday night's game against Nebraska-Omaha, Saunders was very good. The senior goalie stopped 31-of-33 shots in route to a 4-2 victory over the Mavericks.  Saunders stopped 17-of-18 shots during the second period alone.
UND got into penalty trouble in the second period. The UND net was under constant attack, but Saunders kept his team in the game. Many of the shots he faced were from the slot. Eight of those 18 shots were from between the faceoff dots. It might not have been UND's best effort, but UND found a way to win 4-2, despite being outshot 33-22.
"That's what good teams do, they find a way to win," Saunders said. "It probably wasn't our overall best effort. We had some lulls in the second period as a team. But good teams find a way to get a 'W' and we did tonight."
"Our goaltender did a great job," head coach Dave Hakstol said. "He got us through the (second) period, and getting us to the third period and the rest of the team responded."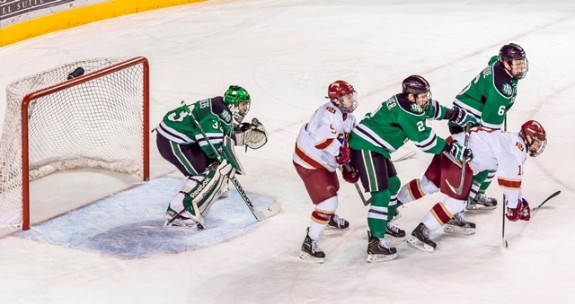 Another win for Saunders against the Mavericks
During his career, Saunders has a 4-2 record against the Nebraska-Omaha. This includes a 2-0 record this season against the Mavericks. Coach Hakstol seemed to downplayed Saunders past success against the Mavericks.
"At this time of year I don't think it's specific to any one team," Hakstol said. "Everyone in that room is just trying to prepare to play a good game, regardless of who it's against. Omaha is an outstanding team. Offensively, they're very dangerous. Every weekend is a little different challenge. Right now, it's just a focus to prepare yourself, regardless of who it's against."
"I don't know what it is," Saunders said. "I have just played well in the past against them. I try not to really dwell on that too much to be honest. I just kind of prepare like I normally do and get ready for tomorrow."
Saunder's efforts didn't go unnoticed by his teammates. Junior forward Mark MacMillan was quick to credit his goalies strong play.
"I thought the second period was all the Clarke Saunders show," MacMillan said. "Obviously, that was big for us."
MacMillan continued, "Anytime a goalie is playing good, it makes you want to go to the net a little harder, and gets pucks there. Obviously, the game is easier for the goalies if they're seeing pucks.  Anytime a goalie is playing well, you're trying to get pucks and bodies to the net to make it harder for them."
Sometimes your best player is your goaltender, that's hockey. It looks like the head coach will have some tough decisions to make when sophomore goalie Zane Gothberg returns from his lower-body injury.