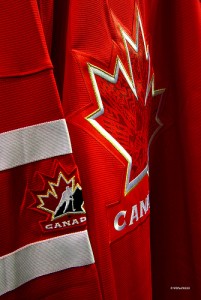 With the men's Olympic hockey tournament fast approaching in Sochi, Russia, questions regarding why certain players made the team have turned into inquiries of how each team will stack up. Who will play with who? Which players will sit as the healthy scratches? Will there be any further injury replacements?
But fans an analysts of Team Canada have one question much bigger than these. Who will be the starting goalie when it comes to crunch time – Roberto Luongo, Carey Price, or Phoenix's Mike Smith?
Lately, the argument could be made the none of the three should backstop Canada in the Olympics. Since the team was named on January 7, each one has struggled in certain areas of their game. There is, however, one NHL goaltender that deserved some recognition and consideration amongst the Team Canada discussion – Toronto's Jonathan Bernier.
You might ask why Bernier would ever be considered for the Olympic team – it's his first year as a starter and still head coach Randy Carlyle won't commit to the title of 'number one.' But here's a look at how the 25-year-old stacks up against Canada's goalies.
Team Canada: Bernier (22-16-5) vs. Luongo (19-16-6)
Now, Bernier has played in more games than Luongo this season. So it can be argued that their overall record is fairly similar – and sure Bernier has 22 wins while Luongo sits on 19. But the most telling stat in terms of their season so far, is their saves.
There's no question that Bernier has faced far more shots on a team that struggles with their defensive responsibilities. While the Toronto backstop has seen 1,444 shots in 44 games this season, Luongo has only faced 1,157 in his 42 appearances.
With those numbers in mind, Bernier also has a step up on the three-time Olympian in terms of save percentage. In fact, Bernier heads the list of four in that season stat with a .927 save percentage while Luongo sits 10 points back at .917 – a stat that shows the goaltenders' reliability.
Since the team was named, Bernier and the Maple Leafs have excelled. The Canucks, however, have struggled to find consistency. Luongo is 3-6-0 in 9 games during that time with a 2.90 goals-against average and a .901 save-percentage. Bernier, has solidified his place as the Leafs number one by helping the team to a 9-4-1 record since January 7 with a 2.60 goals-against average and a .926 save-percentage.
It's clear that Luongo was chosen for his veteran presence and what he's done over his career rather than what he's done lately. But the 34-year-old will need to step up his play if he wants to prove to Steve Yzerman's team that they were right in choosing him as one of their three goalies.
#Canucks Roberto Luongo went 5-0 with a 1.75 GAA & .927 SV% in 5 starts for #TeamCanada in the 2010 Winter Olympics.

— Sportsnet Stats (@SNstats) January 7, 2014
Team Canada: Bernier (22-16-5) vs. Price (26-17-5)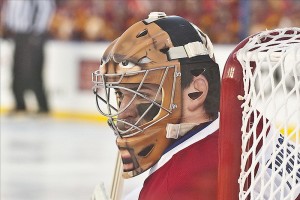 Now, Montreal's Carey Price is the one selection that can't really be argued against – that is if you're talking about his full season statistics. Price has led the inconsistent Canadiens to 26 wins when he's between the pipes. He's recorded four shutouts and a strong 2.33 goals-against average while exceeding Bernier's 1,339 saves on the season.
While Bernier's save percentage sits two-one hundredths of a point higher than Price's, it's his effort as of late that really makes him stand out. In 13 games since being named to Team Canada, the 26-year old Price is 6-6-1 with a .919 save percentage and a 2.64 goals-against average.
https://twitter.com/vaswani_/status/420403423150759936
The Leafs netminder has faced an average of 30 shots per game since the team was named – winning nine of his thirteen games played. In fact, Bernier has exceeded the 35-shot plateau seven times since January 7 and holds a 5-2 record in those contests. While his season stats are slightly less impressive than those of Carey Price, Bernier's consistent play for the Leafs surely deserved some recognition in the Olympic discussion.
Team Canada: Bernier (22-16-5) vs. Smith (20-17-9)
Statistically speaking, Mike Smith should – and probably will be – Team Canada's third string goaltender when their tournament starts on February 13. He's in the midst of a second consecutive mediocre season with a 20-17-9 record with a 2.77 goals-against average and a save percentage just over .910.
There's no question that the Coyotes' backstop had his best season in 2011-12 recording 38 wins and narrowly missing out on the Vezina trophy for the league's best goaltender. But this season, his stats are average. His Coyotes are sitting fourth in the Pacific Division and ninth in the Western Conference.
Like the other two Olympians, Smith has also struggled since his name was called in association with Team Canada. In 14 games, he's 5-7-1 with a 2.47 goals-against average and a .918 save percentage – a struggle that's seems to be plaguing all of Team Canada's goalies.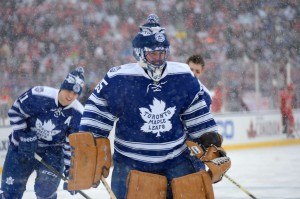 Now in no way am I saying that Luongo, Price, and Smith are bad goalies. Nor am I saying that they don't deserve to don the red and white. I wasn't in the room when Steve Yzerman and his management team were deliberating.
Maybe it's their experience in big games – the ability to deal with high levels of intensity and pressure – that highlighted the names chosen. Maybe it's their international experience that put them ahead of others. Or simply put, maybe their resumes speak for themselves.
Regardless, Jonathan Bernier has demonstrated this season that his name should be among those considered to play for Canada at the international level. He's taken an inconsistent team, a team searching for an identity – and put them in a position to make it back into the NHL's playoffs. But it's his numbers alone, this season, that force the question: Why wasn't he considered?
For questions and comments, you can leave them below or follow Andrew on Twitter @AndrewGForbes or on Google+.