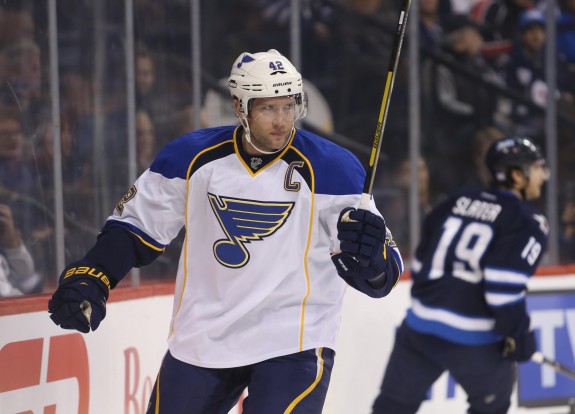 The St. Louis Blues have managed to resist the temptation of overspending while building a Stanley Cup contending team despite rampant dollar-flinging by other franchises around the NHL. It only takes a single casual glance at CapGeek.com to gain an appreciation for what general manager Doug Armstrong has managed to construct in St. Louis—a winning franchise built on the foundation of homegrown players that have been obtained through the draft.
Moreover, he's managed to retain his talent without breaking the bank.
Armstrong rarely takes a dip into the free agent pool, and when he does he's more likely to stick a toe in at the shallow end instead of yelling "cannonball!" as he plunges into the deep end. At this stage of the NHL season, that proverbial "deep end" is full of managers trying to keep their team's above water.
Detroit Red Wings trim budget, waive Patrick Eaves, send Tootoo and Ouellet to Grand Rapids http://t.co/pEV6VYsRCN via @freep

— Helene St. James (@HeleneStJames) November 14, 2013
According to CapGeek, eight of the 30 NHL teams currently have $0 in projected cap space. Only players going to the long-term injured reserve are keeping those squads in the green. If the Boston Bruins or Pittsburgh Penguins wanted to trade for a large chocolate latte from Starbucks, they'd have to move money out in the deal.
That's not the case for Armstrong and the Blues though. In a year where the salary cap was artificially lowered, he actually managed to add money to the ledger despite reduced spending power. He re-signed Jay Bouwmeester to an extension that will see the veteran defenseman take a pay cut next year—how often do you get to say the words pay cut in the NHL these days?—and locked up Alex Pietrangelo to a $6.5 million deal that will look like a bargain once P.K. Subban signs his new contract.
Pietrangelo signs his new contract. #stlblues pic.twitter.com/UV04YWsf2w

— Jeremy Rutherford (@jprutherford) September 14, 2013
This isn't a recent habit for Armstrong though. He's been signing players to intelligent and frugal contracts since taking over as the GM back in 2010. The prime example of this is David Backes, who delivers hits, goals, strong two-way play and leadership for the low, low price of $4.5 million a season.
The cap-hit comparables on that deal are comical.
Ryan Malone has a $4.5 million hit. So does Brooks Laich and Olli Jokinen. No disrespect to those three, but what Backes brings to the ice on a nightly basis towers over the contributions of similarly paid athletes. Armstrong didn't just keep Backes around for the sake of doing so. This is a player that he wanted to build around, so he locked Backes up for a half-decade instead of messing around and playing the odds.
Here's what Armstrong had to say about Backes after the deal was signed, as per the official site of the Blues:
David could have been an unrestricted free agent at the end of this season and we are excited that he has made the long term commitment to the Blues organization. The way he handles himself on and off the ice represents what the Blues are all about.
Armstrong sets his ideal price points and pursues his own players with vigor. He caught some flack for playing hardball with Pietrangelo over the summer, but in two years he's going to look brilliant for doing so. As the salary cap inevitably rises, that $6.5 million contract will only look better and better.
Depending on how negotiations with Jaroslav Halak, Patrik Berglund and Vladimir Sobotka go over the coming summer—all three need extensions—the Blues could start the 2014-15 season with only three players making more than $5 million a year. That's as many as a playoff bubble team like the Columbus Blue Jackets. That Armstrong has managed to stay his own course in building out this roster is phenomenal, especially as other GMs around the league can't seem to help themselves once free agency rolls around.
Franklin Steele has been publishing hockey columns online since 2011 and has been watching and playing since the age of six. More than six million people have read his work, and he has more than 3,500 bylines to his name. He joins The Hockey Writers after five years with FanRag Sports, and his work also appears on WingsNation.com and ChicagoSportsColumn.com.
Feel free to follow him on Twitter @FranklinSteele or to drop him a comment.