by Eldon MacDonald (edited by @ChrisRalphTHW)
Mason McDonald
THW's NHL Draft War Room Rankings – Apr-14: #71
THW's NHL Draft Rankings – The Next Ones Edition (aka Chris's List): #103 (March 2014)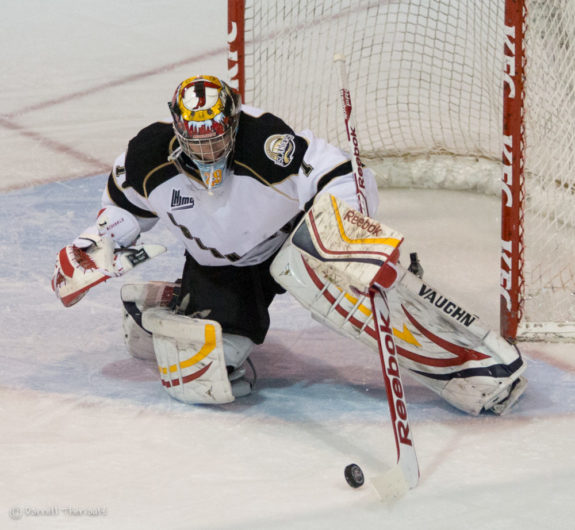 Hashtag: #MrMcCalm
Nickname: Made
Team: #1, Charlottetown, QMJHL
Position: Goal
Shoots: Right
Height: 6'4
Weight: 186 lb.
Born: Halifax, NS, 23-Apr-96
Twitter: @mmcdonald96
Stats
Other Rankings
42 – NHL Combined – Final, Apr-14
HM – Bob MacKenzie, Jan-14 (HM = 51 to 60)
52 – Craig Button, Mar-14
Goalie #2 – ISS – May-14
[Your quintessential draft resource:
Worth Retweeting
Mason McDonald amongst 5 CHL prospects whose draft stocks could rise says @SNPatrickKing : http://t.co/cj4FT3gUc6 #Isles @mmcdonald96

— Charlottetown Islanders (@IslandersHKY) January 16, 2014
https://twitter.com/mmcdonald96/statuses/449367200248639488
"McDonald is a corner stone of our franchise moving forward" – Dwyer

— Nolan (@reidnipei) April 13, 2014
Very impressive performance by @mmcdonald96 & the entire @HC_Men today for the bronze! Congrats on the medal gentlemen! #WellDone

— Gordie Dwyer (@GDwyer32) April 27, 2014
https://twitter.com/FraserTQN/statuses/460620151608463360
Your @Pacific4Sports forward, @FranchiseHockey defenseman and @doubleblue360 goalie of the month for April! #NHLDraft pic.twitter.com/tESbxJTTWv

— FCHockey (@FCHockey) May 7, 2014
Profile
Contains All the Prospects Profiled in This Series]
Interviews
Quotable
Quote 1: MetroNews.ca – QMJHL Central Scouting Director, Pierre Leduc  on the 2012 QMJHL draft, "He's the best goaltender in the draft. He's an imposing physical presence in the net. He's always square to the puck, he leaves little space to shoot at, he constantly challenges, he has very good technique, and he moves well."
Quote 2: TheQNews.net – Bryan Willett – "Mason McDonald put on a dominant performance in net for Canada, stopping 38 shots as Canada claimed bronze with a 3-1 victory over Sweden at the 2014 IIHF World Under-18 Championship on Sunday."
Quote 3:
'He never quits': Mason McDonald lone Maritimer selected to Team Canada U-18 roster http://t.co/qtJv5qgMMH #QMJHL #Halifax

— Andrew Rankin (@AndrewRankinCB) July 30, 2013
Quote 4: Ross MacLean, ISS from CHL Top Prospects Game
Best player that period was easily Nova Scotia's Mason McDonald. He was peppered and stood tall. Oozing confidence right now. @ISShockey

— Ross MacLean (@rossmaclean) January 16, 2014
http://t.co/dTmaEKMf2A
G #2 Mason McDonald @mmcdonald96
Backbone for Bronze Medal CAN U18s. Great composure, raw frame & technical skills.

— ISS Hockey (@ISShockey) May 17, 2014
From the War Room
Eldon MacDonald, THW:  A few words on Mason McDonald:
Mr. McCalm – My favourite part of Mason McDonald's game is the zen-like calmness and confidence he exudes, a la Carey Price. He is that big man back there that has your back and allows the team to worry about the other parts of their game.
Size, skills and compete – In short, Mason has that big man size at 6'4 and the athleticism that NHL teams are demanding from their first string goaltenders and their prospects with a chance of becoming a first string goaltender. He also has that compete level that goaltenders who usually win the big games have.
Resume – Being named top goaltender in the world (for his age group) at the recent U18 WJC  Tournament in Finland looks more than good on Mason's resume; it is that "killer" reference that everyone wants but few attain.
Improvements to make – In his interview with Anatoliy Metter from THW, Mason suggested that rebound control was the area he most needed to work on. While that may be true, Mason's performance at the U18 WJC suggests that it is not a major weakness.
Draft placement – Goalies admittedly drive me crazy when it comes to rankings – it all depends on when a team wants to pay the price of a draft pick for a goalie. You can have a franchise goalie and he doesn't get drafted until the second round. However, given the relative weakness in this year's draft, there is likely to be one goalie selected in the first round, maybe two. Mason is one of the frontrunners for that coveted first goalie selection (whenever it is selected) along with Thatcher Demko and Alex Nedeljkovice – the winner to be decided June 27th or 28th in Philadelphia.
Video
Video 1: Sportsnet.ca– CHL Top Prospects Game Review
Video 2: John Moore:
Video 3: TSN.ca– Prospects review from Craig Button