Whether future expansion occurs or not, the idea of the NHL in Cleveland makes more sense than not. With the Phoenix Coyotes toiling in bankruptcy, and a once proud New York Islanders franchise relocating to Brooklyn, the Comeback City continues to not even receive a single thought. There are reasons, I suppose. But are they legitimate enough to forever prevent Cleveland from one day calling an NHL franchise their own?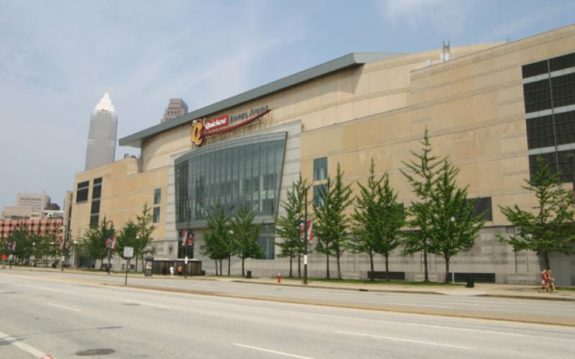 Cleveland's First Crack at the NHL
It's not that the NHL is blind or ignorant to the existence of Cleveland. In 1935, the Montreal Canadiens nearly relocated to Cleveland, only to have one of the founders of the league, Tommy Gorman, keep the Habs in Montreal. The Canadiens would go onto win 10 more Stanley Cups since their near move, leaving Cleveland without a team for 41 more years.
"The Great Depression almost resulted in the demise of the franchise on two occasions. In 1935 the team was almost sold and moved to Cleveland, Ohio, while in 1939 they nearly folded as a result of their financial problems." — Hockey Buzz
Sure, the city has had it's number of professional hockey teams throughout the years, dating back to 1929. In all, Cleveland has called nine different minor league teams their own, including their current AHL team, the Lake Erie Monsters. But it wasn't until 1976 that a match was found with an NHL franchise. When the California Golden Seals were in search of a new home, Cleveland didn't whiff – yet.
After the NHL approved the move, the Golden Seals were repackaged as the Barons. After three previous unsuccessful cracks at obtaining an NHL team, Cleveland finally had their team.
But the Barons would not only turn out to be short-lived, but also one of the biggest professional sports organization's failures. The Barons would go onto skate in existence for a total of two whopping seasons, and after nearly folding before the conclusion of their second season, some may call that a moral victory.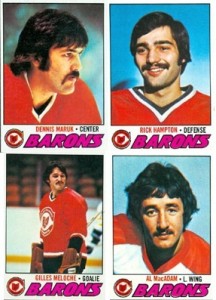 This is not proof in the pudding, as some would say, that the NHL doesn't fit in Cleveland. The Barons were setup to fail from the get-go.
The Golden Seals' move from Oakland wasn't finalized until August of 1976, giving the new Barons next to no time to market their new product. And despite playing in a new Richfield Coliseum, the lack of marketing took its toll. The Barons finished both of their seasons dead last in average attendance, failing to eclipse an average of 6,000 per game in their inaugural season. A team that failed to win more than 25 games in a single season, a disastrous lease with the Richfield Coliseum, and some of the worst winters on record were all responsible for the NHL in Cleveland resulting in one big swing-and-a-miss.
"Be that as it may, what contributed most to the failure of the NHL Barons to capture the fancy of Northeast Ohio was their lack of success where the bread was buttered, on the ice. Playing in the Adams Division of the NHL, the Barons finished fourth and last in both of their seasons. In 1976-77, the Barons managed only 25 victories and 13 ties in 80 games for 63 points. In those days, a tie was a tie … there were no overtimes except for in the playoffs, no shootouts. Just two points for a victory in 60 minutes, one point for a tie, and zilch for a loss.

"The next season was even worse — only 22 wins and 13 ties for 57 points. One hundred and twenty points in 160 total games, and it is no surprise that a team which was rather thrust upon Cleveland, under-promoted and well out of the playoff picture both seasons, had difficulty putting even 10,000 fans into the Coliseum for a game." — SB Nation
Is Cleveland Even a Hockey Town?
With three major professional sports teams in the NFL, MLB, and NBA, one of the arguments against planting an NHL team in Cleveland is that it's simply not a hockey town. After all, when the Browns were uprooted and moved to Baltimore, fans erupted, which led to then-Mayor Michael White lobbying to keep the team in Cleveland.
"We are going to fight this fight," said Mayor White back in 1995. "I can't say we're not going to lose, but when it's over, the other side's going to know they've been in a fight."
When it was all said and done, Cleveland was awarded an expansion franchise after a three-year hiatus, along with the name, colors, and franchise records remaining in Cleveland.
But comparing the Browns to the Barons is silly, which logically explains the two polar opposite reactions to each team's departure. The Browns were a mainstay in the city since 1944, whereas the Barons were an inplant from California that didn't even play their home games in downtown Cleveland. Even the Cavaliers, who played their NBA home games at the Richfield Coliseum until 1993, were awarded an extra first-round draft pick in 1983 for not moving to Toronto. Does this suggest that Cleveland isn't fit for an NBA team?
In 2006, Cavaliers owner Dan Gilbert purchased the Utah Grizzlies and effectively moved them to Cleveland, where they are now known as the Lake Erie Monsters. As the AHL affiliate of the Colorado Avalanche, the Monsters haven't struggled putting fans in seats, ranking third in AHL average attendance twice in the past three seasons. Furthermore, the Monsters have failed to crack the AHL's top 10 in average attendance only once, when they ranked 11th in their first year in existence.
"The Monsters (32-33-1-10) failed to qualify for the Calder Cup playoffs for the sixth time in their seven seasons of existence, but they continued to draw well. Their total attendance was 309,472 over 38 dates, for an average of 8,144. They will finish in the top four in the AHL in attendance." — Cleveland.com
The Monsters' popularity, despite consistently coming up short, can be attributed to two factors: Marketing and a hockey hungry audience. While effectively hosting the traditional "Dollar Dog," and "College ID" nights, the Monsters have continued to stay relevant without winning. On March 21st, players donned the color pink on "Pink the Rink" night, which was followed up with April 11th's "Autism Awareness" night.
"In the first few years, we did a lot of educating people as to who we are and what the Monsters hockey experience is all about," said Chief Operating Officer Mike Ostrowski. "Now they know. And we feel like, once we get people here, they want to come back and tell others to come back with them."
While some may rebut that minor league marketing strategies don't relate to the NHL game, it still doesn't refute that fans are showing up in large numbers, an accomplishment that gimmick marketing alone cannot achieve.
Does Geography Hurt or Help?
Located within three hours of three NHL cities, many profess that Cleveland's location hurts their cause to one day reel in an NHL franchise. With fan bases already built up throughout northeast Ohio for teams such as the Columbus Blue Jackets, Pittsburgh Penguins, and Detroit Red Wings, it's been said that Cleveland is already behind the eight-ball in building a successful NHL organization. But what about the Blue Jackets themselves?
Despite unrest over whether or not a referendum would pass for an arena, the city of Columbus was awarded a franchise in 1997. The Jackets would go onto make the playoffs twice in their 14-year existence, while fumbling around near the bottom of the NHL's average attendance. It wasn't until this post-season, however, that Columbus has appeared to be a legitimate NHL city.
"This season was the first time people started to pay attention. People started to recognize that we have a hockey team. We have a PLAYOFF hockey team. The Jackets were a big deal this year! Not just with their most loyal fans, but throughout the whole city! They had their best season yet, and they made the Stanley Cup Playoffs for the second time in team history. And people started paying attention. That's what it is going to take to convert this football town into hockey central. They have to be good. Probably more than good. Relevant. The Buckeyes have been good for a long time. For the Jackets to rival that, they need success of their own. And I think they are on the right path." — Union and Blue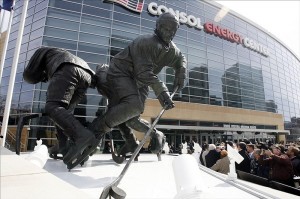 Not only is the city of Columbus within close proximity of Pittsburgh, it's an overwhelming college city that's identified by Ohio State football, not NHL hockey. Still, they were not only granted a team, they were given over a decade of enduring inept results, both on the ice, and in their wallet. While their story is nothing like that of the Barons', it's safe to say that a city that boasts three major sports teams appears to be more fit than one that possesses an MLS team, a Triple-A baseball team, and a Big Ten college.
Cleveland's geographic location, like Columbus', does not hurt them. In fact, it helps them. After all, would it not help to grow a fan base by having other NHL buildings nearby to travel to? Even with the Blue Jackets already established in Ohio, having the NHL in Cleveland would build an inner-state rivalry among the teams and fans, much similar to the one the Browns share with the Cincinnati Bengals. And let's be honest, the city of Cleveland has easily housed an NFL team with those same competing markets. Pittsburgh, Detroit, Cincinnati, and even Indianapolis are within close enough proximity for the sake of the argument for opposing the NHL in Cleveland.
At the NHL's board of governors meeting late last year, NHL commissioner Gary Bettman commented on the standards he looks for in a city in regards to awarding an NHL franchise.
"You want to understand the market and can it support NHL hockey," said Bettman. "Would it be a good addition to the league? Two, you've got to have an arena. And three, and perhaps most important, it comes down to ownership. At 10,000 feet, those are the criteria you're dealing with."
While the Lake Erie Monsters have shown that the city can support a hockey team, that's ultimately a question that cannot be definitively answered until a city has been given a chance. As far as the arena is concerned, any team that would come to Cleveland would call the Quicken Loans Arena home, an arena that sits directly next to Progressive Field, the home of MLB's Cleveland Indians. Both venues are within walking distance to downtown's Tower City, as well as the city's new Horseshoe Casino. To be frank, Cleveland is growing, so yes, it passes Bettman's litmus test.
Where Does Cleveland Stack Up?
According to the 2010 National Consensus, the city of Cleveland ranks ahead of past NHL city options such as, Kansas City and Las Vegas. Cleveland's population, which exceeds two million, even ranks ahead of other cities who already do have a team. These cities include Columbus, Nashville, San Jose, Buffalo, and Raleigh.
But when it comes to the reality of actually receiving a team, cities like Seattle and Quebec City appear to be a more viable option. Seattle's population ranked 15th, with real estate CEA Victor Coleman and businessman Chris Hansen willing to spend money to bring hockey to Seattle.
"Though the NHL continues to say it has no plans for expansion, those plans could soon change. If the league can find serious owners with deep pockets and a suitable building becomes available in Seattle, it seems like a no-brainer location for the league to expand its footprint in the U.S. So much has to go right over the next few years to make that happen, though. This road is a long one yet." — CBS Sports
It looks like, however, there is more interest in Seattle than Cleveland for an NHL franchise, despite sharing much of the same obstacles as Cleveland. Both cities have had a major professional hockey team in the past, only to see them leave. For Cleveland, it was the Barons. In Seattle, the Metropolitans became the first American team to win the Stanley Cup in 1917 as a member of the Pacific Coast Hockey Association.
Seattle seems to have great NHL potential, but it doesn't sound like there will be much progress unless an NBA partner materializes.

— Darren Dreger (@DarrenDreger) May 14, 2014
#Seattle based businessmen Victor Coleman, Jonathan Glaser have emerged as potential ownership group trying to bring #NHL team to the city.

— NHL EXPERT PICKS (@NHLexpertpicks) May 16, 2014
Both cities have a feverish football following, and depending how each team performs, the same can be said about their MLB baseball teams. The two cities have successful minor league teams, with the Seattle Thunderbirds playing in the WHL.
But if geography hurts Cleveland, which was debunked above, then it certainly doesn't help Seattle either. With the Vancouver Canucks under two and a half hours away from Seattle, how does the same logic used against Cleveland with Pittsburgh and Columbus not apply here? The fact of the matter is that like Cleveland's location, it helps more than hurts. And with the effort of courting the league, which resulted in Bettman visiting the city, Seattle is not only ahead of Cleveland, it becomes a situation of when, not if.
Commissioner Bettman seems to be fond of the idea of hockey in Seattle, commenting, "It'd probably be pretty fun the Canucks to have a legitimate geographical rival."
Fans in Quebec City have been patiently waiting for a team since the Nordiques moved to Denver in 1995. In anticipation of being rewarded with a new team without any formal indication, the Quebecor Arena broke ground in 2012 with a completion date of 2015 set as the plan.
"I think it's only a matter of time before Quebec City is going to get a franchise," said Wayne Gretzky. "I think we all agree it's a good city and it can support an NHL team, especially now with the salary cap rules and the parity we have in the game of hockey.
"When that's going to be, it's anybody's guess. But when they do come back in, it's going to be a strong, solid franchise just like Winnipeg is now, and it will be as successful as they are."
With other cities, like Kansas City and Las Vegas vying for a team, the probability of the NHL in Cleveland is bleak. But that hasn't stopped Cleveland Browns president Alec Scheiner from lobbying for a future Stadium Series game at First Energy Stadium.
"It's worth noting that Scheiner — who joined the Browns after years in the Cowboys organization — is on the board of directors of Legends Hospitality, the concessionaire that operates catering, concessions, merchandising and other management services at Yankee Stadium. The NHL just wrapped a highly-successful two-game Stadium Series at Yankee, selling out both contests.

"As for FirstEnergy Stadium… it has primarily been used for football and concerts, as well as a handful of international soccer friendlies. While there hasn't been a NHL team in Cleveland since 1978 (the Barons), the city is reasonably close of a number of current clubs, namely Columbus, Detroit, Buffalo and Pittsburgh." — Pro Hockey Talk
Although it's unlikely Scheiner will have his wish granted any time soon, the interest in hosting such an event is a start. Even area high schools offer hockey as a school sport, a team sport that's rarely found throughout Ohio high schools.
Cleveland represented well by its 2 NHL players tonight…..Rupp, playing in 600th NHL game and Albert, scoring in 1st NHL game. #TheCleve

— Mike Kelly (@MikeKellyNHL) December 3, 2013
"Every time I get back to the area, I hear of these high schools that are getting teams and these rinks that I've never heard of," said NHL forward Mike Rupp, who grew up near Cleveland. "It's good to see because, obviously, there's some issues in Ohio with the economy. And it seems like hockey's one of those sports that sometimes gets squeezed out in situations like that, but it seems to be growing."
It'll have to grow significantly more, though, before the NHL in Cleveland becomes a reality for the second time. Until then, it's baseball, basketball and football. The Cleveland hockey fan's plight lives on.