When Ryan Miller was acquired after the 2014 Olympic break, it seemed like Brian Elliott was beginning his farewell tour wearing a St. Louis Blues jersey.
That all changed on Monday.
Blues general manager Doug Armstrong announced that the team's backup goalie had agreed to a three-year, $7.5 million contract extension (a $2.5 million cap hit), keeping him with the club until the end of the 2016-17 season. Elliott currently ranks first all-time in the franchise for save percentage (.927), GAA (1.86) and is tied with Glenn Hall for second in shutouts (16).
This means that the club has moved on from Miller, who spent 25 regular season and playoff games with the Bluenote. He was 12-12-1 with one shutout in that span.
At the time of the trade, it seemed that Armstrong was comfortable with Miller joining a future tandem with Jake Allen, the 23-year-old standout who received AHL Goalie of the Year honors this past season, but time has proven that Elliott may be the better choice as Miller is set to hit the unrestricted free-agent market.
"At the trade deadline, we took a calculated gamble of bringing in Ryan and we didn't have the success that we needed as an organization … certainly not all reflective on Ryan," Armstrong told St. Louis Post-Dispatch beat writer Jeremy Rutherford. "It's a team game and as an organization we are responsible.
"But it was additional payments necessary to Buffalo if we signed Ryan. That would have been basically moving back a full round in the draft … and we just felt at this time, it was better for us to go with Elliott and Jake Allen."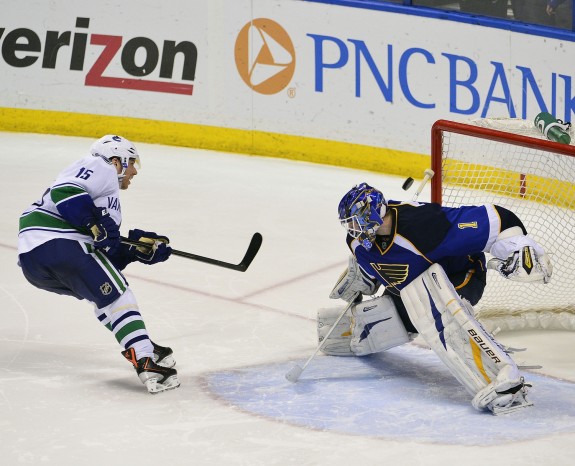 Elliott has been a quiet soldier on the battlelines for the Blues. After jumping onto the scene with an All-Star appearance in 2011-12, the Newmarket, Ontario native climbed his way up the Blues record books in a hurry. He amassed nine shutouts in his first season — a Blues record that will likely remain untouched for quite some time — and his 1.56 GAA that season has a stronghold for the franchise lead, which was originally set by Roman Turek in 1999-2000 (1.95).
He faced a setback during the 2012-13 campaign, which helped Allen become a household name in St. Louis, but he battled his way past a reconditioning assignment in AHL Peoria and took away the starting job from Jaroslav Halak for the 2013 playoffs. Despite losing to the Los Angeles Kings in six games, Elliott posted a .919 save percentage with a 1.90 GAA.
Elliott continued to shine behind the starting goalies in the 2013-14 season. He posted a 15-4-2 record and three shutouts behind Halak, then recorded a 3-2-0 mark with one shutout when Miller needed a night off. He did not appear in the 2014 playoffs.
Elliott, 29, will now see a different role with Allen being his tandem mate. His job now goes from being the reliable backup who can spot-start to someone who will mentor and mold the new kid on the block. His expectations for starts will likely see a small increase, but not by much. He has averaged appearing in about 44 percent of the Blues' games so far in his St. Louis tenure; that number should not jump by more than one or two percentage points.
The price tag becomes an important variable, as well. His $2.5 million cap hit places him in a price range with current NHL goalies Ben Bishop, Ben Scrivens and Michal Neuvirth — all of whom are younger netminders that are due bigger paydays in the next two seasons. Elliott's paycheck will allow the Blues to worry about allocating funds into Allen's next extension, which will be needed after this season.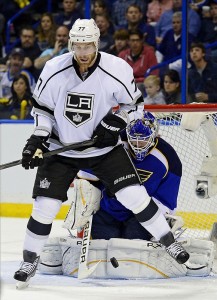 Miller is expected to land a new deal anywhere between $4-7 million per year this summer. Although some feel his upside is worth it, the argument can be made that Elliott's upside is worth far more than what his pay raise is giving him. Miller will likely be awarded with a contract that pays him for when he is playing his best.
After the Blues lock up RFAs Jaden Schwartz and Vladimir Tarasenko, options are aplenty up front. The team could decide to bring back Patrik Berglund (RFA), Brenden Morrow (UFA), Steve Ott (UFA) or Derek Roy (UFA), or could be looking outside of the organization to fill the void in the offense. The Elliott move not only shifts focus on what to do in net, but allows Armstrong some wiggle room in terms of finances to make a move for a forward on the free-agent market or in a trade.
[See related: What That "One Guy" Can Do for the Blues]
"Jake Allen's partner is going to have to hold Jake Allen out," Armstrong said during his final 2013-14 press conference a few weeks ago. "Jake Allen is going to have to compete with his partner for ice time."
That man is now Elliott, and competing for starts is nothing new for the Blues goalie.