For a team that marched into the 2013-14 season with the second highest winning percentage among NHL teams of all-time, Philadelphia Flyers fans are spoiled. Their passion is well documented, as they've been labeled tenacious and even obnoxious at times. While the latter can apply to all fan bases in every sport, Philadelphia unquestionably loves their Flyers; it just so happens they can be ungrateful at times as well.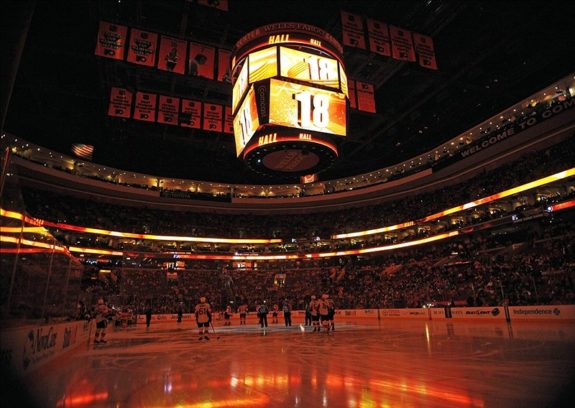 Flyers Fans Have It Better Than They Think
When it comes to success, the Philadelphia Flyers are always near the top. Not only is their 57.8 winning percentage, as of the beginning of the season, second to only the Montreal Canadiens, they've also been a part of the NHL playoffs 17 times out of the last 19 seasons. But for a fan base that's been treated to such a good brand, their 38-year Stanley Cup drought often gets the bulk of their attention.
Don't get me wrong, being close without being rewarded time-and-time again can be, and is, frustrating. After all, it's just as hurtful to be so close, only to have your heart ripped out. But as a fan of the Cleveland Browns of the NFL, allow me to point out what true heartbreak feels and looks like.
https://www.youtube.com/watch?v=x1rL9RPAuFI
In the last 10 seasons, the Flyers have been to the playoffs eight times. In that same span, the Flyers have played in the Stanley Cup Finals once. And although they fell to the Chicago Blackhawks in six games, extending their championship drought, the Browns have gone 56-120 without making the playoffs once. Furthermore, the Browns have experienced only one winning season, going 10-6 in 2007. Flyers fans, on the other hand, have had to live with two losing seasons in the past 20 seasons.
The Flyers have played in one Stanley Cup Final in the past four years, part of nine in franchise history. They've hoisted the Cup twice, on back-to-back occasions in 1974 and 1975. The Browns, however, have never even made an appearance on Super Bowl Sunday, let alone owning a single Lombardi Trophy. Still in the mood to complain?
And before the "loser mentality" is even brought up, it's important to know that the Cleveland Browns own a rich tradition. A tradition that technically lives in Baltimore today, but a rich history nonetheless. Their four AAFC Championships combined with their four NFL Championships, give them eight championships overall. Their last championship, though, was celebrated in 1965; a full decade before the Flyers' last Stanley Cup Championship.
And while it's frustrating to watch a team that has gone bankrupt on multiple occasions win three Stanley Cups since the Flyers last won one, Flyers fans have never had their hearts ripped out by helplessly watching their team relocate, leaving them without hockey for three full seasons. Not only do Browns fans know what that's like, they also know what it's like to be "rewarded" with true incompetency when it came to running their charity expansion franchise.
Flyers Fans Complain About Spending Money
I get wanting your team to be fiscally responsible; what I don't get is complaining that your organization spends money in an effort to win. Flyers fans have complained about past and present contracts, whether it be Daniel Briere, Ilya Bryzgalov, Scott Hartnell, or Vincent Lecavalier. And while no one will root for their team to waste money on undeserving talent, the appearance of ungratefulness is center stage with this issue.
One point of view that has jumped out to me the greatest is the frustration with the Flyers being a "here and now" organization. After all, they've sold the farm to get established veterans like Chris Pronger and Luke Schenn, while letting prospects like Patrick Sharp, Luca Sbisa and James van Riemsdyk blossom in another city. Correct me if I'm wrong, though, but isn't the whole point of building a team to win?
the Flyers are ALWAYS about the here and the now, the present – not always the future. they have some ammo if they go that route

— Tim Panaccio (@tpanotchRET) April 16, 2014
https://twitter.com/DStrehleTFP/status/347676099095977984
Sure it is. It's also to build a consistent winner that withstands years to come.
True. But if the effort isn't there to supplement younger talent, isn't the organization leaving itself open to an all-out re-building process? Flyers fans don't know what it's like to pull for an organization that grossly overpays for run-of-the-mill free agents because the top tiere free agents scoff at the notion of playing in your city.
But what about Mark Streit? Didn't the Flyers overpay him to play in Philadelphia?
Yes, the Flyers, like every single other team in the league, overpay their free agents in some regard. It's all based on what that particular free agent is commanding on the open market. If you think Paul Holmgren could've landed the former Islanders captain for less than $5.25 million-a-year, you're delusional. And if you think Holmgren is a moron for even considering Streit an option, you either don't follow the Flyers, or you'd be more comfortable with a below average, or under-developed blueliner from Adirondack instead of Streit's 44 points and two game-winning goals.
While Flyers fans grumble about signing marquee players like Mark Streit and Vincent Lecavalier, Browns fans do cartwheels over signing selfish cancers such as Andre Rison, or washed up has-beens like Willie McGinnest.
https://twitter.com/JuiceKovacs/status/253624795479044096
But you don't understand. Vinny Lecavalier's contract is horrible for the franchise moving forward.
I do understand. But again, a player like Lecavalier is not some flash-in-the-pan player who is equal to overpaying for a punter in football. The former Lightning captain was one of seven Flyers to net 20 or more goals, with Lecavalier's 37 points in 69 games playing a vital role for the team. I'm not advocating the length of Lecavalier's contract as much as I'm attempting to illustrate the fact we root for a hockey team that spends money to win!
Flyers Fans Under-Appreciate True Value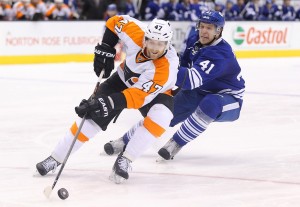 Remember this season's 1-7-0 start? I do. It made me feel like it was football season all over again. And while Flyers fans aren't used to that kind of hockey, the rage that followed was aimed in the wrong direction by most.
Angry comments like, "Trade Giroux!" and "Blow it up! Get rid of all of 'em!" peppered social media and local sports talk airwaves. And while no one understands frustration better than I, demanding the trade of of the NHL's leading scorer over the past four seasons is not only absurd, it's obnoxious.
I've found myself in many discussions about the state of Philly's defensive core lately as well. I was stunned to hear how many fellow Flyers fans were so quick to want to dump Nicklas Grossmann to the curb without a single, "Good luck," or "Thank you." When shot-blocking connoisseur, Andrew MacDonald was extended, many Flyers fans responded with the type of reaction that resembles, "Go figure. We can never have anything nice." Really?
Not only have both Grossmann and MacDonald sacrificed their bodies for the good of the logo on the front of their sweater, their efforts have played a larger role in the Flyers' playoff berth than many are either willing to admit, or even realize.
"MacDonald is by no means a bad NHL defenseman and if $5 million is too much of a cap investment in him (against a rising cap remember), it isn't by too much. Pending Penguins UFA Matt Niskanen has been ball-parked at around $4 to $4.5 million and may get more on the open market, so that's right around where MacDonald would have been, too." — The Hockey News
Grossmann, on the other hand, has had his up's and down's in Philadelphia. But the eight-year veteran has played through a lower-body injury in the past couple weeks while wearing a walking boot off the ice. Grossmann's 14 points are a career-high for a defenseman who doesn't cash his checks on stacking points. To cold-heartedly call for his kicking to the curb is not only bad for the team right now, it's also something a spoiled fan would want. After all, Grossmann still appeared in 78 games this season, despite being beat up for the majority of them.
Flyers Fans Are As Loyal As A Dog
I'm not picking on Flyers fans; I'm a Flyers fan myself. But since I've had the chance to get my own grievances off my chest, I'll expound on the good. Despite some of their blemishes, Flyers fans are overall passionate, hockey-educated, and loyal. Remember that one losing season I pointed out earlier? It was the 2006-07 season to be exact. Not only did they not qualify for the postseason that year, they were also the absolute worst team in the league. You wouldn't know that if you were measuring attendance and fervor, though.
https://twitter.com/kylehasjokes/status/288034939625152513
Despite their 22-48-0-12 record that season, Flyers fans stood by their team, ranking ninth in average NHL attendance. How significant is that? Consider the media-built up organizations who are presented as the best fan bases, and where they were that particular year. The mighty Chicago Blackhawks were an intimidating 29th, while the "die hard" Pittsburgh fan base gave the Penguins their 18th ranked average attendance; a little under 400 more than the Columbus Blue Jackets, who were in their seventh year in existence.
When it comes to determining who has the best fans, look no further than to last season's lockout-shortened season. Despite losing half the season to labor disputes, Flyers fans still put their money where their mouth was; even without knowing if and when hockey would be played.

"The Flyers have sold 18,200 season tickets for 2012-13. Twelve people have canceled their tickets because of the lockout.

Twelve of 18,200.

That's 0.066 percent.

You can look at it two ways:

1. Flyers fans are extremely loyal.

2. Flyers fans are loyal to a fault.

"Rick Trier, a 57-year-old car salesman from Southampton, said he falls into the first category. Trier's family has had season tickets since the franchise started in 1967. Including the playoffs, he said, he pays more than $13,000, total, for two very good seats. When the season isn't held up because greedy grown-ups can't figure out how to divide $3.3 billion in revenue, Trier said he can afford to go to only about 10 to 15 games, so he sells the majority of his tickets." — philly.com
Although Flyers fans have been spoiled with a competitive team, it's fair to say they've earned that right in a way. Win or lose, they show up. They're some of the best people I've come in contact with, and as an Ohio native, they've treated me as one of their own since day one (when I was an acne-riddled seventh grader). Come to think of it, they might have more in common with my Cleveland Browns fanhood than I thought. But they're still spoiled.