Remember when the Flyers absurdly gave Scott Hartnell a six-year, $28.5 million deal back in 2012? Do you remember the ridiculous No-Movement clause? Isn't it funny how time and production can change perspective? Along with his performance, the red-headed agitator has also grown to be a fan favorite with his community work off the ice. Suddenly now, locking up Hartnell adds up.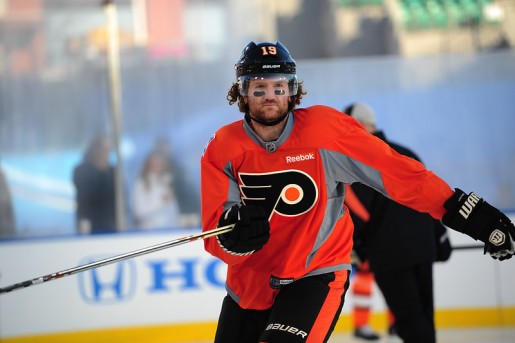 Hartnell Adds Up To Old Form
After signing his six-year extension, Hartnell turned in a dud of a lock out-shortened season. Hartnell went from a 30-30 season in 2010-11, to a disappointing eight goals and three assists last season. With that type of drop off in production, it's not complicated to understand the frustration over Hartnell's status with the organization.
"I think with the lockout, I don't think I was in the best shape coming in," said Hartnell, who broke his foot in the third game of the season last year. "You take a teammate's shot off your foot and break it. You're out of shape and you sit for three weeks and watch your foot in a cast, not being able to do anything but trying to come back as quick as you can. Say you're a step behind before the injury, you come back and you're two or three steps behind. It was frustrating. I think if you watched me play you could tell I was frustrated at the way I was playing."
https://twitter.com/YakovMironov/status/237650814510964736
Since joining the Flyers in 2007, Hartnell has chalked up at least 40 points in every season except for last year's 11 point forgettable year. And with a career low of 70 PIM's last season, it certainly was easy to see Hartnell off his game. The player that opposing players and fans hate equally racked up over 140 penalty minutes for four consecutive seasons in orange and black (2007-2011), which added to his value as explained by Puck Daddy back in 2012:
"But projecting Hartnell's offensive numbers, which should wane anyway as he reaches his mid-30s, misses a more significant number when it comes to this contract: 147.

"As in 147 PIMs on average over the last five seasons. That's enforcement, agitation and tone-setting from a vital forward on some very successful Flyers teams. That's the ability be as effective running his yap as he is running opponents."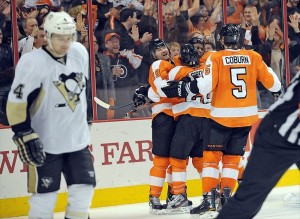 Hartnell didn't help his cause entering the current season, starting the campaign with a nine point scoreless streak. The 31-year-old winger didn't register his first multi-point game until Dec. 4th against Detroit, while his first multi-goal game of the season didn't come until Jan. 28th against the same Red Wings squad.
Since the Olympic break, however, Hartnell has added to the 9-4-3 team record with two multi-point games and 12 points. Much of that has been inspired by Philadelphia's playoff push; one in which they're on pace to achieve.
"We definitely don't want to put ourselves in a position where it comes down to the last game," said Hartnell upon returning from the Olympic break. "We don't want to ease into the playoffs but we definitely want to be winning and playing well."
In year two of his six-year deal, Hartnell has finally appeared to form; scoring goals, dishing out assists, and getting back to getting under the skin of his opponents.
"My game is to be physical, to get in the goalie's face and make it hard on defensemen," explained Hartnell. "After whistles, you try to get that little shot that the refs can't see, and maybe (the opponent will) retaliate. Almost every team has one."
This season, on the other hand, Hartnell has tailored his physical play with discipline. Through 70 games, the Regina native has only accumulated 82 penalty minutes, while continuing to use his 6-2, 210 pound frame as a wrecking ball. In Philadelphia's last 10 games, Hartnell dished out 26 hits.
"He's [Hartnell] been a good player for us," said Flyers head coach Craig Berube after a recent injury scare to Hartnell. "Good to see him out there. We were a little worried after [Saturday's] game, but it turned into a positive. It's good."
Hartnell Adds Up To Broad Street
It's no secret the Flyers are a team that fans either love, or love to hate. The disdain for the Broad Street Bullies is not exclusive to fans either, with a deep rivalry with the Pittsburgh Penguins.
"They absolutely hate him. But you know what? I love the guy because he gets it," said Pittsburgh radio host Ron Cook. "He gets it's about entertainment, and he plays to the crowd perfectly in Pittsburgh and it's so much fun to watch. I wish he played for the Penguins. I think he's one of those guys that if he's on your team, you absolutely love him. I would say he has passed [Alex] Ovechkin as the most disliked guy—because Ovechkin has become kind of irrelevant."
It doesn't take a rocket scientist to know that if the Penguins and their fans hate you, you must be adored in Philadelphia. When he's not impersonating Hulk Hogan to Pens fans, he's instrumental in adding to the Flyers' new found dominance over their in-state rival.
"While the high-profile stars add to the wow factor, these two clubs also have an abundance of guys who bring another essential element to the Flyers-Pens meetings: namely, grit and gamesmanship.

Scott Hartnell sits at the top of the list. His ability to get under the skin of the opponent is well known. Against the Penguins, he takes it to new levels. In the process, he has become as despised in the Steel City as Crosby is in Philadelphia. The fact that it was Hartnell who applied the dagger to Pittsburghs 11-game win streak on Sunday made the development that much more disgusting for Penguins fans to digest." — CSN Philly
Hartnell Adds Up With The Community
When Hartnell added Children's Author to his repertoire of talents, even those who didn't consider themselves fans reacted with much respect. Teaming with older sister, Kayla, the 13-year veteran wrote and released the book Hartnelldown. The children's book details his own story as a kid who grew up with aspirations of playing in the NHL, as well as overcoming adversity in life.
"We had a meeting last spring or summer," said Hartnell. "We were trying to brainstorm ideas how to get donations other than t-shirts and hats and stuff.
"And I said why don't we write a children's book about the value of falling down in life and getting back up and continue to keep going?
"A couple people on our board laughed. A couple people liked it. We went with it. The story came out. I loved the whole thing about it. We went with it."
PHT Morning Skate: Scott Hartnell has a children's book
Read More: http://t.co/vPyA64t1Fk pic.twitter.com/7JLa09IA5G

— NHL on NBC Sports (@NHLonNBCSports) December 16, 2013
Hartnell, who pokes fun at himself for being clumsy, would go onto announce that he would donate $50 to charity for every time he falls down in a game. Much to many's delight, that decision would turn into an expensive one for Hartnell, one that he has no issue living up to.
"(Claude) Giroux was trying to trip me on the faceoffs," joked Hartnell. "He got me down during warmups once."
Hartnell's contributions have benefitted local charities, including one that gives underprivileged children to attend a hockey camp.
"You see what the kids and the families are going through, and you just want to do a little something to help them through it," said Hartnell.
The #Flyers nominated Scott Hartnell for the NHL Foundation Award for his charity work.

— Dave Isaac (@davegisaac) March 31, 2014
Whether it's battling for position in front of the net, playing the villain in opposing cities, or laughing with children, Scott Hartnell adds up for Philadelphia and the Flyers.
"It has been a great run so far," said Hartnell after recently recording his 500th NHL point. "Playing in the NHL is the best job in the world."
You may not like or agree with his contract. But with everything considered, Scott Hartnell adds up for not only the Flyers, but for the game of hockey as well.