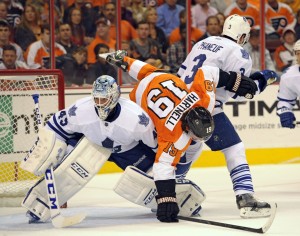 When it was apparent Scott Hartnell spent the majority of the time on his back than he did on his skates, the craze that would become #HartnellDown spread like wildfire.  What started as a joke by Seth Hastings on Twitter has been accepted throughout the hockey community and has even led Hartnell to create his Hartnelldown Foundation.  The craze got so big even TSN did a feature on it.
The hockey player has embraced the one-time slight and now donates $50 dollars every single time his keister makes contact with the ice.  In this season alone, Hartnell has gone down 76 times and has already donated $3,800 to charity.
I've come to find out this #Hartnelldown phenomenon has opened his mind to something other than hockey.  You wouldn't believe it, but Hartnell has turned his sights to writing…children's books.
Last month, Hartnell held a fundraiser at Spasso Italian Grill in Old City Philadelphia.  Thousands of dollars were raised and he debuted his brand new children's book entitled – yep! you guessed it – Hartnell Down.  He even read it aloud for the fans who turned out to the event:
Who'd've thunk it?  Scott Hartnell a.k.a. the professional hockey player turned author.  The book is set to be published on 12/16/13.  For you hockey fans out there with young kids, this will make a perfect holiday gift.  It goes through Hartnell's life from learning to play to his current time with the Flyers and the countless times he's fallen.  The best part is, it's a book even Sean Avery can read.
Follow Shawn Reznik on Twitter: @ShawnTHW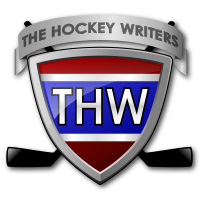 The archives of THW contain over 40,000 posts on all things hockey. We aim to share with you some of the gems we've published over the years.