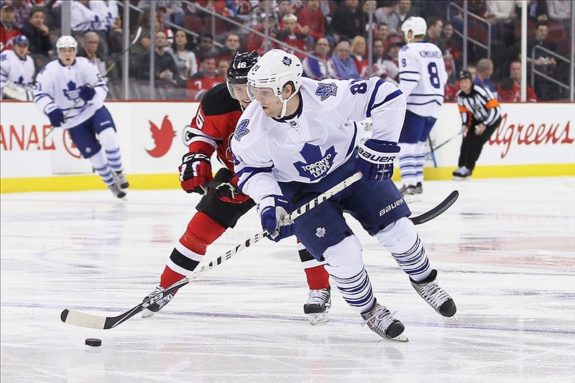 HBO 24/7 may give us an even better look at the inner-workings of the Toronto Maple Leafs than we originally expected.
After beginning the season with 14 wins through their first 23 games the Maple Leafs have dropped five in a row, a span in which they have collected just two points and allowed an average of 4.6 goals per game, leaving them in the bottom half of the Atlantic Division. The mood isn't nearly as calm as it once was in Toronto as fans, media and presumably players alike begin to grow extremely frustrated with the team's lack of production.
So the Leafs are at. 500. If we can get out of December in the same state, I'll be satisfied and looking forward to a playoff run.

— Go Leafs (@Leafs_in_seven) December 4, 2013
If December goes badly, I will be far more pessimistic but won't be counting them out.

— Go Leafs (@Leafs_in_seven) December 4, 2013
Note the language there, showing how pessimistic fans are already becoming: "If we can get out of December…"
Over the course of an 82-game season, a stretch of five poor ones generally isn't something to be too concerned about. However the Leafs' luck has been well-documented all season. Having out-shot their opponent just twice this season — second last in the league — the Maple Leafs were bound to struggle at some point and there is reason to believe this run of turmoil very well could continue into the New Year and beyond.
INJURIES
Part of the reason the Maple Leafs were able to maintain a nice record last season was their health. Rarely did they run into injury issues and that allowed them to play more as a team.
@mlse No – low end I believe. Very fortunate last year

— James Mirtle (@mirtle) December 4, 2013
The same can't be said this season as the Leafs have run into their share of injury issues — that goes without being said. Nikolai Kulemin, Mark Fraser, Tyler Bozak, Dave Bolland and Joffrey Lupul have all sat this season due to various ailments and we're only into the third month of the campaign.
Now it appears things are going down the drain on the injury front once again.
Carlyle says Kessel didn't feel well in one part of his body so he left a little early.

— David Alter (@dalter) December 4, 2013
Carlyle says Bozak is currently having an MRI on his ailment. Orr has an elbow issue.

— David Alter (@dalter) December 4, 2013
Bozak left Tuesday's game against the San Jose Sharks, returned to test out what is being called an "upper-body injury" only to leave once again. Bozak was out for 12 games earlier in the season with a hamstring injury.
It's unknown whether Phil Kessel will sit or play against the Dallas Stars on Thursday. Head coach Randy Carlyle said Kessel "wasn't feeling well in one area of his body" and that "he just told me needed to leave the ice surface."
CHANGES COMING FOR MAPLE LEAFS
Injuries didn't stop the Maple Leafs from placing one of their bottom-six forwards on waivers Wednesday. Jerred Smithson, who played just 13 games for the blue and white after signing with the team in November, may be on his way out.
As James Mirtle of The Globe and Mail noted on Wednesday, the Leafs were and still are in dire need of a change to their fourth line.
Mirtle, referencing the trio of Frazer McLaren, Colton Orr and Jerred Smithson:
You could call it the zero line.

No goals. No assists. Only 10 combined shots on goal in 52 games and 358 minutes played all season.

And just enough of an impact to bite the Toronto Maple Leafs in the behind once in a while.
The reason behind placing Smithson on waivers remains somewhat unclear despite Carlyle's explanation saying there are players in the organization who are ahead of him. As noted above, Tyler Bozak is having an MRI on his upper-body injury and the Leafs therefore are still unsure how long he will be out. Assuming Bozak sits in the future, the team's top four at the centre position consist of Nazem Kadri, who has just two points in his last five games, Peter Holland, Jay McClement and Trevor Smith.
On the bright side of the injury front, Colton Orr's ailment may allow the Maple Leafs to try something a little different on the fourth line.
If the Toronto Maple Leafs are going to succeed in the month of December and get back into the top half of the Atlantic Division they will need to do so while fighting through injuries and changes to their roster. Frustration is running high and with the HBO cameras around things may not change anytime soon. This is an organization made of professionals, however, and they should be able to overcome adversity.
Follow Lukas (@LukasHardonk) on Twitter for more Maple Leafs coverage.
Lukas, a student at the University of Ottawa, covers the Toronto Maple Leafs on a part-time basis for The Hockey Writers. Contact Lukas at lukas.hardonk@gmail.com or follow him on Twitter, @LukasHardonk.