When it comes to the face of the franchise, Philadelphia Flyers captain Claude Giroux unmistakably fills the role. And then there's Scott Hartnell and Kimmo Timonen, who are both in their seventh year with the team. The list goes on, but you get the idea. But with Sean Couturier, several things stand out, which begs the question, is Couturier a franchise player?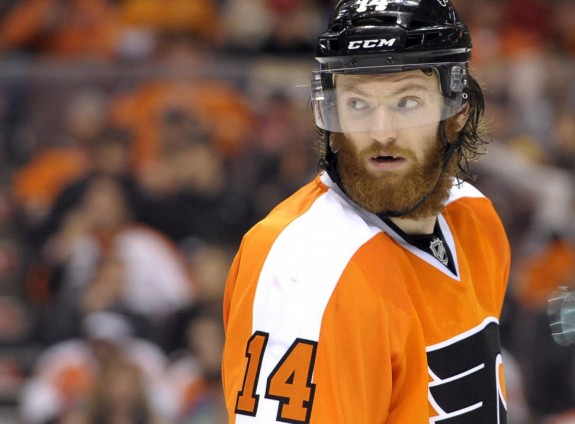 Shutdown Defense
Sean Couturier has been a difference-maker since he was drafted eighth overall in the 2011 NHL Entry Draft. At just 18-years of age, Couturier's presence at training camp forced head coach Peter Laviolette to keep the inexperienced center on the big roster for 77 games of the 2011-12 season, as well as the playoff roster.
Couturier's defensive mastery not only left an impression on Laviolette in training camp, but on the league's best players throughout the year as well. In his first NHL playoff series, Couturier, then 19, was given the monumental task of mirroring Penguins star Evgeni Malkin. Throughout the six-game series, which the Flyers would go onto win, Couturier left the NHL's leading scorer without a point in two of them.
"I don't think I saw in my hockey career somebody that good defensively at a young age, and he showed it the first 10 games he played in the season – and the coach saw it right away," said then teammate Jaromir Jagr. "I would say he's our best defensive forward at age 18, 19. Maybe Ron Francis was kind of like that, but 18, 19 years old …
"He's strong, but I think he's so smart for his age. I think he play like he would play for 20 years. The awareness where to go, not overskate anything, not overplay. Just be right place, right time. That's what they call defense."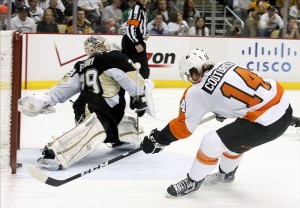 In 19 games against Pittsburgh throughout his early career, Couturier's shutdown defense has tortured the Pens. When the two teams met earlier in March in a vital home-and-home series, Couturier was asked to duplicate his 2012 performance against Malkin with this year's point leader, Sidney Crosby.
For the 2011 first round draft pick, it was ask and you shall receive. The 21-year-old hounded Crosby like a repo man, holding the Penguins captain scoreless against the orange and black for the first time in 46 regular season games.
"It's not everybody that can do that at his age," said first year Flyer, Vincent Lecavalier. "He's very responsible. … You've got guys like [the Boston Bruins' Patrice] Bergeron that do that, but there's not many guys in the League that do it like he does."
Couturier has shined equally as bright on Philadelphia's penalty kill, which killed off 36 of 37 power plays in the 10 games leading up to Sunday's loss to Boston. The Flyers PK, which ranks fifth in the entire league, hasn't found success through a lack of penalties either. Philadelphia is easily the NHL's most penalized team, racking up 1,100 PIM's with 401 penalties through 74 games.
"Short-handed, Couturier does pretty much everything well including playing with the puck and counter-attacking. The Flyers not only permit 4-on-5 shots against at the lowest rate of any team in the league, but they also generate nearly two shots for more than the next closest team (rated per sixty minutes). The Flyers control 23.1 percent of total shots at 4-on-5, with the next closest team more than 5 percent behind. Coutourier also is also drawing nearly a penalty for every thirty minutes of short-handed ice-time he plays…" — The Score
A Case For The Selke Trophy?
The Frank J. Selke Trophy is awarded every year to the most outstanding defensive forward in the league. Past winners include, Jonathan Toews, Patrice Bergeron, and Pavel Datsyuk. For Couturier, winning the Selke Trophy would most assuredly declare Couturier a franchise player. But even if the 2010-11 Mike Boss Trophy winner doesn't win the Selke, it doesn't necessarily mean he's not.
"Couturier, 21, deserves consideration for the Selke Trophy, given to the league's best defensive forward. He won't come close to winning it because the award has morphed into a reward for a forward who is dominating both ways, and Couturier's offense is still in the growing stages.

"That said, he is opening eyes around the league for the way he has shut down players such as Sidney Crosby, Evgeni Malkin, and Jonathan Toews. Couturier and linemates Matt Read and Steve Downie are usually assigned to defend an opponent's top unit." — Sam Carchidi
https://twitter.com/DStrehleTFP/status/440189069805379584
Keeping the Selke Trophy from Couturier for offensive reasons not only ignores his impact in the faceoff circle, but completely negates the entire meaning of the award in the first place. The third-year center has increased his faceoff percentage, as well as his average time on ice, while notching 36 points. Couturier's average ice time of 19:09 trails only Claude Giroux's average time of 20:36 for most minutes among Flyers forwards.
Sean Couturier is ranked #1 PKer in the league and is in the talk to win Selke at the end of the season pic.twitter.com/SHrykmripT

— Flyers Future (@Flyers_Future) January 8, 2014
Still, Couturier's plus-one rating and 36 points is a country mile from other potential candidates such as Toews, Bergeron and Datsyuk. And even if his inconsistent scoring keeps him from the Selke this year, there's plenty of time for "Coots" to have his name in the hat for years to come.
"Pavel Datsyuk did not win his first Selke trophy until he was 29 years old and he has won it three times. Bergeron and Kesler were both 26 when they won the award for the first time. Jonathan Toews, who will be a perennial Selke nominee for the next decade, won the award for the first time as a 25 year old. Couturier is still only 21 years old. Jordan Staal was nominated as a 21 year old and Toews was first nominated when he was 23. Couturier has plenty of time to continue refining his game at both ends of the ice." — Broad Street Buzz
Only Getting Better
If you have an issue calling Couturier a franchise player, or even potential franchise player, consider his age. With the majority of the criticism lingering around his offensive totals, the third-year center has already eclipsed his single season best in points thanks to his 26 assists through 74 games. And although Couturier ended his rookie campaign with a plus-18 rating, his plus-one rating this season isn't as bad as it seems when Philadelphia's disastrous start to the season is taken into consideration.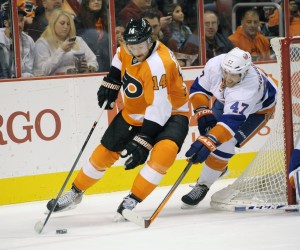 "As the years go by, I'm gonna get stronger and bigger," Couturier explained. "I'm gonna use my body a little more and be smart about it. Maybe the last two years I wasn't strong enough so I was trying to use more of my reach and trying to play more of a stick game. Now I can use a little more of my body because I feel stronger and a lot more confident in battles."
If Couturier hasn't gotten any bigger or stronger, it's news to everyone else. Flyers head coach Craig Berube is beyond pleased with what the 6-3, 197-pound Couturier brings.
"I just like him," said Berube. "I just like his positioning on him and taking his speed away and stuff. He's got a good stick and I think with Sid [Crosby], he's so powerful and fast and quick and if you get on the wrong side of him, and you're not positionally really sound, he'll make you look stupid. So, Couturier's a very good positional player and he's got a very good stick."
The overall offensive numbers alone may not make Sean Couturier a franchise player right now. But his elite defensive skill set, along with an entire career in front of him, suggest he will be – sooner rather than later.
Andy is a contributor for The Hockey Writers, covering the Philadelphia Flyers. He holds a Bachelor's Degree in Communications from Walsh University. He enjoys spending time with his family, golfing, and reading. He is married with a daughter. You can follow Andy on Twitter @ADudones.