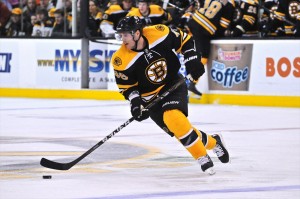 Success is achieved by developing our strengths, not eliminating our weaknesses — Marilyn von Savant
As it turns out, Marilyn is both literally and figuratively a savant, as she was once listed in the Guinness Book of World Records under the category of "Highest I.Q." with an astounding 218. I've hit that score a few times while bowling, but the only savants I was surrounded by were of the beer-drinking variety.
Strengths and weaknesses — a preamble
As the playoffs approach, the chess matches between teams ramp up substantially. Potential postseason opponents study one another intently, looking for mismatches, advantages, and weaknesses to capitalize upon. It was very clear during the Kings' Cup run in 2012, for example, that they knew they could hammer the Vancouver Canucks physically in the opening round — and did. The Kings continued to use size and strength to their advantage all the way to claiming the Stanley Cup.
The point is that every team has strengths and weaknesses — some obvious, some arcane — with a general relationship between their proximate ratio and position in the standings. Notice I used "proximate" there to sound a little smarter. Marilyn might be reading.
So many choices, so little time
At first glance, a subject as broad as strengths and weaknesses of playoff contenders to this point in the season might seem incredibly daunting. And it would be, if I didn't set two rules. First rule: I'm only going eight deep. This doesn't mean those below the line aren't contenders, but I've got to stop somewhere. Second rule, which will really make things easier: I'm settling on what I consider the single biggest strength and weakness for each team.
Note that there will be subjectivity in many of these choices, or an opinion based upon a 20,000-foot flyover. After all, I don't follow many teams closely. However, I make an effort to support my assertions wherever possible, and by all means post your thoughts in the comments thread below if you take issue with any of them.
So, you're thinking 'get to it already,' and I shall do exactly that. Without further ado, here are the greatest strengths and weaknesses of each Eastern conference playoff contender.
Boston Bruins
The East's top team has clinched the Atlantic Division crown and should cruise all the way to the number one seed in the playoffs. When you've got players like David Krejci, Patrice Bergeron, Milan Lucic, Zdeno Chara, Tuukka Rask and a rejuvenated Jarome Iginla, it's no small wonder why.
Greatest strength: 5×5 scoring differential. As good as they are on the power play, the Bruins are one particularly badass team at even strength, with a 1.58:1 ratio of goals for/goals against. The next highest team is Anaheim at 1.42:1, with subsequent clubs dropping off markedly after that.
Biggest weakness: blocked shots. They don't lay down to block many shots, which manifests itself into a mediocre 12th overall in shots against. With playoff scoring typically lower and every bounce magnified, even a goalie as good as Rask could fumble a game or two away as shots make it all the way to the net.
Pittsburgh Penguins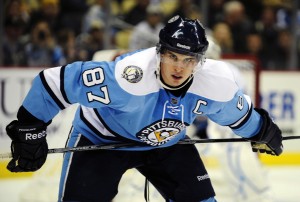 The Penguins could still overtake the Bruins for the East's top seed, but with just seven games left and nine points back, don't bet your retirement account on it. However, they should easily capture the second seed, and with the one-two punch of Crosby and Malkin, are always a threat to win it all.
Greatest strength: Top-end scoring. The Penguins have not one, not two, but three players (Crosby, Malkin, Kunitz) with more points than Anze Kopitar, the Kings' leading scorer. Their next two highest point producers aren't that far behind, either.
Biggest weakness: physicality. Pittsburgh may be eighth in the league in total hits, but most pundits do not consider them a physical team. Against a big, aggressive club like Boston, that weakness could easily become exposed.
Montreal Canadiens
Admittedly, I completely dropped the ball with respect to Montreal this season. Les Habs are on the cusp of clinching a playoff berth for the second year in a row and sixth time in seven years.
Greatest strength: team speed. The Canadiens possess outstanding team speed, led by the blazing Max Pacioretty and a young, mobile defensive corps.
Biggest weakness: physicality. At least the Penguins throw the body around now and again. Montreal is a smallish club that stands just 18th in the league in hits, a veritable coterie of hobbits on skates.
Tampa Bay Lightning
The Lightning are aptly named, as their offense can strike as quickly and lethally as a bolt of electricity. Even with Martin St. Louis now patrolling the ice at Madison Square Gardens, the Lightning haven't missed a beat, going 7-1-2 over their past ten games.
Greatest strength: scoring. Scoring is the identity of the Lightning, and at 2.88 goals per game, they rank a solid 8th overall in the NHL in that category.
Biggest weakness: overall defense. Just as putting the puck in the net has been a perennial team strength, keeping it out has repeatedly been a weakness. Ben Bishop has been outstanding, but ranking just 14th in shots allowed and 12th in goals surrendered isn't enough of an improvement to generate confidence come playoff time.
New York Rangers
The Rangers are the anti-Lightning, possessing a pedestrian offense but rock-solid defense. Henrik Lundqvist may be having one of his worst seasons, but despite having taken a step or two backwards, is still a goalie the team should be able to ride during the playoffs.
Greatest strength: defense. Despite Lundquist's relative struggles, the Rangers have given up just 2.38 goals per game, fifth best in the league.
Biggest weakness: top-six scoring. With just one 20-goal scorer (Rick Nash, with 25 goals) and ranking 18th overall in goals in the league, the offense will be the big worry in the playoffs. The Rangers traded for Martin St. Louis for this very reason, but with just three assists in fourteen games, it hasn't yet paid off.
Philadelphia Flyers
The Flyers took a circuitous route to get where they are, having signed and cut loose stargazing goaltender Ilya Bryzgalov, dumped eventual Vezina winner Sergei Bobrovsky in the middle of that saga and acquired reclamation-project goaltender Steve Mason from the Columbus Blue Jackets, all in the span of two seasons. Despite the roiling waters, they are on the rise once more, and should have enough gas to make the playoffs.
Greatest strength: special teams. At a 19.6% conversion rate on the power play and 86.9% efficiency on the penalty kill, the Flyers rank in the top ten in both categories.
Biggest weakness: defense. Philadelphia gives up too many shots (30.1), is third-worst in the league in blocked shots, and as a result allows a very pedestrian 2.76 goals per game. It's never a good scenario when you have to rely upon offense to win in the playoffs.
Detroit Red Wings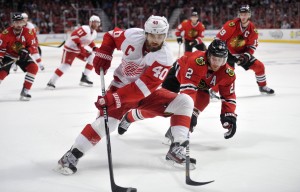 Admittedly, I've never been a fan of the Red Wings, probably because they've beaten my Kings far too many times over the years. Nevertheless, although in a playoff spot as of this writing, the Red Menace are clearly a team in transition. Older players such as Pavel Datsyuk, Daniel Alfredsson and Henrik Zetterberg still play leading roles, but are reaching the ends of their respective biological clocks.
Greatest strength: Veteran leadership. That's been perhaps the biggest key to Detroit's continuous success ever since they became relevant again. They never seem devoid of experienced top-end leadership. I'll continue to gag and tip my hat to them.
Biggest weakness: offense. It's almost surreal, seeing Detroit just 19th overall offensively. It really is.
Columbus Blue Jackets
Now here's a team I can root for. The Jackets have made the playoffs just once in their entire existence, where they were (rather ironically, given the order of this piece) bowled over by the Red Wings in the first round, five years ago. Columbus made enough of a push last offseason to feel good confident their playoff chances this season, and so far, so good.
Greatest strength: Physicality. As to be expected from an eighth-seed contender, they don't score a ton or keep the puck out of the net with proficiency. However, these Jackets can hit, baby, and in the playoffs, that's meaningful. If you don't believe me, ask the 2012 Kings.
Biggest weakness: Lack of star power. It's better than it was a few years ago, but the top-end talent is lacking in Columbus. It's hard to find a 'go-to' guy on the roster outside of Ryan Johansen and (at times) Sergei Bobrovsky.
Agree or disagree? Comment below, or send me a message on Twitter to @mclaughlinwalt.