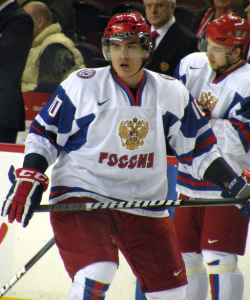 There are two kinds of fools: those who can't change their opinions and those who won't — Josh Billings
For hockey fans, if there's one thing that can reliably be counted upon, it's that nothing can truly be counted on. Last season, the Montreal Canadiens, Toronto Maple Leafs, New York Islanders, Anaheim Ducks, and Minnesota Wild surprised us all and rose from the ashes of non-playoff seasons a year prior (some, like Toronto, nearly a decade prior) to make the big dance. Conversely, the Florida Panthers, Philadelphia Flyers, New Jersey Devils, Phoenix Coyotes and Nashville Predators went the other direction, plunging from the penthouse to the outhouse in 2012-13. Speaking of the penthouse, the Los Angeles Kings barely squeaked into the playoffs two seasons ago, then became arguably the biggest surprise of all time by going on an historic run to claim hockey's grandest prize; the Anaheim Ducks, on the other hand, couldn't get out of their opening round series against the 7th-seeded Detroit Red Wings last year.
Point being, there will always be surprises in the NHL, both positive and not-so-positive in nature. What are the most likely ones for this upcoming season? As Rod Sterling used to say on The Twilight Zone, submitted for your approval …
Edmonton Oilers
I admit it — I'm an Oilphyle. With all those high draft picks rounding into shape at the NHL level, this is a club literally busting at the seams with young talent. I mean, check it out: Taylor Hall, Jordan Eberle, Sam Gagner, Ryan Nugent-Hopkins, Nail Yukapov, David Perron, Jeff Petry. Heck, those last two look a little old when compared to the first five names, and starting goaltender Devan Dubnyk seems as if he should be cashing Social Security checks at 27 years of age.
Edmonton has been on a steady upward trajectory, posting 62, 74 and (adjusted for the shortened season) 77 points the past three seasons. Although they move to the Pacific this year and will contend with the likes of Los Angeles, Anaheim and Vancouver, young, fast legs can frequently trump grizzled veteran experience.
With an offseason emphasis on defense (Edmonton's Achilles heel in 2012-13) and the continued development of all those kids, look for the Oilers to surprise and rise to significance this year.
Montreal Canadiens
Always a proud franchise, Montreal posted a season in 2012-13 in which they justifiably should take pride. They won the Northeast division with a 29-14-5 record (62 points), boasting the league's fourth-best offense (3.04 goals per game) and fifth-highest power play percentage (20.7%) in the process. A dispiriting loss in the opening round of the playoffs to the Ottawa Senators notwithstanding, the future should be bright in Quebec's largest city, right?
Alas, Les Habs wouldn't be on this list if that were the case. They essentially made a lateral move by swapping one 30+ year old forward (Michael Ryder, who signed with New Jersey) for an even older 30+ forward in Daniel Briere. Briere, while arguably more talented, is inarguably more injury prone. The rest of their offseason moves were depth-oriented and relatively small in nature. Speaking of small, they remain a club lacking in size and physicality (20th in hits in 2012-13), a veritable death sentence in the newly-revamped Atlantic division.
Although they may still make the playoffs, expect Montreal to be a negative surprise and fight for a low seed in lieu of the division crown. Sacre bleu!
The NHL regular season schedule was released on Friday. Check out our partners at TiqIQ for the best deals on Montreal Canadiens tickets for all 2013-14 games.
Winnipeg Jets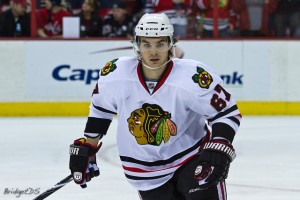 No, they didn't make the playoffs last year and if you consult Vegas Insider you'll note that they are amongst the least likely clubs the oddsmakers have pegged to win the Cup, but just because drunken gamblers believe something doesn't make it so. Winnipeg had a mediocre offense (2.62 goals per game last year) but really suffered on defense, ranking 25th in the NHL at 2.94 goals per game.
The Jets picked up Michael Frolik and Devin Setoguchi in the offseason, which will help with special teams and in the case of Setoguchi, top-six scoring. Special teams was a particular weakness last year, something Frolik excels at. It's going to take significant improvement by a defensive corps that on paper should be able to get the job done, but with a big three of Andrew Ladd, Blake Wheeler and Evander Kane and some nice complimentary parts, the Jets are poised to rebound this year.
Winnipeg won't win the division, but they should surprise the oddsmakers and be in the playoff mix in 2013-14.
Columbus Blue Jackets
The Jackets came within an ice chip of making the playoffs last season for the first time since Steve Mason was actually a good NHL goaltender. They salvaged a bad trade in Jeff Carter by spinning him for Jack Johnson from the Kings, rode eventual Vezina-winner Sergei Bobrovsky all season long, and made a splash in the offseason by signing Nathan Horton.
Columbus still lacks a little depth on offense, but assuming Anisimov takes another step or two forward and Letestu doesn't take a step or two backwards, they should be able to hold their ground in the power-packed Metropolitan division. The defense and goaltending is already good enough to make the playoffs, finishing within the top ten in goals against last season.
The offense should be much better and if the defense remains in check, the Blue Jackets could surprise and make the playoffs this season.
San Jose Sharks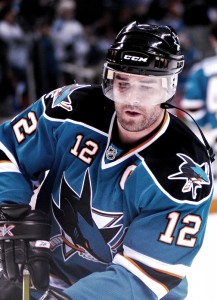 Admittedly, I may be overly pessimistic about the Sharks' chances this season. However, certain facts are indisputable. For one, Joe Thornton (33) and Patrick Marleau (32) aren't getting any younger — for that matter, neither are Dan Boyle (36), Martin Havlat (32), Raffi Torres (31) and Brad Stuart (33). Secondly, the Sharks have regressed in point totals in each of the past four seasons. Third, the Sharks barely made the playoffs last year, just two points out ahead of the hard-charging 9th-place Columbus Blue Jackets.
The Sharks had a relatively quiet offseason, and have a big question mark in Martin Havlat's repeated health problems. They are also capped out, so needed help will have to come from their decent-but-not-spectacular farm system. There are big names in the Silicon Valley, but the beards are getting grayer and depth continues to be a problem.
San Jose is more likely to miss the playoffs altogether than win the division. Given their stellar history, that would be the biggest surprise of all.