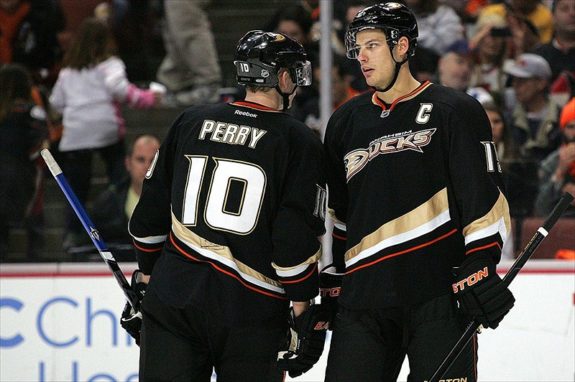 Of late, your Pacific coast Ducks haven't been playing the elite style of hockey that saw them in first place for a large chunk of the season this year, but that's not to say they aren't still one of the most dominant teams in the league. Five-on-five, Anaheim still ranks as the best in terms of goals for with 171, two more than Chicago and nine more than Boston. They've also given up the fifth-least amount of goals in the same situation with 119. It's strengths like these the Ducks will have to rely on during the final stretch of the regular season, as they go head-to-head with the This-Team-Is-Way-Too-Awesome-For-It's-Own-Good-St. Louis Blues. Both teams have eight games left on the schedule, but the Blues have a three point cushion which they'll hope to maintain in their quest for the Clarence S. Campbell Bowl (because they're definitely not going to catch the Bruins for the Presidents' Trophy at this point). Let's take a close examination of the final eight games and envision a best-case scenario for Anaheim.
The Competition
Mar 31 – Jets
Prior Matchups: ANA 3 – WPG 2, WPG 3 – ANA 2.
When the Jets beat Anaheim back in January, it ended a streak of 20-0-2 at the Honda Center. The Ducks dominated puck possession, but couldn't put enough on net to make up for Hiller's weak night. Currently, Winnipeg's season is all but finished as they sit nine points out of the final wild card spot, so all they'll be doing is finishing strong and attempting to spoil Anaheim's fun. It goes without saying tonight is a must-win situation for Bruce Boudreau and his squad. Winning six of the final eight games seems like a reasonable goal and a healthy finish heading into the post season.
Apr 2 – Oilers
Prior Matchups: ANA 3 – EDM 2, ANA 5 – EDM 2, EDM 4 – ANA 3 (OT).
This will be the first of two games in a five day span between the two teams. Just three days ago, the Ducks peppered Ben Scrivens with 51 shots but they couldn't beat him in overtime as the Oilers won during a three-on-three situation (who could have guessed those young guns would excel three-on-three?). There will be no excuse if Anaheim loses either of these games against a team who is last in the West and second last in the league. Without Cam Fowler for the next couple weeks (MCL), Anaheim's defensive corps will need to crack down and use these contests as a warm up for the post-season. It's a chance for the assistant coaches to iron out any wrinkles and smooth out the systems.
Apr 4 – Predators
Prior Matchups: ANA 4 – NAS 3, ANA 5 – NAS 2.
The Predators have been a .500 team all year long, never really presenting much of a threat, and giving up heaps more goals than in recent memory. This game and the next represent an opportunity for Anaheim to embark on another one of their famous winning streaks, which are largely responsible for their position now. What's more impressive is most of those wins have come in regulation, where they have the second most wins with 46, three behind Boston. Boudreau will definitely be showcasing this stat in the dressing room as it boasts well for Anaheim and their stellar even-strength play, as playoff overtime is much, much different than regular season overtime.
Apr 6 – Oilers
Should the Ducks best the Jets, Oilers, Predators and win this game it will make for a five-game winning streak and hopefully lengthen the gap between themselves and the Sharks who are knocking at the door. The Sharks took control of the Pacific for a short period of time but have lost two in a row and now sit one point back having played two games more than the Ducks. San Jose would most likely prefer a division title and a chance at a wild card team over a first round tilt with the Los Angeles Kings who are currently scorching. The Kings have won six in a row and the last two against the Sharks.
Apr 7 – Canucks
Prior Matchups: ANA 3 – VAN 1, ANA 4 – VAN 3 (OT), ANA 9 – VAN 1, ANA 5 – VAN 1.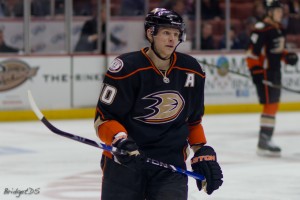 Wow. 21 – 6. That's the goal differential in this year's head-to-head. What a wonderful opportunity for Anaheim to extend that winning streak to six, and an even better opportunity for Perry to reach the 40 goal mark for the second time in his career. Perry currently sits with 38 goals, which is good for second most behind Alex Ovechkin who has 48. Patrick Marleau also has 38. Maybe the real battle for tops in the Pacific lies in the lesser battle of who can finish second behind Ovechkin.
Apr 9 – Sharks
Prior Matchups: SJS 4- ANA 3 (SO), SJS 3 – ANA 1, ANA 6 – SJS 3, SJS 3 – ANA 2.
This is where things really start to get crazy. If there is still a one point gap between the Sharks and Ducks by the time this game rolls around, it could by far be the most important of the season for both squads. Aside from the 6-1 hiccup, the Sharks have made the Ducks look like Ducklings all season long, which will certainly be the story-line in this marquee contest. If Nick Bonino and Mathieu Perrault haven't scored 20 goals all ready, it will be the perfect time for them to become the 4th and 5th members of the Ducks to do so this season. It will be the first time since 2006-07 five Ducks have scored 20 goals.
Apr 12 – Kings
Prior Matchups: LAK 3 – ANA 2 (SO), ANA 2 – LAK 1, ANA 3 – LAK 0, ANA 2 – LAK 1.
Four games, 14 goals. They may not be high scoring affairs, but they're definitely a blast to watch. In the final eight games of the season, the last three are by far the toughest. Starting with the Sharks, we move onto the Kings who have vaulted themselves up the standings. Two weeks ago there was a major gap between the top seven teams in the league and the rest of the competition as I wrote here, but the Kings six-game winning streak leaves them just five points behind Chicago and six behind Colorado. The Kings will try and reverse that by scoring early and often, but that may not matter because…
Fun stat of the day: Scoring first doesn't really apply when you're playing Anaheim. When the other team scores first, Anaheim has won more than half the time, boasting a head-scratchingly high .529%. No one else is even close. In fact, Boston (.433) and San Jose (.424) are the only teams in the .400's.
Apr 12 – Avalanche
Prior Matchups: COL 6 – ANA 1, ANA 6 – COL 4.
This series is quite the reverse of the previous one, with 17 goals in two games. The Ducks were embarrassed in their season opener, but they definitely made up for it by winning the next seven games. So as a Ducks fan, you might cross your fingers and hope Colorado walks all over Anaheim in the season finale, because a seven-game winning streak to start the playoffs is just shy of two straight sweeps. It would certainly be a massive improvement over last year when the Ducks entered the playoffs second overall but were upset by a playoff-savvy Red Wings squad in seven.
Keep a close eye on these next eight games. Though a playoff spot is assured, catching St. Louis for top spot in the West would be a huge confidence boost heading into the playoffs. It would also mean a first round bout against the Phoenix Coyotes who currently hold the eighth spot. Phoenix have lost all five games against the Mallards this year.
Check out our partners at TiqIQ for the best deals on Anaheim Ducks tickets for all 2013-14 games.