The playoffs are now barely more than two weeks away and first round playoff match-ups are beginning to take shape. So I've decided to speculate on what the best match-ups would be and offer a little preview. I've only included series that could realistically happen so as fun as it would be to see the Pens and Flyers face off, that's just not gonna happen with Pittsburgh 15 points ahead in the standings. So here are the top five (potential) first-round playoff matchups.
5) Ducks vs Kings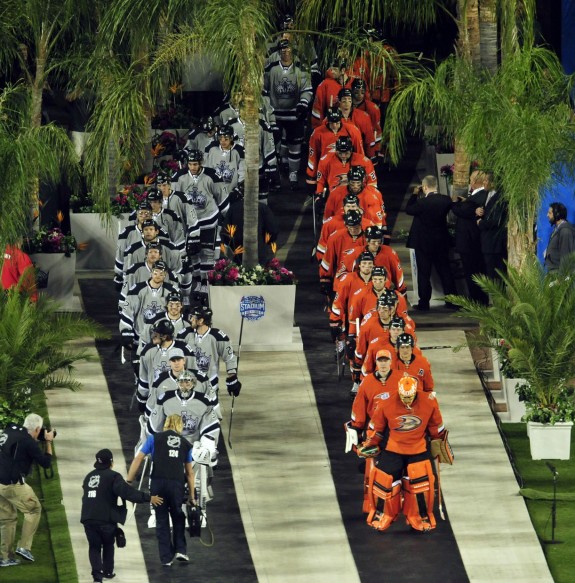 Hockey in California has begun to flourish in recent years much in part thanks to the success of its three teams.
While Anaheim has had one heck of a season (and I'll be honest I did not see that coming) they haven't been playing that great as of late. They are just 9-8-3 since they faced off against the Kings in the Coors Light Stadium Series in late January. Meanwhile the Kings are headed in the opposite direction, as they were recently on an eight-game winning streak, before that was snapped by Toronto March 13th. A few games later however and they are back with their winning ways, now in the midst of a six-game winning streak.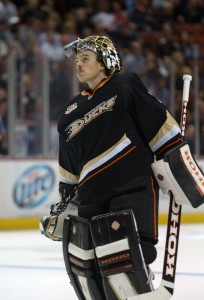 This would be the first ever playoff series between these two but I do feel it could really add to what is already a great rivalry. The playoffs are where rivalries really take off, and these teams have seen each other 26 times the past five seasons. The results have been close with L.A. winning 14 of those 26.
It would be interesting to see if Jonas Hiller, who doesn't have much of a playoff resume (two series victories in his career), along with superstars Perry and Getzlaf can finally make some playoff noise for a Ducks team that hasn't had much success the past several years (only made it past the first round once the past five years). The Kings always seem to show up for the playoffs, and despite likely not having home ice, they are never to be taken lightly. Not with a man named Jonathan Quick manning the crease. And remember Marion Gaborik is also now a member of the Kings, which gives them another dynamic offensive weapon. He has eight points in 12 games since joining the club and he's a proven scorer when healthy so watch for him to be a difference maker.
Last Playoff Matchup: Never
Regular Season Head-to-Head: 3-1 Ducks with one final game April 12
Three of the four games were decided by a single goal. L.A. only managed four goals in the four games. Rookie goaltender Frederik Andersen won all three of his starts against the Kings while stopping 103 of 105 shots faced (.980 SV%). They first meeting between them this year went to an extremely entertaining nine-round shootout:
Prediction If They Face-off: Kings in 6
4) Sharks vs Kings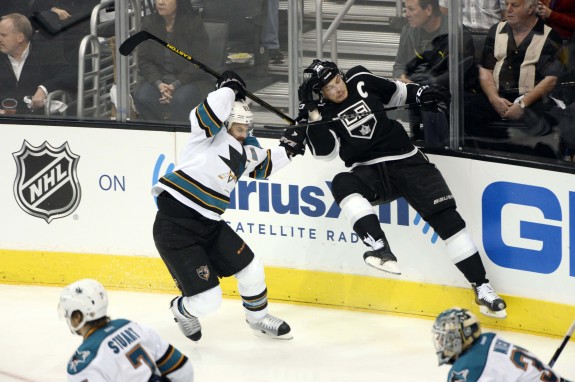 For almost the entire season the Ducks have been the kings of the Pacific Division, much in part thanks to a 18-3-3 division record. But towards the end of March the Sharks passed the Ducks and now they are neck and neck in the standings. Whoever finishes ahead will get to avoid the Kings in the opening round and I am rooting for the Ducks to finish ahead because I feel a Sharks-Kings matchup would be even better than a Ducks-Kings one.
These teams met last year in the second round and boy was it a doozy. The series went seven games and for those who remember it was Jonathan Quick who saved the series for the Kings by robbing Joe Pavelski with five minutes left in the third with this unbelievable save. If only Pavelski could have gotten the puck up off the ice!
https://www.youtube.com/watch?v=A3iKSFcSxSE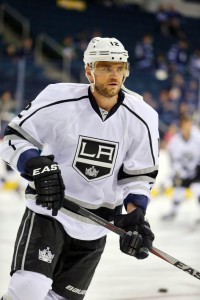 The teams also met two years earlier in the opening round of the playoffs and half of the six games went to overtime. So without a doubt these teams have enough of a recent history to make an opening round match-up entertaining. And I do love seeing a powerhouse offense like the Sharks face-off against an elite goaltender such as Jonathan Quick. Both teams are also playing great hockey right now (LA is 14-3-0 in its last 17, San Jose 12-4-3 in its 19) so if they can keep this up they will both enter the playoffs on a roll.
Regular Season Head-to-Head: 3-1 Kings with one final game April 3
Just like with the Ducks and Kings, very little separates these two as three of the four games were also decided by a lone goal. Kopitar had the game-winning goal in two of those three Kings victories while the Sharks "big four" of Thornton, Marleau, Couture and Pavelski have only managed a combined seven points in four games.
Last Playoff Matchup: 2013 Western Conference Semi-Final (2nd round)- Kings 4-3
As mentioned, this was one of my favourite playoff series from last year. The Kings got another clutch performance from Justin Williams in game seven (two goals) and barely squeaked by on a 2-1 score. Niemi also proved he was for real last playoffs, and would surely like a chance at redemption against the Kings.
Prediction If They Face-off: Sharks in 7
3) Blackhawks vs Avalanche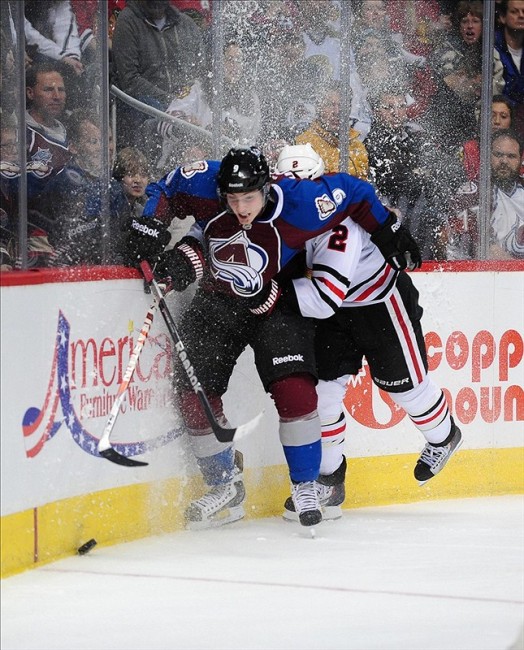 This match-up makes the list on pure entertainment value (as opposed to a rivalry factor). The Avalanche have been one of the great stories of the NHL this season and no matter how much you hate Patrick Roy it's tough to argue that his team doesn't play an exciting brand of hockey. They have plenty of speed and depth up front and also have a goaltender playing at the top of his game right now. The Avs just reached the 100 point plateau for the first time since 2003-04. And while it's great for them that they're playing great hockey under a new coach, they are almost certainly going to have to face the defending Stanley Cup Champions.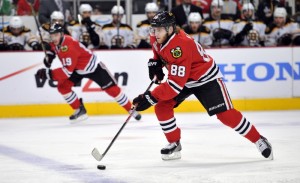 Chicago is Chicago after all and we can stop saying they don't have the goaltending to win the cup because both times they won the past four years they proved they didn't need an elite back stopper. Their scoring depth is the best of almost anyone in the league when healthy and remember that Patrick Kane is expected to be back and ready for the playoffs. Duncan Keith is having a Norris caliber season (again) and almost their entire team won the cup with them last year. Many of them have two rings with the Hawks.
Plus Colorado's defense isn't so pretty so it's hard to imagine Chicago not taking the series, especially with the recent news of Matt Duchene likely missing the series (out four weeks). But if Colorado snags home ice you never know what can happen. Especially with Varlamov playing as well as he is.
Regular Season Head-to-Head: 4-1 Avalanche
Although the Avs won four of five, they only managed 23.4 shots on goal per game (while scoring 3.4 goals per contest). Meanwhile they gave up close to 40 per game. Varlamov started in all four games Colorado won while in the one Blackhawks victory J.S. Giguere was pulled after allowing seven goals.
Last Playoff Matchup: 1997 Western Conference Quarter-Final (1st round)- Avs 4-2
It's clearly been a while as the Avs haven't seen much playoff action post lockout. In the 97′ series Colorado was at the peak of their ability, coming off a 1996 Stanley Cup victory. Colorado scored 28 goals in the six games and got a 12-point series out of captain Joe Sakic.
Prediction If They Face-off: Blackhawks in 5
2) Penguins vs Capitals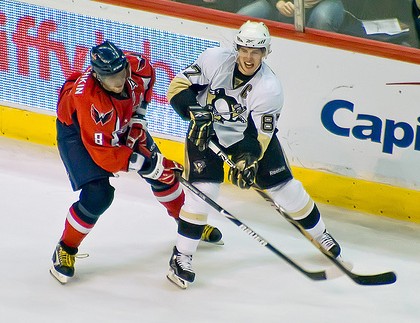 Crosby vs Ovechkin. There I said it. That's what the press will make this series about and for good reason. Crosby has proven he's the best in the game when healthy, as his 99 points in 75 games show, whereas Ovechkin is having a rather intriguing year with 48 goals but a minus-34 rating. He and Crosby interestingly both have 36 powerplay points (powerplay points don't count for a plus or minus). So is Ovie's minus rating because of laziness and bad defensive play? Everyone remembers the "backcheck" below from last year's playoff game against the Rangers.
(For NHL 14 fans, there's also a great GIF making fun of that, courtesy of Yard Breaker.)
Whether Ovechkin's minus-34 is warranted or not, there is little doubt he would jump at the opportunity to prove critics wrong by beating the Pittsburgh Penguins in a playoff match. In my mind, it would bring out the best in him and I think because of Marc-Andre Fleury's playoff struggles this would be a very close series. The team's certainly don't like each other very much, and it really is more than just Crosby and Ovechkin. The Pens are fun to watch because they score tons of goals across the board with Malkin, Neal, and Kunitz. They score 3.03 per game, good enough for 5th in the league. And the Caps have seen a resurgent Nicklas Backstrom (73 points) along with scrappy 20-goal scorers Joel Ward and Troy Brouwer.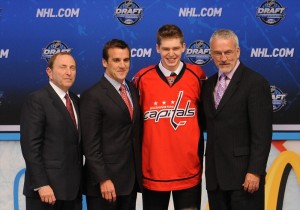 Yet there's something that would make the 2014 edition of this series even better than last: the addition of Russian youngster Evgeny Kuznetsov. He's already got seven points in nine games since he came over from the KHL and perhaps he is the missing ingredient for a Caps team that has continually disappointed in the post-season.
Regular Season Head-to-Head: 4-0 Pens
Washington was shut out twice by Marc-Andre Fleury and only managed five goals in the four games. Crosby had seven points in the four games, while Ovechkin only managed one goal.
Last Playoff Matchup: 2009 Eastern Conference Semi-Final (2nd round)- Pens 4-3
It's hard to believe it's almost been five years since they last met in the playoffs. That was the year Crosby and the Penguins won the cup; playing a rematch against the Wings and coming back from being down 3-2 in the series.  In 2009 five of seven games between Washington and Pittsburgh where one-goal games, with three of those going into overtime. Even though game seven was a 6-2 blowout, it was an extremely entertaining series and the teams would surely be glad to face off once again.
Prediction If They Face-off: Penguins in 7
1) Rangers vs Flyers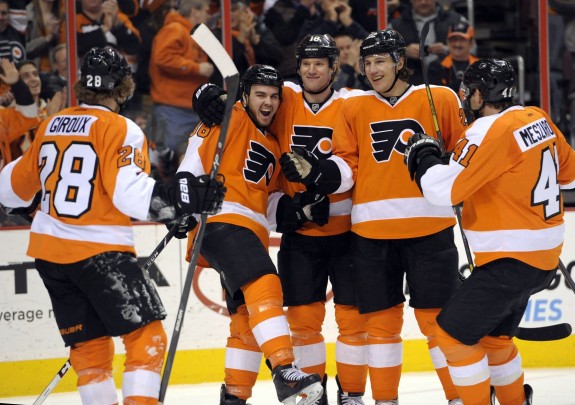 I learned something new when I discovered that these two division rivals haven't faced each other in the post-season since 1997. Frankly it shocked me, given how hard they go at each other in every regular season game. And there have been a ton of those. 12 regular season match-ups since their Winter Classic showdown, which wasn't all that long ago (January 2012). 57 times facing off in the regular season since the lockout (nine seasons). Let me repeat that: fifty-seven. So it's pretty clear this would be a great series. For me, hatred for the opposition is the biggest factor in an entertaining playoff matchup.
But you need more than just hatred. The Avs-Wings rivalry of the 1990's is one of hockey's best and it wasn't just hatred that made it entertainment gold. The teams could also play some pretty good hockey.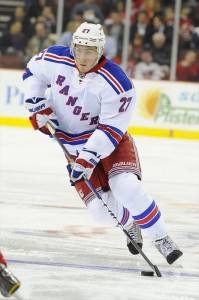 Right now the Flyers are getting offensive contributions throughout their lineup and not just from the Giroux line. They are one of only three teams in the league to have five 20-goal scorers (St. Louis and Colorado being the other two). They are 11th in the NHL at 2.84 goals for per game. The Rangers meanwhile aren't scoring as much as they'd like (2.64 per game; 18th in the league) but it's safe to say they have some very dangerous weapons in Rick Nash, Martin St. Louis, Brad Richards and Derek Stepan. Plus Mats Zuccarello has 50 points this season and Brassard and Hagelin can provide secondary scoring.
With both teams very deep up front, I'd expect lots of scoring, except when you look at the goaltending matchup; Lundqvist is still Lundqvist and Steve Mason is having a career year. Though there is a tendency for Flyers goalies to choke in the playoffs, I'm not so sure that will happen this time. I'd also look for Ryan McDonagh to have a big series, given the season he's had.
When all is said and done, this series, which looks very likely to pan out, could become one of the best playoff series of the past decade. It will be close, it will be nasty, and it will be fun. Almost as good as a Flyers-Pens series in my eyes, and that's saying something.
Regular Season Head-to-Head: 2-2
Three of the four games were decided by two goals or less.
Last Playoff Matchup: 1997 Eastern Conference Final (3rd round)- Flyers 4-1
As THW's very own Shane Sander was quick to note, this was Wayne Gretzky's final playoff series of his illustrious career. He had nine points in the five game series including a hat trick in New York's game two victory, the only win for the Rangers. Eric Lindros meanwhile had nine points of his own during that series, including a hat trick in game three.
Prediction If They Face-off: Rangers in 7
Honourable Mention:
Penguins vs Wings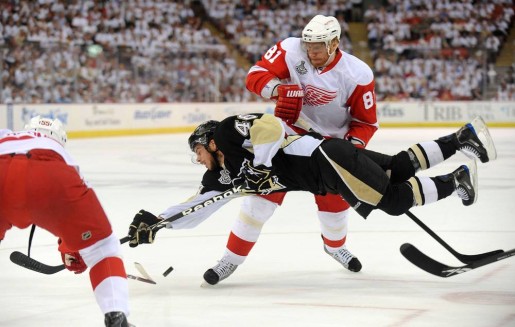 This series seems more and more likely to pan out if Detroit keeps winning and they grab the top Wild card spot. A rematch of the 2008 and 2009 Stanley Cup final would be odd to see in the first round but it'd certainly be fun. Although bth players pictured above have changed teams along with many others (no Lidstrom of course too), the core of both teams remains with Datsyuk and Zetterberg on one side and Crosby and Malkin on the other.
Regular Season Head-to-Head: 1-1 with one final game April 9th
If their March 20th game is any indication, there could be a lot of goals scored. Detroit won the game 5-4 in OT thanks to Alfredsson's last second goal. The other match-up was a 4-1 Pens victory (both back ups played in that one.)
Prediction If They Face-off: Wings in 6